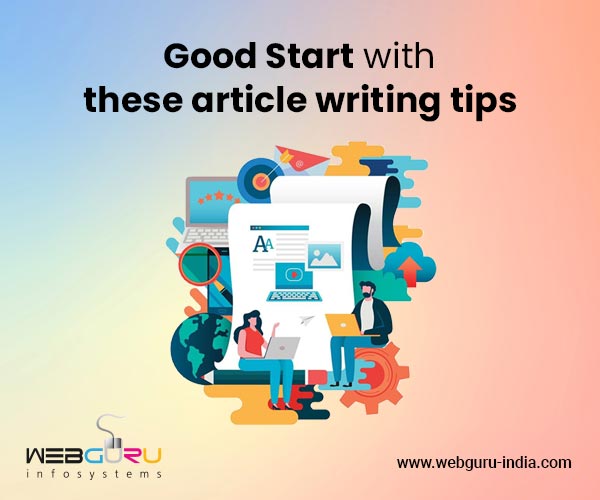 It takes two things to write a good article: solid content and good technique. When registering on the internet, there is a lot of noise to contend with. In the information era, anyone can create something, post it, and call it an article — the definition of an article has become a very hazy boundary. The distinction between excellent and terrible, on the other hand, is considerably clearer – and, arguably, more significant.
It is relatively simple to develop high-quality material. Most people aren't aware of it, but everyone has something fascinating to say. Good technique is more challenging to master because it might appear abstract and complex, and it's typically the deciding factor in whether an article succeeds or fails. You can also rely on the best website development company near you.
A poor article will fall flat. A powerful essay can alter people's thoughts, garner adherents, carry weight, and command respect. It's a worthwhile endeavour.
Put More Effort into Writing Intros
As a writer, you should be aware that your readers are usually busy and have many competing demands on their time. Working on producing the perfect opening is a sure-fire technique to attract more people to read your material all the way through and tell others about it.
Lowering your entry barrier
Make it simple for your reader to become engrossed in your story. A long opening paragraph at the beginning of an article creates a significant barrier to access. Before deciding if the content is genuinely engaging and worth reading, your reader must wade through a massive wall of material. This necessitates a significant amount of effort. The majority of individuals will not bother.
Make your first sentence brief and to the point. A simple buy-in is a one-sentence or two-sentence leading paragraph.  Begin with something quick and straightforward to engage with. Demonstrate to your reader that you are adding value, and then urge them to put forth the effort. Your paragraphs should be short, and your language should be pleasing to the eye.
Everything should be shortened in general
How many times have you become bored by reading rows and rows of dense paragraphs? You can lose a reader even after you've persuaded them to read if the inner content turns out to be boring. Take help from professional content writing services to deliver content that is engaging for readers.
Short paragraphs encourage readers to read more. They're simple to do. They give you a sense of accomplishment. Your eye is dragged down the page by the want to read just one more. As a result, split up your text. Maintain your reader's interest in the words as they go from paragraph to paragraph. Maintain a steady pace with them. Allow them to breathe in between thoughts. Empty spaces between words, similar to the breaths between spoken sentences, help to balance the syllables.
Note that just because your writing is short doesn't imply it can't be stylish and lovely. Don't make the mistake of thinking that fast means uninteresting. I used to believe that, but I was mistaken. Short refers to something powerful and precise, such as a shot of tequila rather than a bottle of mild beer. Your article isn't simplistic and cheapened when you're brief. They have a lot of power.
Keep things brief and to the point
This is a bleed-over from rule #2, but it is significant enough to come as a separate rule. In a sentence, remove any unnecessary words. Scrap a real penalty if it doesn't help you get closer to your topic. It will hurt, but your writing will improve.
Always try to give a substance
Writing content for the sake of writing content is a bad idea. Create content to convey meaning and comprehension. Make a point for your reader. Assume they respond with a "What?" to your title and then provide an explanation to that inquiry inside your article.
A story that says nothing is one of the worst things on any news feed. The internet is full of 'Top Five Tips' and 'Productivity Hacks' articles that just add to the crowd of words, but do not add any meaningful purpose for the reader. It is content only for the sake of having it.
Try to avoid such situation with yourself. Write an article that is intended to educate, impart meaning, and help people understand.
Try to tell a story always
People are fascinated by stories. We always respond to a captivating story. It's one of humanity's basic facts. Keep this information in your toolkit!
Using human interest to bring an article to life is one of the most effective methods to draw a reader in. A recounting of an incident, the setting of a stage, or the unfolding of a storyline will grab their interest.
Opening articles with stories is a fantastic idea. They're both excellent examples of how to make a point. They don't have to be very ornate to be successful. Start your article with a specific tool you recommend using, and then tell a narrative about how you utilized the tool and what it accomplished for you. Your article is immediately human because it is short, essential, and to the point.
Avoid writing that is too dry. Nobody wants to read something boring in this crowded content space.
First demonstrate, then tell.
Begin by demonstrating your point, and then explain what it means and why it matters.
This is a general rule for the structure of a good article. Present your ideas in the following order: example, explanation, and comprehension. Show it to the reader, tell them what it is, explain how it works, and utilize it.
Any alternative arrangement will tire your reader and is unlikely to make sense.
Wrapping Up

At the end of the day, the only way to improve your writing is by writing more. It's all about practice. Keep writing different forms of content to master your habit of writing a good article. Practice until you've internalized the form and the structure of a good article unit becomes second nature to you when you write them.
The world constantly needs relevant, exciting material that imparts knowledge and aids comprehension. If you have something worth listening to, go ahead and write about it!