Home Blog Website Design Services Have You Considered Mobile Web Design Yet?
Have You Considered Mobile Web Design Yet?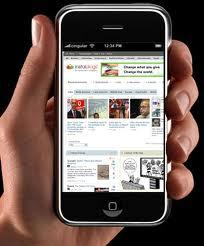 The number of people using their mobile phones and tablet computers for surfing the internet is increasing everyday. Like everything else, the internet is also becoming portable and mobile web design is becoming all the rage with business owners all over the world. Over 4.3 billion people use their cell phones to log on to the internet and several of them use ONLY their cell phones to do so. So, yes, there is a wide audience to explore if you design a mobile website.
However small or large a company is, it is striving to launch a mobile version of its website. This is the time for website design services to start designing for the mobile web. Before starting to design for the mobile web, you need to study about mobile website design a bit. This would help you stay ahead of your rivals.
Responsive website design is basically designing a website at a smaller scale. Android and iOS are the 2 operating systems dominating the mobile world right now.
Some mobile phones and tablets can show a website made for desktops just fine while others cannot. There could be other problems such as smaller screens on some cell phones. You cannot show a full desktop website on a small screen mobile phone.
When it comes to coding, there are 3 common codes for browsers such as – Gecko,  proprietary code and WebKit. To understand the code that would be most suitable for your website, you need to find out what your mobile visitors will be searching for. Not all mobile devices have screens of the same size. Keep in mind that fact and you will be able to design a site that would fit all kinds of mobile devices.
Advantage of Responsive website design.
The number one advantage is mobility and accessibility. Most people access the net on the go. So, if you can provide relevant information to what they are looking for when on the move, you will be able to get more business.
Mobile website means you can get more visitors apart from desktop users.
With mobile website designing, you can go beyond website design and branch into creating apps and software exclusively for mobile devices.
Disadvantage of Responsive website design.
Small screen size. This is the biggest disadvantage. Due to the smaller screen, users are not able to see visual effects, and some parts of the web pages where you may have put some important content. If important parts of your web pages like subscription forms or account view buttons are hidden from the view of your potential customers, how can you expect them to stay tuned for more?
Sometimes, depending on the connection, some mobile phones take more time to load web pages than others. This can be disastrous for e-commerce sites. These sites are loaded with product details, images and purchase options. If you have an ecommerce website, you have to look into this issue and rectify it accordingly.
Interactivity is another major hindrance for mobile web sites. Scrolling through an input form takes a huge time on mobile sites and putting information in those forms is an even slower process. This situation gets worse on touch screen phones.
Conclusion
Keep in mind that mobile phones and tablets are evolving at a rapid speed, so you have to be always aware of the emerging trends and changing technologies. That would save your efforts and investment from going to waste.
Have some courage and set sail. This is the time to grab the mobile net market. Good mobile web designing will provide a nice user experience. So, do not procrastinate.
Best of luck!