17 Jan / 2011
1,194 views
Mega Menu: Know the New Emerging Trend in Website Design
Using 'Mega menus' make the latest trend in website design industry that has been embraced gracefully by business companies to exhibit their products and services to potential customers. Easy to navigate, the concept of mega menu has improved the usability feature of a drop down menu that helps visitors to enjoy smooth access.
Mostly used in e-commerce websites, mega menu emerges as a popular tool not only for designers but also among visitors. Just a few clicks and visitors get to know about a wide variety of products all at once. Read below to know more about mega menu and some of its excellent usages in website design:
Mega menu: Being 'BIG' is the prominence of a mega drop down menu that allows smooth and easy navigational access to visitors. An instant hit among e shopping sites, mega drop down menu helps exhibit all products and services instantly to audience.
Features of Mega Menu: Surely a trend that is here to stay, mega menu rules the web design industry with its no-coding feature. Added to it, this tool displays many more benefits that are appreciated by designers and visitors likewise. Here we bring for you some of the prominent features that add to its reasons of popularity:
Mega menu is a single floating drop down menu
It allows display of all options in one single panel
Easy to use, mega menu faces few problems
Allows designers to let free of their creativity
Mega menu uses group option to categorize products accordingly
It uses graphics or icons to make it easily understandable to visitors
Mega Menu Examples: Get Inspired
With easy navigational facility, big drop down menu allows companies to exhibit all that has in offer to its potential customers. Have a look through the designs given below and experience how mega menu helps to reach out to targeted audience easily and effectively:
1. Little Kids Bedrooms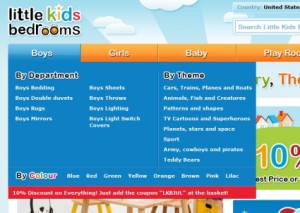 2. OfficeMax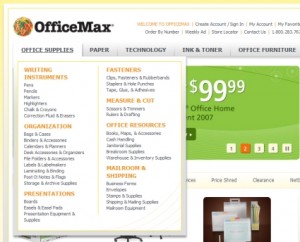 3. Asos