Home Blog Content Writing Services Too Much of Content is Never a Good Idea!
Too Much of Content is Never a Good Idea!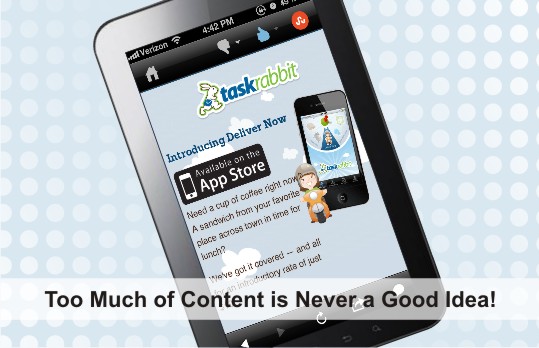 In this age of easy and wide availability of internet and smartphones, it is becoming more and more difficult for site owners and website design companies to decide the amount of information to be displayed on their websites. This kind of a situation can lead to an information overload if the owner cannot decide. If you do not want such an overload of info on your website, this article is for you.
First of all, you need to be able to filter the content. You already know what you are trying to to give the users. Arrange those things in order and it will be revealed to you as to how to organize the information.
How To Keep Your Website Content Optimized
Below are some things that can turn out to be disastrous if you do not pay your utmost attention. Note that these things originate in your mind. You, like a lot of other website owners, think that users want and process myriad information at the same time. No, they don't. These are things that make you put up lots of content on your site and thus do more harm than good.
Your quest for information may be unending but you do not need to provide a multitude of text on your website. Keep it short, brief and concise.
Eliminate anything that seems unnecessary. Keep in mind that your visitors cannot process so much information, especially when they view it on the small screen of a mobile device.
Trust is an important factor. You have to earn visitors' trust but that does not mean uploading as much text as you feel like. You can earn the trust of your visitors through accurate info written in a compact manner.
Putting up any redundant information is wrong. Write fresh, insightful and interesting content. This will save you time as well.
Not everyone can remember everything perfectly. Can you recall everything you have ever read, seen and heard? Not likely. So do not upload so much text that people cannot even remember after leaving the website. Give them something memorable.
Finally, remember that the internet is a very fast medium to acquire information on just about anything. So, you don't have to provide your audience every last bit of information on each page. Instead, let them know exactly what they need, and then guide them in the right direction. If your visitors find their queries answered easily and concisely on your site, they will spend much more time there. This, in turn, will be very beneficial for your business.