There is no doubt about the fact that, designing a website is not at all an easy task. Often at times, designs are carried out at a subconscious level primarily based on years of experience. Those who are not used to designing at a conscious level, probably find it extremely hard to begin. It is important for designers to understand the challenges associated with the designing of a website so as to come up with an effective web design. The challenges usually come in the form of different elements which include:
Layout
Grid
Typography
Color
Styling
Imagery
Instead of going to the implementation details, the focus of this article will remain on the approach that every web designer should undertake towards each of the elements.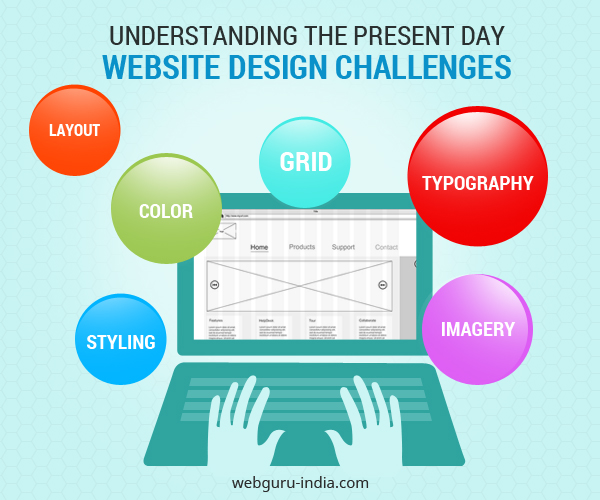 Layout
Though, some people believe that layout and grid are the same things but, in fact they are not. Layout can be described as the white space along with the placement of different elements on a web page. These things can create confusion among the client and the designer so the designer should be ready to clearly explain the approach of designing. Questions like why there is so much white space on the web page, why the search box has been positioned like this, etc. may come up and it is the responsibility of the designer to have a clear explanation.
Grid
Clients at times shower designers with questions like why did you use a 16 column grid instead of 12 column grid? Why is there so much space between the columns? Was this intentional or impulsive? Thus, justifying the approach towards a particular design holds key importance for the success of a design.
Typography
The font-faces and typography used on a website has a lot of impact on different aspects like mood, readability, user experience and more. Designers need to be well aware of the principles of typography so as to come up with a pleasing design. However, apart from the selection of typeface, various other decisions need to be taken by the designers regarding things like size, height, kerning and more.
Color
This is an extremely controversial subject. Color happens to be a crucial element of a website design used to invoke feelings, create ideas, convey messages as well as focus on areas of interest. Colors have the ability to affect the mood of the visitors which is why it is important for every web designer to decide upon the best approach to select the perfect chromatic palette for a website. Different factors need to be considered like does the website sync with existing color scheme? What is its purpose? What type of graphic and photos will be incorporated?
Styling
Styling is all about elements that are indirectly related to the content within the website like links, buttons and call-out boxes along with other elements. It is the responsibility of the designer to style such elements that dramatically enhances the feel of a website.
Imagery
Though, many clients feel that imagery is all about the subject matter but in fact, it is much more than that. Imagery includes many things like the colors contained, mood which has been set as well as things like a person's eye line in the image. It is vital to articulate such decisions so that others can easily recognize that it is not easy to substitute an image with another without causing changes in the design.
Thus, it is quite evident that justifying decisions definitely help to improve the quality of design of a website. A thorough discussion of the process not only helps to refine it but even makes designers efficient. Following these ideas certainly assist with building a successful website, both for the client and the designer.