24 May / 2010
1,236 views
WebGuru's Website Design Blog Gets A Fresh New Look
After a month of grueling experiments and calculations, we have finally launched a fresh new interface for our website design blog. It looks much more interactive, appealing and attractive than its previous version. However, we are open to take constructive criticisms in our stride, as it will help us to improve the quality of our blog a bit further. Let's revert to the designing process. Well, it was a tough nut to crack since WebGuru Blog has regular visitors over thousand per day and the number is spiraling up continuously. Therefore, it was quite obvious that we could not introduce any thing that could go against sentiments of our valued visitors. Which is why we have not made any major change in our blog as far as its structure is concerned. What we have done instead is illustrated below:
Colorful Journey: The very thing that will seize your attention is the profuse use of color. Web industry is itself a colorful industry and here you can get a glimpse of it. Our previous design was somewhat simple and the focus was mainly on content. To jazz up the appearance of our blog, we have used mainly three colors Pink, Ash and Sky and the outcome is really impressive.
Old Design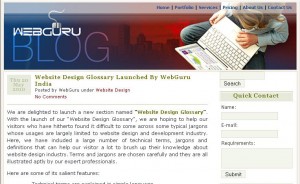 New Logo: – This was a long overdue and we were working on it for the past couple of months. In the previous design, logo was somewhat overshadowed by some unwanted elements therefore, it never got required attention. However, the new logo of WebGuru Infosystems is like a fresh breeze. Apart from getting required level of attention; it looks perfect and oozes out a sense of professionalism. It is colorful too.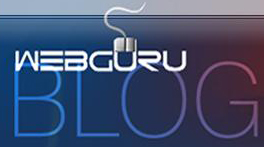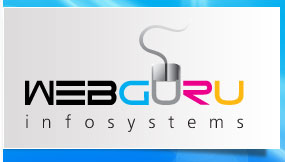 Old Logo                                             New Logo

Addition of Social Media: – We have integrated links of some of the popular social media websites where we have strong presence. What our visitors have to do is to click onto the button of any these social media sites if they want to explore more WebGuru Insystems.

Geek Character: – This is something that can hardly go unnoticed. Yes, we are taking about the character that is prominently placed in the header section of our Blog. He looks cool, knowledgeable, dependable and of course has a sense of humor. Ask him any thing related to website design, and he will definitely try to solve your query as far as possible.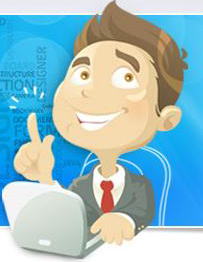 Fast Browsing: – Previous design of our blog was a bit heavy and therefore, people with slow internet connect had to face a number of troubles. We were aware of this problem and that is why we have made revisions in the design to make it a bit faster. We have shunned unnecessary graphical elements and this has positive impacts on our website's loading speed.
Just browse through our previous posts and do tell us what you feel about this new design. We will be glad to get feedback from you.