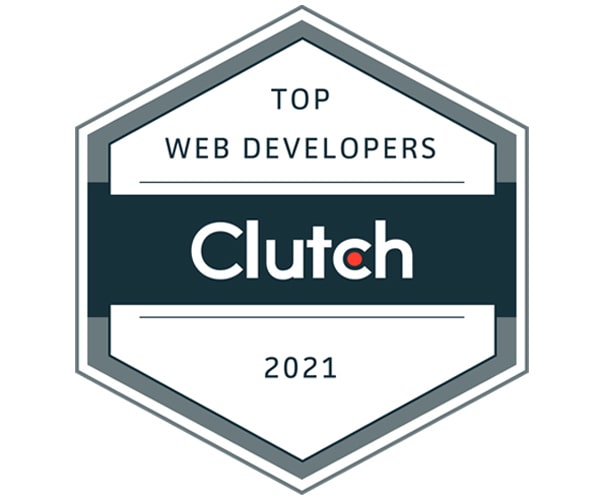 WebGuru Infosystems is an ISO 9001:2015 certified digital solution provider with 150+ full-time developers. We have been operating in the industry for the last 15 years. We are a trusted outsourcing destination based in India. We provide customized and affordable web and mobility solutions. We also offer full-scale digital marketing services.
Located in the heart of Washington, DC., Clutch is the leading B2B ratings and reviews agency that is dedicated to helping clients connect with the right service providers. Their team of independent analysts gathers reviews from former clients and curates a guide to identify the best companies from different industries and locations. Clutch recently hailed WebGuru Infosystems as the leading web developer in India.
"We are excited about being recognized by Clutch India 100 in different categories. It will encourage us to work even better. We thank everyone who has contributed to growing our company." — Raju Chakraborty, CEO of WebGuru Infosystems Pvt. Ltd.
This recognition validates our team's hard work and commitment to our clients. We are incredibly honored to receive this, and rest assured that we will continue striving to deliver the best possible solutions to our clients.
As we move forward, we want to dedicate this award to our clients who have supported and collaborated with us over the years. This Clutch award means a lot to us because it was made possible thanks to our clients' satisfaction and lovely reviews.
With 12 reviews to date, we are proud to hold 4.8 stars on our Clutch profile. We are motivated by our clients and here are some quotes that truly stuck with us.
"The value which we got for our money and the very fast delivery of their work were great. No delays. Perfect friendly team." — Owner, Linda Alfieri Hair Replacement
"They offered a competitive price for the work they provided. The team's resources and professionalism were great. We counted on them as a single source to cover all our needs. Additionally, they never asked us to change our requests, as some vendors have done. We were pleased with their commitment to our project." — President & Managing Partner, ARCS Inc
We cannot feature all the reviews in the space but we sincerely thank everyone who has taken the time to write a few lines for us. Here are all the reviews published on our Clutch profile.
Do you have a project in mind? Send us a message and kindly share with us your requirements.