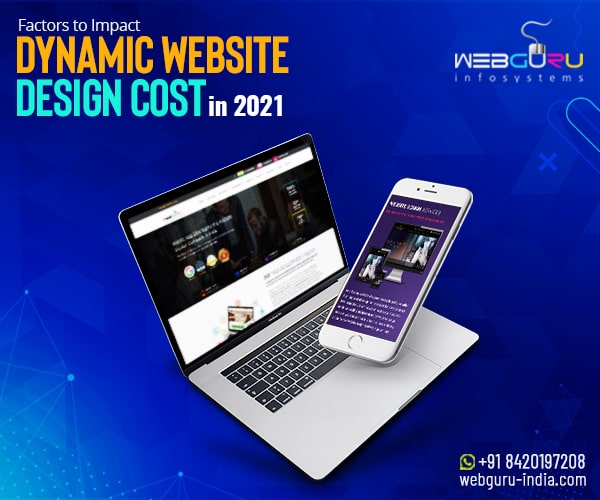 In this digital era, we do not judge a book by its cover anymore, but we judge businesses by their websites. After all, a website with insufficient features, low-quality content, and outdated design can never represent a business in a positive light. Can it? Clearly speaking, there should not be any excuse for a poor website design. And, as we stand at the cusp of 2021, investing in a dynamic web design & development becomes essential for online business success.
But wait! Before you assume that engaging top-notch web design service will break your bank, you must know the factors that can impact dynamic website design cost in the upcoming year. So, are we ready for detailed analysis? Here we go…
Website Design & Development Cost – A List of Factors to Consider
The moment business owners learn about the broad price range for website design & development, they feel hesitant to hire professional services. How about doing some research instead of concluding in haste? To give you a fair idea, we bring a list of such factors right at your fingertips.
Domain Name – In simple terms, a domain name helps to establish an online/digital identity for a business. Not only does it establish brand identity, but a domain name also directs traffic to the website, your intended destination instead of letting it drift away elsewhere, say social media. Further, the domain name commands a great significance because it will always remain with you, even if you change the hosting.
You may visit one-stop-shops like HostGator or GoDaddy to choose a domain name that suits your taste as well as budget. Are you opting for ".com" extension? Or do you want to try ".net" or ".org" for a lower price? Are you looking for a creative name with the 'X' factor? Always remember that the domain price will change as per the choices you make. So, be mindful of your selection from the start.
Website Hosting – As an ongoing factor for dynamic web development price, website hosting is when the host offers a space for your website on its server. Because it influences the ease with which internet users can access your website, you have to be careful about selecting the right website hosting service provider.
While choosing a shared hosting service can be the cheapest, it might make your website sluggish due to sharing the server with other clients. Also, you may engage cost-effective hosting services from website builders, which work wonders for small or mid-sized businesses. Without trying to cut corners, you can choose a Virtual Private Server (VPS) in which you share the server with others along with access to the server's resources. Think wisely before making a call!
SSL Certificate – As we dwell in a world where cyber threats are a concern, obtaining an SSL certificate is imperative for your business survival. The logic is simple. An SSL certificate helps to establish the credibility of your website by displaying HTTPS in the URL. Consequently, they feel safer in sharing information while availing services or buying products from your website.
Now, you may ask – Which is better? Free or paid SSL certificates? Being experts, we will speak in favour of the latter. The reason being, when you opt for paid certifications, you get benefits like a higher warranty, dedicated technical support, greater lifespan, and identity verification among others. Once again, you'll find plenty of vendors that offer SSL certifications, but we suggest you stick to the reputable ones like Norton or GoDaddy.
Quick fact: the SSL certificate also helps in improving SEO ranking. Check out the blog to learn more about it.
Website Design Theme – Perhaps the most influential component in the dynamic website development! The hype is justified because 75% of users judge a business based on the aesthetics of its website. Then again, a dynamic website is not just about its visual but also the usability. From the navigation to the user interface and loading speed, a quality web design should be able to get your leads hooked to it.
Generally, the rule of thumb is that a simple design calls for a lower price. If budget is a constraint for you, choose a decent theme that works for your brand and connects with the audience. However, responsive design is one area you must not compromise. Believe us when we say it is going to add to the bottom line of your business. Cannot figure out how many web pages you should add? You can talk to the web design team and get an accurate page count! Just remember – the higher the number of pages, the greater the pricing.
Functionalities – It's not enough to own a visually appealing website – it also has to support several functionalities. So, in this regard, some service providers may offer packages available at fixed rates and contain a limited number of functionalities. You can check whether any of such packages meet your needs and budget. If it does not, then you can realise your custom requirements by paying higher prices.
In most cases, fixed-price packages may include a CMS platform support, design concepts, a fixed set of webpages, image gallery, social media integration, SEO-complaint features, and responsive layout. Should you need additional features, you'll have to pay extra. To understand how website functionality cost varies, you can consult with the top companies offering dynamic website design services and decide your case accordingly.
Choice of Service Provider – Thought we would not touch this point? Well, we are here. Now, there is no shortage of web design & development companies in the market today, but finding a professional team that can strike a balance between quality and affordability is a challenge. Some may charge you more under the pretence of top-notch assistance, while others can offer that same quality of service but at a fairer price deal.
To choose the right service provider, you can gather quotes from top companies, and decide who meets your requirements the best. Make sure to check experience, accreditations, previous works & portfolio, and then decide if you are about to partner with the right team.
Conclusion – So, you see, it is impractical to estimate website design & development cost in a snap of fingers. Yes, it is not so simple. You may have to fine-tune your goals to address both your business needs and budgetary constraints. But, since you have learnt the factors involved in determining the cost, we are sure you will make smart decisions and drive great results for your business. Hope you get the best value for your investment in the upcoming year! Best Wishes!