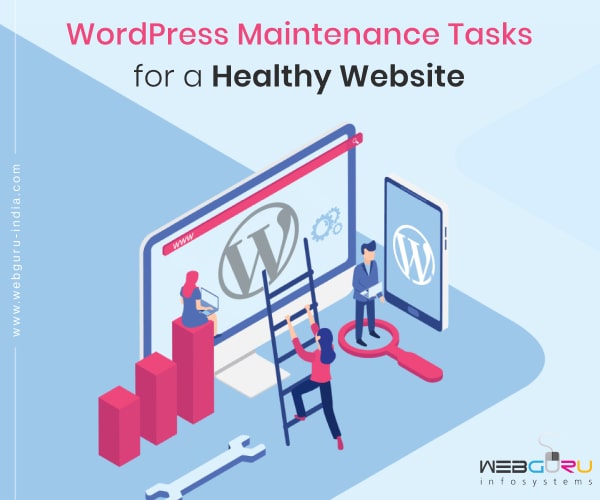 A WordPress site can often be a powerful CMS that runs on several parts. These include your hosting, plugins, themes, and the WordPress software itself. On top of that, there's your content, images, and other media, all of which come together to make a website that people love to visit. It is essential to keep your site well maintained in order to consistently provide a good user experience to your visitors. A number of WordPress development services offer a limited period of maintenance for your website after they've made it. However, there are also simple maintenance tasks that any WordPress website owner can take care of themselves.
Maintenance Tasks You Need to Perform
Here are some essential WordPress maintenance activities that you should perform to keep your website healthy. A noteworthy thing to mention here is that a good health checkup plugin is absolutely essential for your WordPress site. Plugins like WP Healthcheck and SiteAlert can save you a lot of hassle by automatically checking for updates, inactive components and plugins, broken links, and more.
It is also a smart idea to also run a staging site so that you can perform these tasks first before pushing them live. Otherwise, WordPress also offers you a maintenance mode so that your visitors don't run into unexpected hassles as you are carrying out these tasks. Another alternative is to simply carry out these tasks when traffic is low.
1. Update All Your WordPress Core Files, Plugins, & Themes
WordPress comes with its own inbuilt system that manages updates for all of your files, plugins, and themes. It is important to make sure that you're using the latest version of WordPress, so that your plugins and themes also stay updated all the time.
That said however, your files may miss an update under certain circumstances, such as when the license of a premium theme or plugin expires. Your site's functionality and even security can be hampered if certain elements stop checking for updates. Which is why it is a good idea to check manually from time to time. Review the plugins and themes that you have installed, and check whether they're running the latest version. If they're not, try to document why that has happened, and then update it manually.
2. Test All Your Forms
Form builder plugins such as WPForms, Contact Form 7, Gravity Forms, and Formidable Pro make it very easy to create good looking and accessible forms on your site. However, even these forms may stop sending you emails if there is a misconfiguration or some other issue with your hosting server or email service provider. Sometimes, updating your WordPress files or plugins can also generate this issue.
So from time to time, you should check all the forms on your site and ensure that all of them are working as they should. If not, try to document why. You may follow any number of guides from the internet, or hire quality website maintenance services.
3. Optimize Your Database
Your database is where WordPress stores most data such as users, settings, content, and comments. This means that over time, a lot of unnecessary data may accumulate in your database, which will also increase your database size. This would affect uploading and downloading of backups and make them a slow and messy affair.
When you optimize your WordPress database, you can get rid of useless clutter, defragment tables, and improve overall database performance. Plugins like WP-Optimize are very helpful for this. Make sure you keep a backup before you begin optimizing.
4. Run Performance Tests
The performance metrics you see when you first create your website are not how they remain. Over time, you will install new plugins and extensions, add new content, and maybe even alter the theme. All of these have the potential to negatively affect the performance of your website. Most users optimize their website once when they create it, and then forget about doing it again.
You must make sure all aspects of your website stays optimized by performing regular performance reviews. A faster website not only means great user experience, but also contributes to your SEO rankings. Don't just limit yourself to improving the homepage either. Test all of your important pages and popular content. Take further actions such as reducing external HTTP requests, reducing database calls, limiting post revisions, and implementing lazy loading if necessary. All of this will make sure that your website keeps performing well.
5. Fix 404 Errors & Broken Links
A user will be shown a 404 error page when they request for a page that doesn't exist. This generally happens when the user mistypes an address and therefore shouldn't concern you. However, it may also happen when one of your pre-existing pages isn't available any longer, and it can lead to a very bad user experience. Make sure you are tracking such 404 error pages and redirecting them to new pages. The 301 Redirects plugin can be helpful for this.
Similarly, numerous external websites that you're linked to may not exist anymore, leading to broken links on your own site. Of course, this isn't limited just to external sites, as you may also have accidentally misspelled your own links, added poorly formatted links, or added broken images. This too can be very frustrating for users and negatively affect your site's user experience. Therefore, checking for broken links with the help of your Google Search Console, or with external tools like Ahrefs, SEMRush, or Broken Link Checker Plugin must be made part of your regular WordPress maintenance routine.
6. Conduct an SEO Audit
Next, you must thoroughly review your content for SEO inconsistencies. The data you gather from Google Analytics and Google Search Console will be very helpful here. With the help of Analytics, you can easily find out where most of your visitors are, and why they are on your website. This data shows you content on your website that is receiving plenty of traffic but converting poorly. You can take further actions on those pages as required.
The performance page of the Google Search Console can easily help you look up the keywords that your site is ranking for. From this data, you can discover the pages where your site can rank higher by simply optimizing the content properly. The AIOSEO plugin is also very helpful in this regard, since you can focus on a particular keyword and get further optimization tips as well.
With SEO, there is always scope for further improvement. You can add new and updated information to older articles, adding new images, and making further internal links as your site grows.
7. Optimize Images
Images take a longer time to load that text, which means that they lower your page loading speed. When reviewing, you will almost always find some images that are unnecessarily large and affect your website's performance. Such images are especially easy to miss in less popular pages and articles, and if you run a multi-author site with careless authors who don't optimize their uploads. Make sure you stay ahead of this issue by reviewing your media library, and looking for images that you can reduce in size or change altogether. Use image compression plugins like EWWW Image Optimizer, Optimole, and ShortPixel Image Optimizer to make the task significantly easier.
8. Review Security
Many WordPress users won't realize that their site has come under attack till it starts slowing down or dropping in rankings, or even more malicious intents such as loss of data start showing up. Make sure you stay on top of such issues by taking care of your site's security. Firstly, make sure you keep changing your passwords regularly, and use only secure unguessable passwords. Also, make sure you keep your site manually backed up regularly, even if you have automatic backup plugins in place. Use good security plugins like Wordfence Premium Security and Bulletproof to protect against malware and unwanted intrusions. They will keep scanning your website to detect vulnerabilities. Adding a security audit plugin like Simple History or WP Activity Log is also a good idea. Sucuri is also a great company that provides you with website firewall services to protect it from threats.
Conclusion
Regular maintenance of your WordPress website is absolutely essential if you want to consistently provide a good service. If you have a website that frequently deals with heavy traffic, then you must perform these tasks regularly to ensure that your website is running optimally. Even if yours is a small site, it is always a good idea to go through this checklist at least every 3-6 months.