Home Blog Website Design Services About Us Page Design: About Me Page Design Samples, Tips and Ideas
About Us Page Design: About Me Page Design Samples, Tips and Ideas
About us page is the most important yet the most overlooked page in website design industry. But it serves a vital purpose. It informs the readers who you are, what are your achievements and most importantly how you are going to serve them. So, basically it is like an open page where you describe about your company in true words and the main purpose is to win their trust and nothing else. Now, people do not have enough time go through your life history to garner information about you company. What they are looking for is information that is presented in a perfect structure and in a well-organized way. About Us page of your website needs similar level of attention and care if you want to reap long term benefits.
Treat It As An Asset: – About Us page has to be treated as an asset and not an appendage. What most website designers do is to design an elegant structure for the home page but they scribbled away the about page with some rudimentary details about themselves. They do not care much about the structure of the about us page and tend to give it some hasty brush strokes and therefore the outcome is quite apprehensible. But if you want to make your About Us page something different this time around, here are some unique About Us page design samples that are good enough to inspire you.
Make It Look Unique: – You can make your About Page a little bit different from the rest of the others by taking a sudden break from the rational and traditional route. Try to do something different this time around with your About Us page. It may appear wacky but remember one thing, people do appreciate wacky ideas since they lead to innovation.
Take this about us page for example: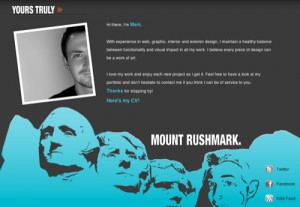 The idea is really funny and innovative and the message is quite clear.
Use of Big Photograph: – Small is beautiful but big is always the best. If you believe in this philosophy, this option is for you. The idea is quite simple and straight cut. You just have to larger then life size image in about us or about me section of your website and there you go. However, you should not make it look like a large passport sized photograph. Just make it look interesting and nothing else.
Just take a look at this about us page. It looks ultra cool and funky. The approach is certainly different but the image is large enough to ignore.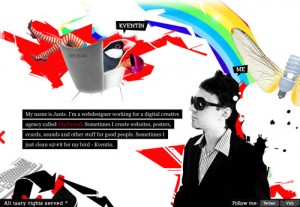 Give it An Organized Look: – Use of huge information can cause a disaster since the page can cave in anytime given the massive weight of texts and other graphical elements. This is a good approach for corporate website since people would like to see everything featured in a neat and clean structure.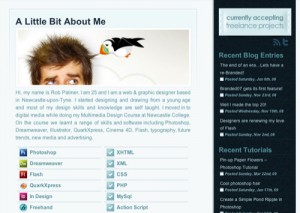 Make It Your Home Page: This option is not for the faint-hearted. If you are sure about yourself and if you have an impressive online presence, featuring About Me section in the home page of your website can give it a dramatic twist. It is good option for personal website but this trend is now gaining currency in other sphere.