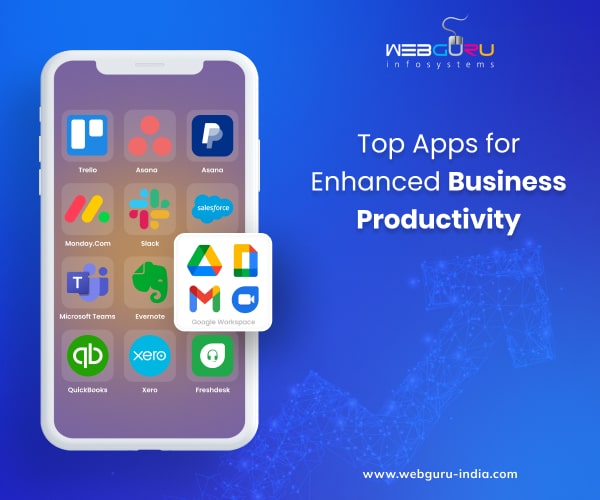 Whether you're a solopreneur or managing a team, leveraging the power of mobile apps can streamline operations, boost business productivity, and enhance overall efficiency. With a multitude of options available, it's essential to identify the best mobile apps that align with your business needs and objectives. In this comprehensive guide, we will explore the top apps that businesses use today across various categories. While you can always hire a web application or mobile app development agency to create your own custom application, the apps mentioned here should cover most of your business needs.
Productivity and Collaboration Apps
Efficient project management, seamless communication, and effective collaboration are vital for business success. Here are some recommended mobile apps for productivity and collaboration:
Project Management Apps
Communication and Collaboration Apps
Note-taking and Document Management Apps
Financial Management Apps
Managing finances effectively is crucial for any business. Here are some recommended mobile apps for financial management:
Accounting and Bookkeeping Apps
Expense Tracking and Budgeting Apps
Invoicing and Payment Processing Apps
Customer Relationship Management (CRM) Apps
Building and nurturing strong customer relationships is crucial for business growth. Here are some recommended CRM apps:
Sales and Lead Management Apps
Customer Support and Relationship Management Apps
Marketing and Social Media Management Apps
Effective marketing and social media management are essential for business visibility and growth. Here are some recommended apps:
Social Media Scheduling and Analytics Apps
Email Marketing and Automation Apps
Content Creation and Design Apps
Data Analytics and Business Intelligence Apps
Data analytics empowers businesses to gain insights and make data-driven decisions. Here are some recommended apps:
Data Visualization and Reporting Apps
Business Intelligence and Analytics Platforms
Task Management and Productivity Boosting Apps
Boosting personal and team productivity is essential for business success. Here are some recommended apps:
Time Tracking and Productivity Apps
Workflow Automation and Task Management Apps
Security and Privacy Apps
Ensuring the security and privacy of business information is of utmost importance. Here are some recommended apps:
Password Managers and Secure Storage Apps
VPN and Secure Browsing Apps
Two-Factor Authentication and Data Encryption Apps
Still looking to get your own custom app built? Make sure you read our blog on mobile app development FAQs.
Conclusion
Mobile apps have revolutionized the way businesses operate, offering a wide range of functionalities to enhance productivity, streamline processes, and improve overall efficiency. By considering factors like user interface, integration capabilities, security features, scalability, and cost, you can select the best apps that align with your specific business needs. From productivity and collaboration apps to financial management, CRM, marketing, data analytics, task management, and security apps, there is a vast array of options available to cater to various requirements.