The continued move of the web towards becoming a more engaging and beautiful place has been strengthened by immersive, big scrolling pages. Though, many people feel that this is a new trend in website design but, that is not totally true. The trend of long scrolling pages have been around for quite a period of time however their popularity has witnessed a surge in recent times. The inception of the single-page design trend has led to the removal of clutter from designs thus, leaving a clear interface with focused and concise content. From the perspective of user experience, single page website design has both good and bad things but, this design style is highly preferred by many users which definitely deserves the attention.
Though, single page design has earned a lot of popularity these days but, it is not an easy task to keep the users scrolling. Apart from bold color, high resolution images and beautiful typography, there are quite a few things web designers need to focus on to find a way into the audiences hearts. By following these practices, designers can make their single-page designs more user-friendly.
Quick Access with Alternative Navigation
Scrolling, scrolling and more scrolling! That is the main feature of a single page design. Users sometimes get the feeling that they have jumped into a pool of content without knowing where it will end. Therefore, to keep them on track and maintain their interest, it is always a good idea to combine scrolling along with traditional navigation system. The common practice among web designers is that they include a sticky navigation bar at the top which can easily replace traditional breadcrumbs in an interactive and appealing way. Vertical scroll bar or "back to top" button is also a good idea that helps users to access various sections of the page effortlessly.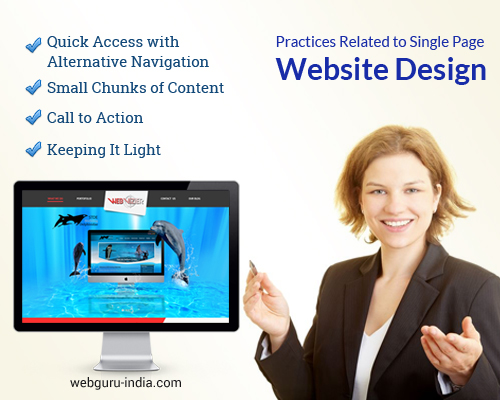 Small Chunks of Content
When the idea is to present the users with the story in one page, it is crucial not to overwhelm them with plenty of information. Multiple sections can be included within the page for effective distribution of content. The media and messaging content should be kept concise and clear from the start to the end. The most important thing to consider when it comes to a single page design is that, it should maintain a sequential and continuous flow of content. Users can also be kept engaged by telling a story through text and visual content. Storytelling helps to keep the core message interesting thus, relating to users more strongly.
Call to Action
Every digital marketer would agree to the fact that, 'Call to Action' turns out to be an influential factor when it comes to conversions. If the CTA is well-crafted almost half of the job is done, if not the full. Websites designed for some specific purpose like order placement, mobile app download, email signup, etc. need to have cleverly crafted CTA's for maximum conversions. Since, single page websites tend to be more clear and focused, crafting CTA's isn't that a difficult task. On top of that, the lack of too much media content and text makes it even easier to guide the users towards taking an action without unnecessary distraction. The idea is to direct the users through good storytelling to a culmination point where a strong CTA can be included.
Keeping It Light
Slow load time is a major issue with most single page websites. Since, the content is delivered in one page it makes the websites get heavier, leading to increased load time. Therefore, while designing a website layout of single page, designers should always avoid using unnecessary design elements and animations that increase the load time. Slow load time of a website not only affects user experience but, also hurts the SEO of a website.
Wrapping Up
Single page website design is no doubt an effective way to keep users engaged thus, leading to more chances of getting leads. However, it depends a lot on the type of the business and a website's purpose. These practices are simply meant to guide designers towards a more effective and user-friendly design but, there is no reason to be limited by such practices.