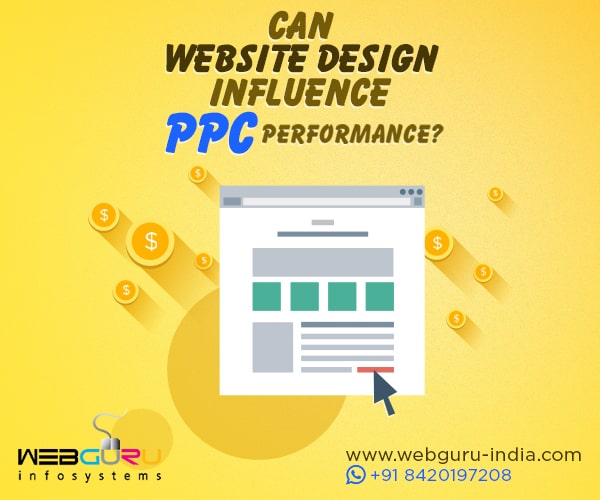 PPC (Pay Per Click) is all about ad copy, keyword bids, and conversion tracking.
Wrong.
Though it may sound surprising, your website design can impact PPC performance as well.
Website designing is not only about the aesthetic appeal of the site but also about the overall performance of your business.
Increasing CTR (Click Through Rate) on your ad is indeed the first step in a paid search campaign. But everything that happens after the click is equally, or perhaps more important.
If the users don't like what they experience on the landing page, the entire PPC campaign will suffer and drain your resources. Especially, if you are taking PPC services from the professionals, you need to ensure that your money is well-spent.
Today, we will outline some ways a website design can impact the PPC programme.
1. Page Speed
According to a survey by Unbounce, about 50% of the visitors are likely to leave the site if it takes more than three seconds to load!
How would you feel if visitors click your ad (and you have to pay an amount once your ad is clicked), visit your site and then leave without doing any activity, simply because your site took a long time to load! Won't it be frustrating to know?
Don't risk that!
You may adopt several strategies to optimize page loading speed. For instance, try to reduce the image size, without affecting the quality.
In fact, the experts at any reputed website design company suggest to use Google Page Speed Service to load your site faster.
2. Technical Errors
One of the common issues with a website is the presence of technical errors.
Your site may work well for you and your staff. Probably you are using the same devices and browsers to perform the same set of actions time and again. That way, the device can store cache data and help the site to work smoothly.
But any first time user may face technical glitch while performing various functions.
You should keep an eye on the feedback form. If any site visitor complains that some of the elements on your site aren't working properly, take action to address the same.
To tell you the truth, a workaround is not a solution to technical errors. Simply suggesting your client "it will work if you click on this link and not that one" and closing the chapter at that is not going to help you.
Because you cannot do this every time with your online advertising leads. So focus on making your site intuitive and ensure it's technically error-free.
3. Responsiveness
More than half of the traffic use mobile to search the internet. Naturally, your PPC campaign, too, will attract the eyes of the mobile-users.
This speaks volumes of the necessity of having a responsive website.
Even some time ago, having a mobile-friendly website was the highest standard for mobile usability. But time has changed.
Today, potential leads expect a responsive site. Unlike mobile-friendly sites, developing a mobile-first site is the ultimate goal now.
Remember, the users are more likely to be frustrated with the poor usability of a site and move to another one. So, all the hard work and resources you put into the ad campaign get wasted.
4. Confusing Goals
As your business grows, it's quite common to add more pages, content, and functions to your site.
But as your site gets more dynamic, you may start to lose sight of its primary objective.
Never let that happen!
Start with these questions. Is your goal to:
Get the visitors to fill out a form?
Get the visitors to buy a product?
Send them to other pages on your site?
Subscribe to your service or newsletter?
If you are not clear about your business objective, your customers will get a hard time discovering it. And trust us when we say, no customer has got that patience!
You have so many competitors and your qualified leads may go and boost their business. This will undermine your PPC campaigns.
You don't want that, right? So, be careful!
5. Aesthetic Appeal
The technical part is indeed a crucial element to enhance user experience but so is the visual appeal of the site.
By aesthetics, we don't simply mean the shade of red used in the template, but the overall impression.
The landing pages reflect the professionalism of your business. Take a look at this eye-opening survey by Sweor: about 57% of users won't recommend or interact with a business that has a poor web design.
Your hard-earned advertisement leads may leave your site because of its unappealing layout! To avoid this, ensure to contact a quality web design company and make the first impression of your business count.
Download our free e-book on website design and implement the ideas.
6. Structured Lay Out
Your site needs to have a consistent structure. As an owner/developer, you may always find what you are looking for but that won't help your business flourish.
You need to enhance user experience and help your users find an easy way to find everything on your site. A complex and heavily layered site is sure to frustrate the visitors and drain your effort and resources.
Also, make sure not to delay conversions at any cost. The more you send the traffic from one page to another, the more they get the urge to quit the process midway. So, include CTC (Call to Action) at every landing page and offer a seamless conversion experience.
7. Evaluate Your Site
This is an important step. By constantly monitoring your site you can get a deeper insight into its loopholes and improve them.
But sometimes it can be hard to accurately assess the performance and outlook of your site because you are emotionally attached to it.
Don't cloud your judgement with emotion.
Get a third-party assessment instead.
That's why it's helpful to have someone audit the site. How easily can they navigate the site, perform multiple actions and find what they are looking for? Value their feedback. To get a neutral perspective on this, you can engage the experts of a professional website development company.
This kind of third-party monitoring will offer an accurate picture of potential web design issues.
# At a Glance
When you step into the arena of PPC, it's not unusual to get perplexed with various PPC metrics. Especially, if you engage professional PPC services in India, your entire focus will be driven towards improving PPC performance, and rightly so.
But before getting involved in that, make sure that your website doesn't undermine your efforts.
Remember, a functional, dynamic, navigable, structured, secure, and feature-rich website is critical to PPC success.
Conclusion
An awe-evoking survey by Sweor reveals people take about 0.05 seconds to determine whether to stay or leave your site! So you need to step up and design your site.
Finding out the best PPC management company is the first step to run your PPC ads and gain instant visibility. But you must keep a keen eye on what happens after the leads land at your site.
Remember, in a Pay Per Click campaign, you are paying for every click. So make all the clicks count. Simply bidding on the keywords won't help to save bucks from your PPC budget. Rather with a dynamic and feature-rich site, you may evoke a positive brand impression and earn a higher revenue.
Got an opinion about it? Feel free to let us know!