Running an online web store can help you to stay connected with potential customers even when you are not at your physical store. However, running a successful online business is not easy. As a new crop of ecommerce websites are coming to the internet, business owners are finding it overwhelmingly difficult to retain their positions. So, it is quite clear that if you wish to run an online business, you need to have a unique ecommerce website that can reflect the individuality of your business precisely. Here in this article, we are going to discuss some problems that can plague your ecommerce websites:
Hiding Contact Detail
This is almost a crime. If you are unwilling to reveal your contact details, visitors will never trust your website and that can have devastating impacts on your website. People like to interact with real person in case if they face any problems and therefore, you need to present your contact details precisely if you wish to win the trust of your visitors.
Incomplete Product Information
Online visitors conduct an extensive research before purchasing a particular product. They check all the details, its specifications, prices etc before making any crucial decision. So, if you want to increase conversion rate of your website, you need to furnish proper and full details of each product. By doing so, you will improve store shopping experience that will definitely have positive impacts on your online store.
Confusing Checkout Process
Almost half of the visitors eCommerce website receives leave the sites as soon as they reach the checkout page. It is the complexity of the checkout process that drives away such a huge number of visitors from your website. Now if you are adamant to turn the tide around you, you need to weed out unwanted complexities from the checkout page. Try to keep it simple as far as possible and do not test the patience of the visitors.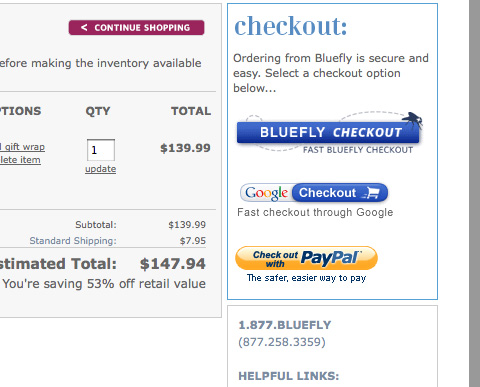 Rigid Payment Options
You should add flexibilities in the payment options in your ecommerce website. You should not restrict the payment option to MasterCard or Visa, because if you do so, you will not receive any order from PayPal account holders. Try to offer as many payment options as possible as it will act in favor of your online business.
Small Product Images
People like to have a feel of the product before buying it. Therefore, it has become imperative for an online web shop owner to add some standard size images of different products.
Compulsory Registration To Place An order
Do not force your visitors to get registered before being place an order since online shopper do not like to go through the complexities of sign up. You can make it optional.
Complex Navigation
This is the last thing that you should add in your ecommerce web design project. Try to place everything in perfect order otherwise; you are destined to lose some potential clients.