The internet has become the preferred choice of millions of people around the world when it comes to getting quick and reliable information, related to almost everything. A huge role is played by web designers in this context by developing attractive and eye-catchy websites to present the information in the best manner possible. Though the demand for professional web designers is witnessing a steady rise but, not every web designer is aware of the basic design concepts that will help them to stand out in the competition. This discussion revolves around the design concepts and practices that can help web developers to create a solid and long lasting impression.
Focus on Ease of Usability
Be it regarding the development of a website or an app, users should remain the primary focus of any web designer throughout the entire development process. The design of the website should be such that it allows for easy, effective and quick navigation to get all the required information. One of the crucial factors is to identify the group of users and how to assist them find the information in a simple and easy manner. In fact, these are the factors that can affect the entire process and decisions surrounding a website development. It is important to note that, not only designers are responsible for offering an outstanding user experience but, also other members associated with the project. It is the combination of unique and innovative ideas from different people within the project that can lead to the designing of a great website.
It's not just about the Visuals
There is a common misconception among many people that designing only refers to the visual appeal of websites. Design isn't only about how users feel by looking at the website but, the overall experience provided to them from the moment they visit the website till the time they leave. Design includes nearly everything starting from downloading speed to the features presented to the visitors. A well-designed website keeps its focus not only on enhanced user experience but, also tries to guide the users in the right direction to get the necessary information. Effective designing helps with the organization of information or content in an easily digestible way.
Sketch It Out…..
Web designers can benefit a lot simply by sketching user experience as it helps them with various aspects such as hierarchy, flow and content along with others. Well, it would surely take some time for those who are not accustomed to it but, certainly helps with easy communication of ideas. Chances are high that something new and interesting may come up at any time that can truly add to the experience of the user. Although, designers of present times hardly follow this habit but, it definitely assists with exploring every possible options. Communicating the design in a well-defined manner is much more important than providing users with some fancy art piece.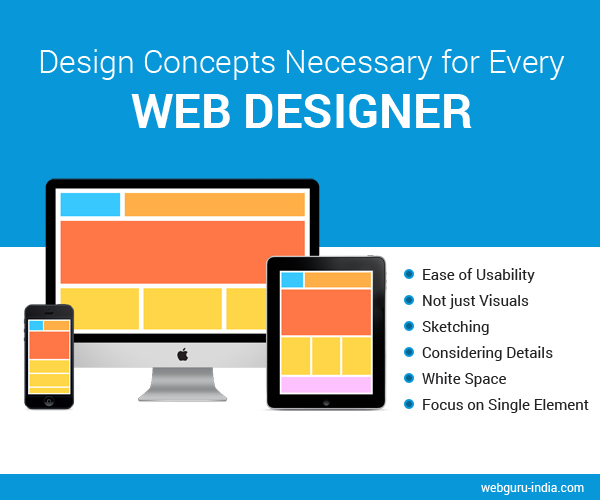 Thorough Consideration of the Details
Detailing holds a lot of importance towards offering visitors with an outstanding user experience. For instance, wrapping of text or color shade are some examples of types of details that web developers should pay attention to. However, it can turn out to be tricky at times as the project can slow down with excessive consideration for detail during the early phases. So, instead of hurrying, it is a good idea to consider the detailing aspects when visualization of bigger picture is possible.
White Space…A Simple yet Effective Concept
Although, this is a simple concept but, majority of designers tend to struggle with it. The inclusion of sufficient white space acts as a necessary break for the users and helps to keep them engaged. This is especially true for websites with plenty of content. The idea is to make sure that the space provided goes well with various items included within the design.
Emphasizing on Single Aspect
It is quite hard to create an impact with every designing aspect of a website. Therefore, the best idea is to pay emphasis on single element and follow the hierarchy so that visitors are guided towards the desired direction.
These concepts can certainly help aspiring website developers to design amazing websites that are effective, simple and easily navigable to meet the present day demands.