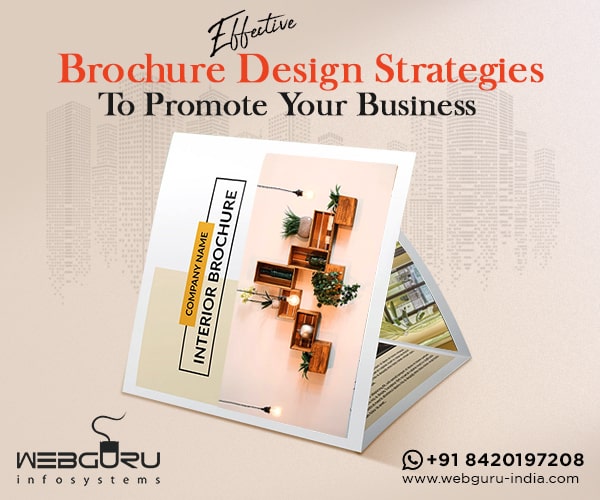 Before getting to the main section, imagine a scenario: you attended a business meeting and discussed with others about your company, services, and products.
And you have made a decent first impression about your company.
But what happens once you part ways!
This is where a brochure can be your spokesperson. As you can understand, a poorly designed brochure will ruin your impression and evoke a negative brand image. And a remarkable design will automatically grab people's attention and speak volumes of your business.
So, let's move on to check some effective tips to design a stunning brochure.
Remarkable Brochure Design: Pro Tips by A Brochure Design Company
#Define Your Business Objective and the Target Audience
A brochure should reflect the nature of your business. Are you a wedding photographer? Do you own a hotel? Do you run a construction business? Every distinct profession has different USPs and the brochure should focus on these.
Also, the brochure's image and message should address a specific customer segment. For example, if you own a restaurant, the brochure may display some pictures of lip-smacking delicacies. Again, a home insurance brochure addressing 50 years old homeowners will look different from the home loan company targeting 24-32 years old people.
#Get to the Point!
It's a brochure, not a book!
It's important to highlight the positives of your business on the brochure, but digressing too much or listing down all the success stories of your company may confuse people and turn them away. So, you better keep these for your website.
Pinpoint your business interest right from the beginning. You may adopt the following practices:
Write a concise and skimmable content that gives a comprehensive overview of your products and services.
Mention your USP and how you can serve customers' requirements.
Use bold headers and small paragraphs. You may use various points and each point should address distinct concerns.
Don't use complicated business jargons. Elaborate in a simple and engaging language that everyone can easily understand. However, we don't suggest you use empty words like "about" or "introduction".
If you offer a free quote or free consultation service, mention it in the brochure.
The key to writing an effective brochure content is to focus less on what your business does and more on how the business can fulfil the potential customers' demands.
Oh, and you must know that people consume pictures faster than text. Bear this in mind while designing a brochure. Don't waste space explaining survey reports, statistics, or data results. The readers can better consume information from the graphs and charts.
#Pay Attention to Front Page Design
The front page of your brochure determines whether the reader will turn the page or not. That's why the skilled professionals at any reputed brochure design company recommend putting every effort to make it compelling.
Check out an example of the front-page design:
Give a bold, clear, and concise statement about how you can cater to the customers' requirements. You may even start with an intriguing question like "What Makes Us Different?" to evoke the readers' curiosity.
Of course, the front page should have a bold and attractive font, appealing picture, company name, and the logo. You can also add a catchy tagline.
#Include Call-to-Action
People don't opt for a product or pay a visit to your hotel just for a beautiful brochure. You need to motivate them on what to do next.
So, no matter how well-designed a brochure is, it cannot serve the true purpose if it doesn't have a suitable Call-to-Action (CTA) element.
Also, if you want people to respond, it's important to make your contact details prominent. So, keep the business name, logo, contact details, and the website URL visible in the brochure. You may also add the social media account of your company to evoke brand reliability. Also, you may include a QR code to enhance convenience for your readers.
#Add Suitable Images
Don't let your brochure turn into a boring leaflet. If you have a budget for a photoshoot for your brochure, nothing can be better. Otherwise, you can also buy stock images. But it's important to select relevant and appropriate photos associated with the central theme of your business. You may engage professional brochure design services to get an attractive and feature-rich brochure. The brochure design experts can identify which pictures better suit your business brochure.
#Choose Colours Carefully
Once it comes to selecting the right colour scheme, less is always more. You may either use a single bold colour or a combination of two or three colours, but better not to extend them beyond three!
Too many shades produce a clumsy design and often affect readability. You may either use soothing colours or highlight one shade to create a bold and trendy design.
Ideally, you can take a cue from your website or logo design. Using the same colour combination across various marketing materials like website, flyers, business cards, and others will contribute to easier brand recognition.
Also, make sure to leave a lot of white spaces in the brochure so as not to affect the readers' experience. Again, you need to choose a contrasting colour for the background and the font. For instance, a dark font is better on a light background and vice versa. Ensure that the text pops-up and doesn't strain the readers' eyes.
Remember, this is perhaps the most important and difficult task while designing a brochure. And, you may have to engage a professional brochure design company just for the sake of choosing the right colour combination for your brochure.
#Keep an Eye on the Font
Experimenting with different fonts is an amazing practice, but the brochure is not the right place to show your turn for this! One of the common blunders that many people do is to design the brochure as per their taste.
This is a big NO. You need to design the brochure for your potential customers. Though it's not possible to guess everyone's preference, you should at least try to maintain a balance.
So, we suggest you not to go overboard with multiple fonts and rather use one or two variations. Also, try to keep sync with your brand image. For instance, a bold font may suit the brochure of a gym centre and the cursive font is preferable for a fashion design house.
According to some corporate identity design professionals, you may use the same font as used on your company website. But we find a potential problem there. Some fonts look good on the digital platform but not on print. So, you need to keep an eye on this while designing a brochure.
#Invest in High-Quality Paper
Tangibility is an important factor in brochure designing. Evoking a superior aesthetic appeal can be marred once someone touches a low-quality and flimsy brochure paper. Remember, once it comes to marketing, a cheap brochure paper is equivalent to a weak handshake!
If you want to develop a positive impression and promote a distinct corporate identity, keep an eye on the paper you use.
A high-quality paper is indeed costlier than the ordinary and flimsy ones, but this little change can make a major difference in your brand impression.
Conclusion
While designing a business brochure, you shouldn't only aim at conveying business information, but make the brochure worth preserving. Use quality paper, readable font, unique colour combination and design, and include valuable content. All these also contribute to producing a positive brand impression.
And honestly, brochure designing is a challenging task that requires adequate experience and expertise. So, we recommend you to contact professionals at any brochure design companies who can help you to take your business to the next level!
Hope our informative blog has provided you with some creative insights. Feel free to share your thoughts.