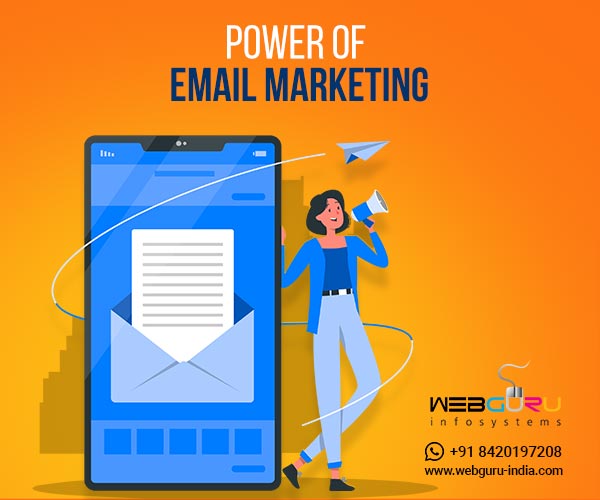 When you opt for digital marketing, you are spoilt for choice, you see. From PPC and Social Media to Search Engine Optimization and Video Marketing, you can choose and combine strategies to achieve your marketing goals. Now, with all these strategies at your disposal, you might doubt the relevance of email marketing and consider it to be old-fashioned. But we are here to tell you otherwise.
Do you know 72% of customers prefer to receive promotional messages through emails (marketingsherpa.com)? And guess what? Only 17% of people would like to receive promotional content through social media!
While 90% of emails get delivered to the inboxes of intended recipients, a mere 2% of Facebook followers can view your posts on their News Feed. Most importantly, an investment of $1 can bring in an average ROI of $38 on email marketing campaigns (campaignmonitor.com).
If you are wondering what makes emails so special and powerful, here is a quote from a renowned marketing specialist, speaker, and author.
"Email has an ability many channels don't: creating valuable, personal touches – at scale." –David Newman (reasmarketing.com)
The rest of the facts, we will discuss in the following section.
Why Do You Need to Unleash the Power of Email Marketing?
Establishing connections– The global health pandemic of Covid-19 has proved that email marketing is alive and continues to be an important internet marketing strategy. As it allows you to send personalised messages to all customers, you get the opportunity to connect with each of them on a one-on-one level.
However, be careful of the tone and language of your message. If you have an offer to make, tell them how buying your product or engaging your service might help them in this adverse crisis. Remember, your objective here is to sound sensitive and thoughtful, and not blatantly promotional. Feeling confused? Here is an example for your better understanding.
One of the newsletters by Cleancult, a manufacturer of green cleaning products, contained an exclusive offer on handsoap bundles. Furthermore, the newsletter also talked about the company's noble mission of distributing hand soaps across facilities and shelters. With a balanced tone and measured words, this newsletter is a clear example of how you should put across your marketing message smartly yet responsibly.
Greater relevance– Although it is an important part of your digital marketing strategy, social media has its sets of challenges. Negative publicity, diluted brand voice, and late ROI results are some of the drawbacks of social media. Moreover, there can also be situations when popular social media platforms on which you wanted to run a campaign, may fizzle out – TikTok in India for example. The ban has led the digital marketers in India to realise volatility of social media platforms.
On the other hand, email marketing is far from such complexities and gives you the right to take necessary actions. From maintaining your list of subscribers to driving higher customer engagement, you can have better control over your email marketing strategy.
If you are wondering how to go about it, we suggest you take ideas from brands that have mastered the art of email marketing. Uber is simply impressing its email subscribers with quirky and engaging promotional mails. Boasting bright email designs and smart copywriting, Uber's emails are certainly click-worthy and setting a benchmark for others to follow.
Accessible and measurable – Smartphones bring your business to the fingertips of your target customers in much lesser time. So, when you launch an email campaign, chances are high that the maximum number of people is going to access your emails through their smartphones. Don't believe it? Well, in 2019, no less than 60% of such campaigns were opened and accessed through mobile devices (uplandsoftware.com). Impressed, huh?
Added to that, you can also consider email marketing best practices to enhance the accessibility and acceptability of your emails. Responsive email layouts with logical reading order, sufficient contrast & highlights, and compelling CTA can help your email campaign stand out from the crowd.
Moreover, measuring the results of email marketing is no rocket science. Using email marketing software, you can track a range of metrics like who opened the mail, which links were accessed, and also the latest number of subscribers to your mail list. Also, you must A/B test your email campaign so that you get the optimal marketing results by drawing comparison between the two versions of it.
Cost-effective and economic option – Having discussed important factors, it is time that we talked about money. According to the Consumer email tracker report by the Direct Marketing Association, 82% of marketers have capped their email marketing cost at 20% of the overall marketing budget. Now, to determine the cost of email marketing, you have to consider important factors like quality of your mail list, the complexity of your email concept, and frequency of mail campaigns.
Oren Greenburg, a prominent UK-based digital marketing expert believes personalised content is the key to drive customer engagement but at a higher cost. So, it is on you whether or not you would like to spend extra and help your business grow with personalised content. However, we can say that spending a little more will not ruin your wallet. Instead, it can help you achieve optimal result and bring you a fortune.
What remains constant is the cost-effectiveness of email campaigns when compared to other marketing strategies. As per a reliable study, the average ROI on email marketing is 122%, which is four times more than ROI on any other online marketing channels (eMarketer.com). So, it is clear that with email marketing, you can drive better traffic to your website, get quality leads, and influence better conversions.
Wrapping it up – No matter what critics say, email marketing is here to stay. Not only is it a cost-effective alternative to other digital marketing activities, but email marketing also delivers the maximum result in minimum time. Turn a deaf ear to anyone who suggests you otherwise because statistics prove that email is beaming with life. However, since experts know best practices, you might want to consult a digital marketing agency India for effective guidance. So, what are you waiting for? Partner with the professionals and create a result-driven email marketing campaign for your business.