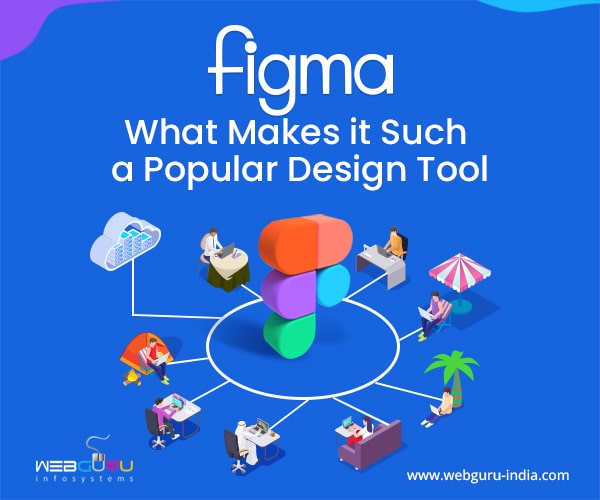 In the middle of the crowd of new and advanced UI/UX design tools, one has managed to really stand out and get people's attention – Figma. With an estimated daily user base of over 4 million, Figma boasted of a valuation of $10B as of May 2021, before Adobe announced in September 2022 a deal to purchase them for twice the amount ($20 Billion). Numbers such as these clearly indicate that Figma is a force to be reckoned with, and professional website design companies worldwide are adopting this new, intuitive and collaborative tool to ease their work.
What is it?
Created by Evan Wallace and Dylan Fields and launched first in 2016, Figma is a cloud-based tool for designing user interfaces for websites and apps, as well as graphic design. What makes it different from other designing tools like Photoshop and Sketch is it has been built with collaboration in mind. With other tools, you would generally need multiple software installed in the systems of everyone that would collaborate. Figma, on the other hand, has live collaborative features, can be accessed through both a desktop app as well as a browser, and has unique URLs for each file so that accessibility is never an issue.
What Makes Figma So Popular?
Several major companies such as Zoom, Uber, and Netflix have shifted to Figma for their web and app design purposes. There are several reasons for this.
1. Built for Collaboration
Designing projects are usually a team effort, with various personnel involved with graphic designing, wireframing, prototyping, and so on. The primary problem here used to be the file-transferring process among the various designers involved. This issue is completely eliminated by making the whole system cloud-based.
Multiple designers can now see their project updates in real-time, collaborate, edit, and observe all in the same place. Observation mode allows you to watch another process as it is happening. Team and organizer pages allow you to track every member involved in the process. If every member involved has access to the project at all times, it increases the chances of catching design flaws early before they snowball.
Additionally, Figma also allows unlimited members access to a single file, all through the cloud. So issues with licensing or some members not having access to certain plan subscriptions will never arise within a project. And since it is cloud-based, you can access your files through any device on any operating system. iOS and Android devices also get an additional Mirror app that allows live previewing, although you won't be able to edit with it.
2. All-in-One Tool
Handing off projects from designers to developers becomes unnecessary in Figma, since both can use the same tool to develop the UI/UX. Any changes made show up as live activities in the project file. The comment feature makes it possible to provide live feedback during any application development process. And since all files come with a unique URL, there will never be any questions regarding whether what you have is the latest version or not. Every link contains all of the latest data – graphic assets, measurements – all ready to be exported.
Figma has its own "Code Mode" where you can both view as well as update any element you see in the project. It generates codes that can be used by developers. Every element has its own set of relevant information that can be viewed simply by clicking on them.
Figma also comes with a new and amazing resource – the FIGJAM whiteboard tool. It is a robust brainstorming solution that allows the full team to be involved in the process even before the actual designing and development begins. It doesn't require much knowledge of the designing tools inside Figma either – it is easy to use, intuitive, and is built so that anyone can participate easily.
3. Automated Backups
Figma's inbuilt backup system is perhaps one of its most coveted features. You won't have to worry about spending hours on a project just for your system to crash, sending you back to square one. Lost projects are always recoverable in Figma. If your system disconnects from the server for some reason, all of your edits will be saved to disk.
The autosave option keeps plenty of versions backed up to the server. This means that not only is it very helpful if you're working on a weaker device prone to crashing, but it also acts as a version control. Previous versions are saved for plenty of iterations. Going back to previous versions of a web design project is as easy as a click.
4. Plenty of Resources
The Figma community is enormous, which means there is no dearth of resources. In fact, the Community Resources page is a full-fledged marketplace of ideas and inspiration. Hundreds of custom made files, graphics, art illustrations, 3D models, animations, and other resources mean that you'll never have to start a project from absolute scratch unless you really want to. The tools here aren't locked behind a barrier of skill and expertise, and Figma will also put you in touch directly with the resource developers themselves.
There's also an official library of plugins for almost any design feature you might want. There are plugins that will help you automate your workflow and remove tedious tasks, plugins that will create wireframes, plugins for creating dummy text, and even plugins for creating moldable organic shapes for your design. Even FIGJAM has its own set of resources and widgets that extend your possibilities even further, with more being added constantly.
On top of that, given the immense popularity of Figma, there's no dearth of great learning resources online. The Figma community itself is a great source of learning, along with its official blog and YouTube channel.
5. Very Affordable
The final USP that drives the popularity of Figma is its affordability. It also offers a starter plan which is completely free of cost.
Figma's starter plan allows you access to 3 Figma files and 3 FIGJAM files, and unlimited personal files, collaborators, cloud storage, plugins, widgets, and templates. It even provides you with a mobile app and a 30-day version history backup. This is great for beginners who have just started out with either the application or web design in general.
Of course, there are further plans for professionals as well as full-fledged enterprises, which means once you have tried it out and are satisfied with its capabilities, scaling your projects in Figma is no problem at all.
Conclusion
Figma is an advanced and highly intuitive tool that is slowly but surely transforming the way we are used to seeing design projects happen. Among the popular collaborative design and prototyping tools of 2022, Figma has a market share of 31.14%, which is far ahead of any of its competitors. This gives us an idea of its immense popularity. Both individual designers, as well as entire teams, can benefit from this amazing application.