04 Jan / 2011
1,066 views
Floral Design In Website Design: Examples and Advantages
Website designing is all about creating a web presence that helps attract potential customers to the site. To achieve its ultimate objective, it is the work of a designer to implement proper blend of creativity and professionalism, so that the site stands out amidst the crowd easily and effectively. Though not used widely nowadays, floral elements if used appropriately can add an extra boost to a website design. Often used to emphasize an arty form, floral elements look extremely good in graphic arts. As a designer, you will love to work with floral designs, as it allows you to let your imaginations flow unbound. Here we bring for you some examples of website design that display a brilliant incorporation of floral elements: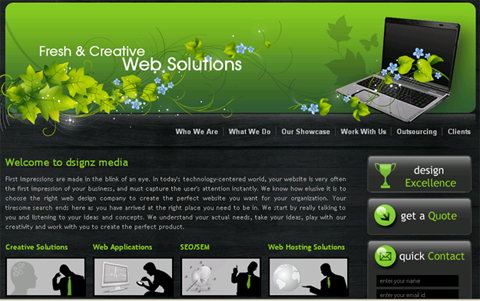 Dsignzmedia.com: The bold combination of black and green in its background makes the site uniquely appealing. The floral design at the banner of the website makes it more creatively refreshing and eye soothing to visitors.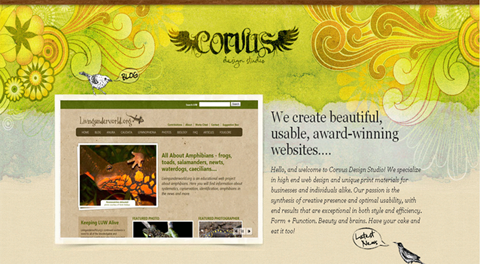 Corvusart.com: The bright yellow header of this website with its artistic floral arrangements makes it an instant eye catcher. The body of the website is toned down with a contrasting light shade of yellow ochre that brings a comforting touch to the website. Definitely a fine show of color-play from the designer.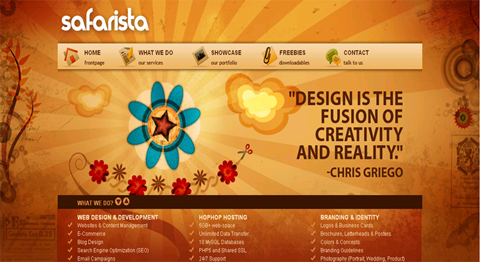 Safarista.com: This site displays a complete bold look with use of bright color shades such as red, yellow and orange. Acting as a relief amidst the bold colors, the light side floral arrangements adds to the beauty and euphoric essence of the site.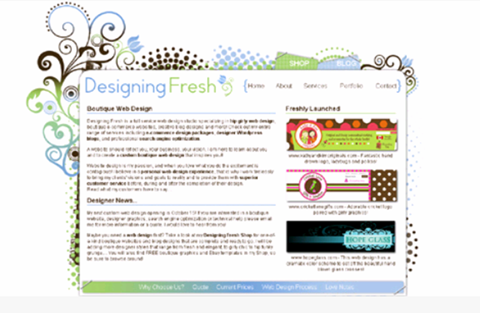 Designingfresh.com: Done in white background, the graphical floral arrangement at the side of this site makes it easily attractive. Plain yet elegant in its design, this site holds a gentle simplicity.