11 Nov / 2008
656 views
Website Redesign – Get A Professional Look
An Introduction to Website Redesign
No one is perfect and so is Web Designer. No mater how hard and earnestly he had tried to add professional touches in a website, all his effort gradually wanes with the passing of time. As the concept of Professionalism varies from person to person and as it does not have a clear definition, web designers have to face immense difficulty to find out a proper solution to this seemingly unsoluble problem. The only solution they have in hand is redesigning a website in a regular interval, which is commonly known as "Website Redesign ".
Why it is important?
The term "Website Redesign" is gaining more and more importance in the domain of web design thanks to its enormous popularity among website owners as well as web designers. With the development in the field of technology, online presence has become a necessity for every business organization. As competition is spiraling up in virtual world, the need for updating content, design and logo of a website in regular basis is gaining currency. The benefits of Website Redesign are enumerated below:
Enhancing the brand image of an organization.
Capturing the attention of online viewers.
Giving pleasant surprise to clients and regular visitors.
Outpacing competitors of the same field.
Rectifying flaws of existing website (if any).
Ensuring a regular flow of traffic.
How the concept has modified in due course of time.
Website Redesign is certainly not a new concept. In point of fact, this concept has undergone a sea change in the past few years. Logo redesign , which is an inseparable part of website redesign, has added a new dimension in it. Some large business organizations have considered this concept seriously and have given their consent to it. Logo is considered as a brand representative of a company and therefore a company needs to work out the future impact of this decision before jumping to a conclusion.
Google's contribution in this respect.
The technical behemoth Google has popularized the concept of Logo redesign or Website redesign by frequently changing its logo. In order to commemorate memorable historical events and public holidays, Google usually changes its logo for giving a pleasant surprise to its millions of online users.
Below are some of the Google's famous logos that were used in its past few years for making people aware of the important issues, which are happening around or have happened in the past.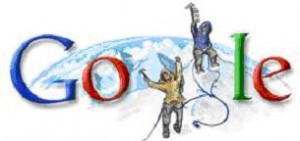 Why website redesigning is gaining popularity?
Companies, which have a bad record, often opt for website redesigning as it helps a company to polish its brand identity or clean its public image. Redesigning logo has caught the fancy of many corporate giants, as its helps a company to reinstate its influential position in the market. In lieu of a complete facelift, some companies give consent to minor changes in a website. Just adding new images or a flash banner may fail to bring noticeable change in an existing website and therefore a person needs to incorporate creative inputs in it for the sake of changing common people's perception about his business organization.
Different Companies Different Solutions
Website redesign is certainly not an easy task because a designer has to dictate the flaws in an existing website and at the same time, he has to offer innovative solutions to overcome those flaws. Apart from bettering the visual appearance of an existing website, a designer needs to remain aware of the brand image of that company. Sometime minor changes can do a good job and sometimes a designer has to suggest a complete change in the pattern and concept. One needs to put his trust on an experienced designer who is thoroughly acquainted with the latest development in the field of website design.
Cost an Important Factor
This is undoubtedly an important factor, which needs to be fixed before starting of a website redesign project. Changing the pattern of an existing website, adding latest technology like flash, 3D Max, Maya or shuffling the alignment requires a considerable amount of investment. If you are thinking about redesigning your logo, you need to pour a good amount of money in marketing campaign for making people aware of it. As giving finishing strokes is the main objective of website redesign, some web designers charge their clients exorbitantly.
However, growing competition has given an opportunity to website owners to grab a good deal from a reputed website redesign firm. Before putting your trust on a particular firm, one needs to gather information about the profile and reputation of that organization in advance. Viewing portfolio is certainly a good decision as it helps a person to form a fair concept about quality of service offered by a company.
Summing Up
One should not consider website redesign as a short-term task instead; it should be taken as a long-term project. If this project runs smoothly, a business organization will certainly be profited in long term.