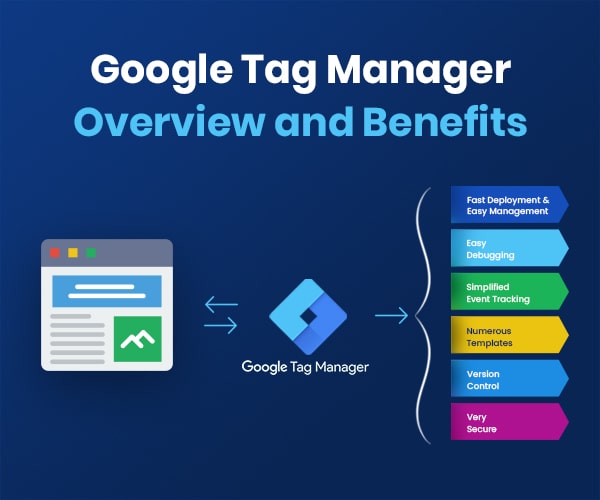 Google Tag Manager is a free tool that allows you to manage your website's (and mobile app's) tags in one place. Almost every website uses tracking codes, aka tags, for various ad management and performance monitoring applications. Some examples of such applications are Google Analytics, Google Ads, Facebook (Pixel), and more. Through these tags, your website sends data to linked applications; those, in turn, help you measure the performance of your website and related ads.
Before Tag Manager, digital marketers and developers would have to manually insert tags into a website, by directly editing the source code or through the CMS admin interface. This could be a tedious task since a number of tags would have to be placed in the source code of numerous (sometimes all) pages. Also, setting up the codes manually needs time and coding expertise. Tag Manager, on the other hand, offers an easy-to-use interface to set and manage all your tags in one place. These days, the use of Google Tag Manager is considered to be one of the best SEO practices.
To start using Google Tag Manager, you need to sign up and obtain a unique ID and two sets of codes. The first set of code is required to be placed on the head section of your website and the second one in the body section. Once set up, you may use the tag manager to create various tags. You have to work with 3 primary components of the tag manager – Tag, Trigger, and Variable. Let's explore.
What is a Tag?
A tag is a piece of code (JavaScript) that is used to collect data about visitors to a website. This data can be used to track how visitors interact with the website, what pages they visit, and what actions they take. When creating or managing tags through Google Tag Manager, you need not worry about the underlying code. Just set them up through the interface provided and you are done.
Google Tag Manager makes 3 kinds of distinctions between tags
Pre-made Tags – These are tags readily available in Google Tag Manager. Examples of pre-made tags are Google Analytics (both 4 as well as Universal Analytics), Google Ads, LinkedIn Insights, Pinterest, and many more.
Community Templates – Google Tag Manager also has a large community of developers centered around it, constantly working to make it better. Such developers create numerous tags that aren't already available in GTM, and such tags are available in the Community Templates section. Facebook Pixel, Amazon, etc. are examples of community templates.
Custom Tags – In case the tag you are looking for is not available in Pre-made or Community Templates, you may directly enter the tag code through this section.
What is a Trigger?
A trigger is an event that fires a tag in Google Tag Manager. Triggers can be based on common interactions such as page views, link clicks, form submissions, and more. Triggers can also be based on more advanced interactions such as scroll depth or element visibility. Every tag needs a defined trigger to be able to work.
You may create a trigger when creating a tag, thus linking the trigger with the tag in one place. Alternatively, you may create triggers separately and link them with the tags later. There are two types of triggers in Google Tag Manager – Firing Triggers & Blocking Triggers.
As the name defines, a firing trigger is a condition that must be met for a tag to execute. An example could be firing a Google Analytics tag when a visitor lands on the "Portfolio" page. In this case, the trigger has to be set as a "page view" that matches the URL of the "Portfolio" page. You may add multiple conditions to a trigger. For example, a trigger can be configured by specifying the page path as "inquiry-form" and (click on the '+' sign) "thank-you". Thus, it will fire the tag only when the visitors reach the "thank-you" page after filling out the online form on the "inquiry form" page.
Blocking triggers are useful to catch exceptions. Such triggers block the execution of a tag when the defined condition is met. Consider a tag that gets executed through a page view trigger for all the pages of a website. Now, you need the tag to exclude the payment confirmation page of the website. You can create a trigger for page views and then use the "Add Exception" option to specify the URL of the payment confirmation page.
What is a Variable?
A variable is a named value that can be used during tag configuration and trigger settings. One example of creating a variable is to store your Google Analytics ID. You may then refer to this variable everywhere you need to specify the ID. Thus you do not need to remember or copy & paste the ID every time you need to use it. For higher levels of customization in tagging, variables offer flexibility and save time.
You can read more on the use of variables in Google Tag Manager here.
Benefits of Google Tag Manager
Here are some of the key benefits of using Google Tag Manager.
1. Fast Deployment & Easy Management
Through Tag Manager, many processes can be completed without any coding changes to the website. Since all the tags are available in one place, managing them becomes really easy as well. Marketers have the ability to rapidly make changes and deploy new tags with ease, greatly streamlining their workflow. In many cases, a developer will not even be required.
Working with multiple teams or handling multiple projects also becomes easy in GTM. With the "Environments" feature you can control your GTM installation across live websites as well as their counterparts that are still in various stages of development. This is very useful for previewing tags across multiple test environments.
Similarly, the "Workspaces" feature allows multiple team members to work in the same container without hassle. Workplaces don't overlap each other, so no one overwrites anyone else's work.
2. Easy Debugging
Preview and Debug Mode is a helpful feature that allows you to test your tags before they are deployed to your site. It allows you to see what tags are fired on a page and what data is being collected. This is helpful for troubleshooting and ensuring that your tags are working correctly. The testing tools allow you to test your tags in a controlled environment before they are deployed to your site. This is helpful for making sure that your tags are working correctly and that they are not causing any issues on your site.
3. Simplified Event Tracking
Google Tag Manager comes with auto-image tracking. Once you have set it up, GTM will automatically look out for specific website interactions, such as link clicks, time spent on a page, form submission, page visits, etc. These are the basic events that come with GTM. More event types get added constantly, meaning the scope of GTM event tracking keeps increasing.
4. Numerous Templates
GTM has numerous inbuilt tag templates for Analytics, Google ads, remarketing, and many more. Additionally, the custom templates section allows the ever-growing community to upload custom tags for all to use. You can add any of them to your container, and won't have to worry about creating custom codes. All of these templates cover the length and breadth of the majority of tag requirements you might have.
5. Version Control
The Versions page in Google Tag Manager works by allowing you to create and manage multiple versions of your tags. This is helpful because it allows you to test out different versions of your tags before you publish them. It is also especially helpful when you are working with multiple team members and need to keep track of which tags are being used by whom.
6. Very Secure
Google continuously scans all scripts, and all known malware and unfit tags are flagged. Similarly, known malware domains and URLs are also blocked. Additionally, GTM handles security by allowing you to specify who has access to your account and what level of access they have. You can also specify which domains are allowed to access your account.
Conclusion
Google Tag Manager is an easy-to-use solution that can be used to control and manage all of your tracking codes from one place. With less code on your website, your page load speeds can also potentially increase. You have to invest some time to learn the tool, especially for some of the more complex tracking activities, but it is time well spent. Easy management of tracking codes is essentially better for your marketing campaigns, and the more data you have the more successful your campaigns will be.