Home Blog Mobile App Development Google's Latest OS Comes In A New Avatar – Android Oreo
Google's Latest OS Comes In A New Avatar – Android Oreo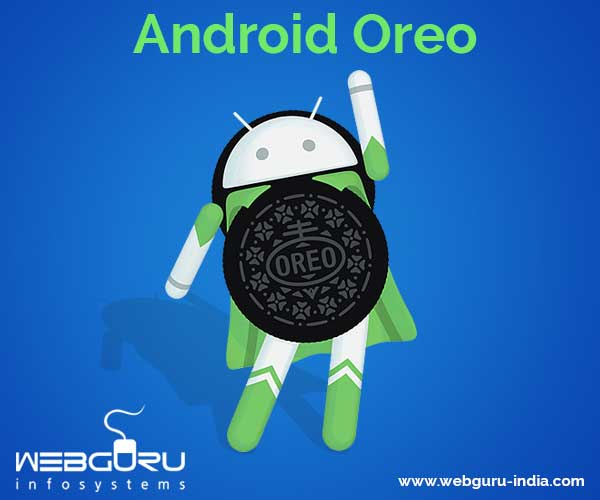 The most popular (by percentage owned) mobile operating system in the world, Google's Android has done it again, that is, come up with a new version. Android's obsession with confectionary continues as it has named its latest version as Android Oreo. The last one Nougat was released in August 2016 and just about one year later, Android has decided to bring out its Android 8.0 OS final update for aficionados like you and I. To be made available for Pixel and a few Nexus devices, the new version will have plenty of new features categorised as core, hardware and surface. Let's discuss them one by one:
Core features:
Save battery power: Android Oreo will automatically limit the background activities of apps such as broadcast, location updates etc., leading to power saving. The OS will even allow you to see the apps that are consuming more power.
Project treble to assist early updates: Thanks to a new vendor interface, manufacturers can access vendor updates and implement the same in their mobiles.
Quicker running of apps: Android OS assisted system optimization will help in faster running of apps and rebooting as well. Programs like Google Play Protect will identify malware in apps and remove them automatically.
Wi-Fi aware aka network awareness networking: This feature allows two devices with similar hardware configuration to communicate with each other when placed in close proximity. Interestingly, this communication would not need the presence of an internet connection.
Better password management: Instead of remembering userids and passwords to access each and every app, Android Oreo will come with an Autofill API option. The API will store these user ids and passwords at a central location for you to access them at will.
Prevent bootloops by Rescue Party feature: Recovers the device when core components crash by giving the option of factory reset without any need for a special hardware.
Hardware support features:
Official HDR displays: Images will be displayed better and brighter with a range of colours.
Bluetooth is much strong: With strong LDAC support, a Sony innovation, Android Oreo can help send high volume of data through Bluetooth at speeds higher than 990 kbps. Moreover, another API called AAudio will help apps to better stream data.
Surface features:
Smarter text selection: The OS will help you to select a long text or URL and paste the same where you want it to. This is a welcome addition that will bring your mobile closer to the functioning of a computer.
Better looking emojis: The blob emojis we are all used to will not feature in Android Orea. In fact, it will have new circular ones that you see on apps like WhatsApp.
Standard Icons as per manufacturer's Interface: The sight of icons across mobiles appears different as phone interfaces vary. However, Android Oreo will provide a standard for icons to adapt to the phone interfaces.
Other surface features would include the following:
Integrating widgets to the home screen will become easy
App info to appear in search results
Better multitasking with picture-in-picture mode
Overall, Android 8.0 OS will make your mobile experience far more convenient than what it is at present.
In case you want to build or know more about mobile application development, get in touch with us.