Upon talking with many management students, gurus and experts, one gets to know that the difference between branding and marketing is not well known. The value of branding needs to be known and understood, whereas marketing should be noted not as a sales driver but as a center for costs, say experts.
With that being said, is it justified to differentiate the two aspects of business in just one sentence? Hence, let us together look at the difference between branding and marketing, yes there is a difference between the two, which is important to know of. Hence please read on and be well-informed of the same.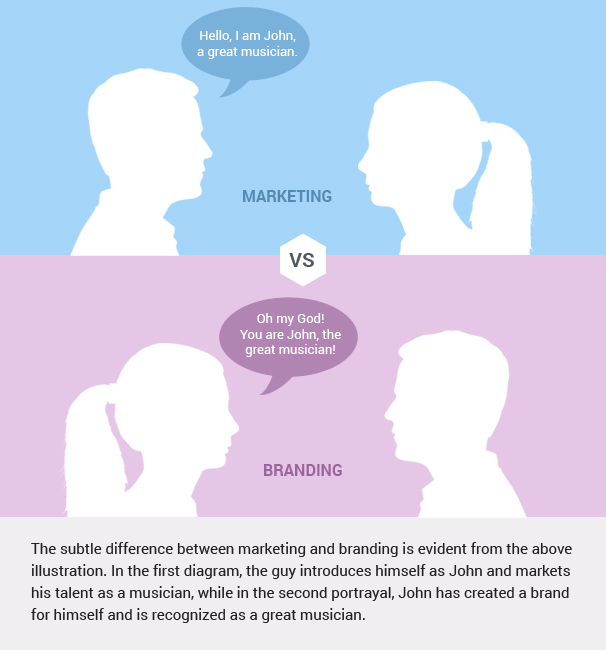 Opinions Galore
The plethora of opinions on the two aspects is many to learn from, which can be confusing as well. Most call it the push tactic, which is a must to have when getting in the much revenue through sales is concerned. "Ours better than theirs" is what's seen and heard of mostly as a push tactic message sent out into the world these days, and some use celebs for marketing and branding too. Experts call this "oversimplification", however this is what's being used and will be if improvising is not done and demarcations are not made.
So is the Push Tactic, Marketing or Branding?
In the case of branding, the term should take over and not be bothered about the marketing strategies being used to set up corporate identity. Push here is not for brand needs, but pull is because the former expresses the truths that are essential for the business and its services or products. Branding basically talks about the values of the company, the character of the company and provides clarity on attributes that the company holds strong, telling the market what it can expect and what it should not. This encourages potential clients to buy services and products from a company, and branding thus helps support marketing and sales in such ways but wouldn't ever say "CHOOSE ME", rather branding says "Here i am, this is me, accept me if I suit your needs, recommend and support me if you resonate with me."
Of Strategies and Tactical Approaches
Corporate branding and marketing are different, where the latter makes large contributions to the brand. However, the brand always rules on a big scale, much more than what the efforts of marketing can show or give. Once marketing has been done well and swept the scene around, it is the brand which stays for life, and this is what the customers would associate themselves to.
Branding makes a consumer loyal; marketing can only convince one to buy. This is how it works for most big names and companies across the globe, for every organization and business. Even non profit organizations too would want to sell, with a difference of course, and that's where branding corporate identity comes in. The company would thus take into consideration the varied actions, policies and promotional tactics for marketing, which would make or break its image in the market, branding wise.