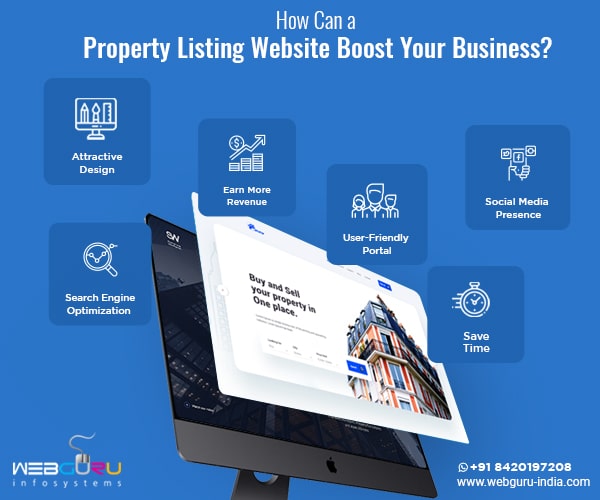 In the contemporary world of real estate, about 90% of home buyers take the assistance of the internet while searching for a new property or home (Source: Properties Online). Therefore, as a property developer, it's essential for you to have a dynamic web presence in order to engage the attention of sellers, buyers, and agents.
In this blog, we will explore the essential features of a property listing site and the role they can play in boosting your business. However, building an attractive website is not everyone's cup of tea. And should you not have a prior experience in developing a site, you may seek assistance from a reputed website design company to build a robust, scalable, responsive, SEO friendly, and feature-rich property listing website at a cost-effective price.
# Benefits of a Property Listing Website
In the following passages, we will discuss the essential features of a decent property listing website and its benefits.
Common Platform
A property listing site offers a common platform for sellers, agents, buyers, and sundry service providers to display their requirements. With the search filter options, the users can easily reach a specific property section based on pricing, location, or size.
Attractive Design
A catchy design will automatically attract more eyeballs. Further, the site will display several links, menus, and Call to Action buttons. These features help to enhance user experience.
Earn More Revenue
A website is an easy and cost-effective medium to upload any property related information. It also helps developers/sellers/agents to list their properties under various categories such as renting, selling, or leasing. This user-friendly feature allows sellers to select your site while posting their advertisements.
Social Media Presence
According to a recent survey by 'We Are Social', there are around 3.28 billion active users on the social media and the latter offers measurable results in leads, sales, and branding. Social media also helps marketers to generate greater ROI (Return on Investment) by enabling them to reach a wider audience at a lower cost. The website will help visitors to share property related info on Facebook, Twitter, or Instagram and thereby enhance brand awareness.
Search Engine Optimization
An SEO friendly property listing website will rank high on SERPs (Search Engine Result Pages). This can generate leads, drive conversions, and boost your business.
User-Friendly Portal
The website can offer a perfect opportunity to engage with your audience. Also, the interest rate calculator allows buyers to effectively calculate the mortgage instalments and interest rates. One can rapidly find out unlimited deals on properties as well. Therefore, a website can be a win-win for both property developers and buyers.
Save Time
A website effectively helps you to reach a large audience without investing much time. Apart from showcasing the property details, the site also features your contact information. Thus, it helps to introduce yourself to dozens of new prospects.
Build credibility
Owning a website contributes to the company's credibility. It enhances brand reputation and gains trust from potential sellers and purchasers.
Conclusion:
Leverage all these advantages of a property listing website to reach your target customers in a convenient, smooth, and cost-effective way. A wholesome, expert-supervised property listing solution from any reputed website development company can effectively assist you in this regard.