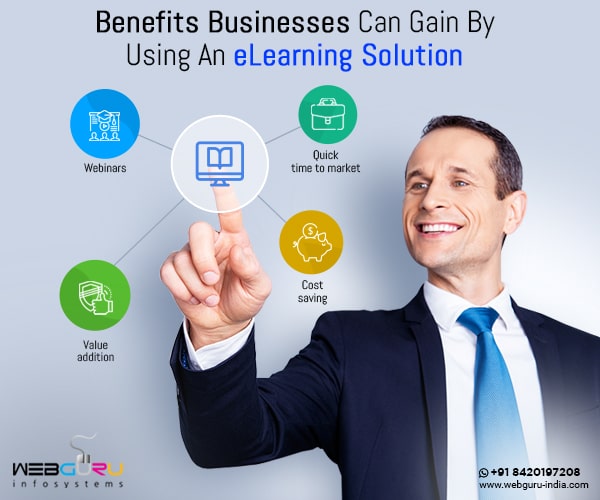 Is your business struggling to meet its objectives and project deadlines? Is the quality of your products or services not meeting the prescribed standard? Chances are your workforce may need to be retrained to fully understand and execute the various processes of your operational workflow. It is possible that a lack of quality training has left the workforce bereft of ideas or skills to address the challenges they come across. In today's competitive business landscape where high attrition rates have become the norm, it is important for businesses to invest in quality training using an Learning management system. In fact, statistics also point to the growing importance of eLearning. According to Research and Markets, the global eLearning market is expected to touch $325 billion by 2025.
Although classroom training might appear convenient, the outcomes are not always viable. In an organization comprising various departments or processes located at different places, centralized classroom training is not feasible. Since each process shall have its special training needs, a one-size-fits-all classroom training can easily be replaced by a customized eLearning solution.
Issues with classroom training
Notwithstanding the face to face interaction between the trainees and trainer brought about in classroom training, it is not always feasible due to the nature of some businesses.
In a fast-paced business environment, namely, retail or hospitality where employees have to be always on their toes and continuously engage with their end customers, taking time out for classroom training can be a difficult proposition. Rather they would need short term training courses in an easy to understand format, which can be accessed in their chosen time.
In organizations where departments or teams are spread across geographic locations with their specific work time lines, arranging classroom training at a common location is just impossible. This is where a comprehensive eLearning solution can be of help, for trainees can access it at different times, locations, and by using the device of their choice.
Benefits of an Learning management system
With digital transformation gaining pace, businesses need to adopt the latest technologies and streamline their process workflows. And the evolving nature of technologies requires the workforce to be up-skilled continuously. The challenge is not only to understand the new technological paradigms but to adapt to the new methodologies brought about by their implementation as well.
Value addition: As the workforce gets trained using eLearning software at its chosen time and pace, the business gains a competitive advantage. Training can lead to positive outcomes such as reduced operating expenses, streamlined workflows, reduced redundancies, optimized resources, and value addition.
Quick time to market: To beat the competition, you must bring out your products or services on time. This can only happen when your workforce knows about the latest technologies, market dynamics, business processes, and objectives. A well-trained team can deliver better performance by using optimum resources. Since the workforce is likely to work in tandem across departments and locations, the product development process shall get streamlined thereby making the time to market more focused and predictable.
Cost saving: Classroom training would need additional expenses towards setting up the infrastructure, printing training materials, and travel and accommodation (if trainees come from other centres that are geographically distant.) On the other hand, an eLearning software containing the training modules can be accessed by employees across geographies, processes, teams, and time zones.
Webinars: An important part of classroom teaching is the face-to-face interaction that trainees have with their trainer(s). In eLearning, this can be easily achieved by conducting webinars. This will help trainees to achieve a faster learning curve and enable them to apply their skills to the jobs.
Better Tracking: Similar to a classroom training, an Learning management system allows the trainers or business stakeholders to keep track of the learning curve of each trainee. This helps them to focus on the laggards and bring them up the learning curve fast.
Better learning engagement: Prolonged sessions of classroom teaching can lead to a drop in the attention span of trainees. This drop can impact the learning outcomes in due course. On the other hand, since eLearning courses are accessed by the trainees at their chosen time, they can regulate their learning hours as well. This leads to a better learning engagement.
Conclusion
Elearning has revolutionized the world of training by bringing in convenience, user-friendliness, easy pace of learning, customization, and cost effectiveness. If your business wants to keep your employees updated with the latest technological developments in your vertical and avoid the hassle of setting up a cost intensive in-house training infrastructure, then avail a robust eLearning management system developed by a top website design company.