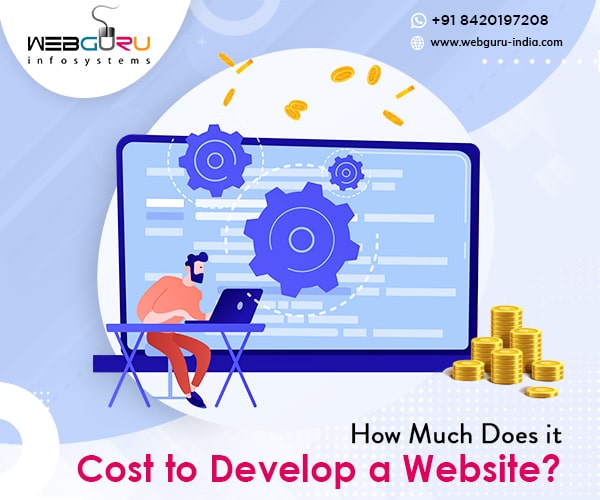 Having a website is of paramount importance for any business of any size. Modern consumers prefer to learn all about a business with a tap before availing the service.
If you are reading this blog, we know that you are already planning to bring your business online and create a robust digital destination. You may also want to revamp your existing website with modern and high-end features. However, the only question that resists you to take an action is "how much will it cost to develop a website"? It's a natural concern.
If you search for the question on Google, you will be flooded with lots of results. Each company has its own price-point. However, when you look for a reputed website design company, you may be apprehensive of a really high charge and don't take a step to contact the company.
This will clearly produce an adverse impact on your website. Since a website is an important brand touchpoint, you cannot compromise with its quality or the user experience that it provides. We are here to clear your confusion. Today, we will take a close look at the cost of developing a website.
Website Development Cost – Things You Need to Know
Earlier, we've mentioned one factor behind the varying costs of website designing – the different quotes of different companies. However, there are various other factors that influence the pricing. Some of these include the following:
Technology used
Number of webpages
Number of features integrated into the site
Additional services (search engine submission, hosting, etc.)
Curious to know how these factors influence website design cost? Check out this link to find different website designing prices according to the range of features. Here, you will find all the details of different types of web design packages.
Found the link to be helpful enough? Great. Now, let's quickly move on to find how much you actually have to pay based on your requirement. As you found in the link we attached, each package consists of different types of features. Not all of these are required for your website.
Let's find out how much you actually have to pay. The following section will help you to avoid overspending while building a website.
Estimating Website Design Price Based on Your Goals
# What features do you need?
There are different types of features that you can integrate into your website. Some of the basic features may include:
Map integration
SEO friendliness
Social media integration
Mobile responsive layout
Contact form
Image slider
Image gallery
Newsletter subscription
Testimonials
Blog
Depending on your vision, you can integrate more features into your app – from video to chatbot. The more features you add, the better the website looks and feels, and the price-point gets higher.

#Static or Dynamic
Dynamic website development is a trend these days. The interface of such a website is rich with high-quality graphic, interactive elements & lightweight animation. If you want to create a user-engaging website, we recommend you to opt for a dynamic one. FYI, here are a few must-have elements in a modern dynamic website design.
However, if you are just starting out and don't have adequate resources to get a dynamic website, a static business website can be the first step.
You can always ask for a quote for your project.
#Budget
As you can understand, website design price boils down to the resource that you can invest. If you have adequate resources, it's better to craft a future-ready and highly engaging website. However, if you are not ready to invest a lot, you can start with a basic package.
Closing Idea
Before we close the discussion, we recommend you to check this link. Here, you can find that three packages are mentioned – Starter, Best Buy, and Premium. Based on your budget and requirement, you can pick the right package and get your work done. Remember, the prices and features mentioned in each package are the starting range. You can always customize your website with more features and pay some more bucks.
Hope you have got a clear idea about the cost of website development. For more information, feel free to contact us.