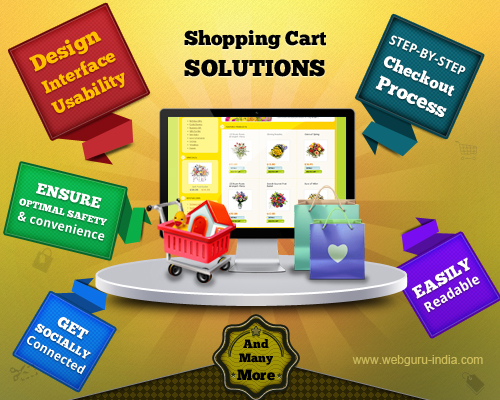 Are you failing to gain maximum benefit from your e-commerce website? Well, if so, then you must focus on designing usable and practical shopping carts for making the most of your business. From complicated design, complex user interface, to difficult navigation, the reasons for disinterest among users can be many. Therefore, to design a shopping cart that will add value to your business, you must focus on following some key principles for availing the best.
Wondering about coming across the perfect shopping cart solutions. Well, here is a quick look at some of the key principles that you need to follow for developing a perfectly usable shopping cart :
Design, User Interface, and Usability :
A cart involving the full page of a site allows you to offer more information and options to the users as against a mini cart. Additionally, it also enables you to play around a bit with the design and user interface. Since, the space is more; you can arrange the details in an organized approach. From product information, tax prices, shipping options, to item details, you can add it all in a full page cart.
Create a Link between the Mini Cart and the Full Page Cart :
Always remember that delicate features in a shopping cart influence the experience of a prospective user largely. If you have a mini cart designed on your site, always remember to link the same to the full page cart that is designed for the ultimate use of your customers. Incorporating an icon beside the mini cart is a great approach of capturing the attention of the users towards the same and the link leading to the full page cart.
Integrate a Step-by-Step Checkout Process :
Integrating a step-by-step process enables your prospective users to easily understand the checkout page and follow the same without any complexity. For example, you can consider integrating the choices, 'Sign In', 'Shipping and 'Billing', 'Payment', and 'Edit/Verify', in four separate stages making the entire process structured and organized. However, if you wish to design the checkout process in a single page, a good layout is a must.
Make the Layout Easily Readable and Table-Based :
To receive optimal results from your e-commerce business, you must always make use of table-based organized structure in your design. The layout must display all the information well without any disruption. Using standard font size and staying away from complex background are always preferable. It is also important for your users to have a good visual representation of the products, as it enables the user to confirm buying the same. Additionally, incorporating strong borders for separating the cells clearly is also advisable.
Incorporate Clearly Understandable Add to Cart/Checkout Buttons :
While designing an e-commerce shopping cart, you must focus on integrating links that can be easily accessed by the prospective user for a complete guidance throughout the checkout process. It is always wiser to add large and clearly understandable buttons for guiding the users in the right path. Well-styled and nicely placed buttons that explain the process in a simpler approach is a must have for every practical shopping cart.
Include Multiple Help Elements :
It is always good to use 'help' features on your shopping cart and checkout process. After all, it helps the customer or prospective users to have a quick answer to all sorts of fix and troubles that might come up while shopping. Tooltips can be incorporated in the design to explain the checkout form. Other 'help' elements include incorporating sample texts for input fields and highlighting the best usage of the cart's feature.
Avoid Using Multiple Fields :
For designing a usable and practical shopping cart, you must avoid using multiple or unnecessary fields. Remember, it is annoying for any customer to fill out excessive and unnecessary information in a form. It is important to make the checkout process easier and convenient for the users as it would help retain them to your site. To avoid the use of multiple fields, group similar fields in one section and name the same. Also, a good use of white space would help you design the form in an organized approach.
Add the 'Continue Shopping' Link :
Another must have for nicely designed shopping cart solutions, the 'continue shopping' link brings back the user to the online store and the product catalog. It is always advisable to place the link buttons below the table of a full page shopping cart making it easily searchable for the customers or prospective users.
Ensure optimal safety and convenience for users :
Having an effective shopping cart is not enough, unless you are able to ensure the consumers that their information would be safe in your hands. The pleasure of seamless buying when coupled with optimal safety indeed makes for a great buying experience. Integration and optimization of shopping carts for safety and hassle-free payment process goes a long way in building confidence amongst the users.
Get socially connected through your shopping cart :
It indeed feels great to generate handsome revenue through online sales. So, why not spread the word by allowing your customers to talk about their good shopping experience with you? Render your customers convenient means to share your pages and their experience with colleagues, friends, friends of friends and more. Include some easy-to use and attractive buttons for the same.
Additional to the above-mentioned features, proper visual support to the texts and inclusion of a verify page completes the entire process of designing a usable and practical shopping cart for the customers.