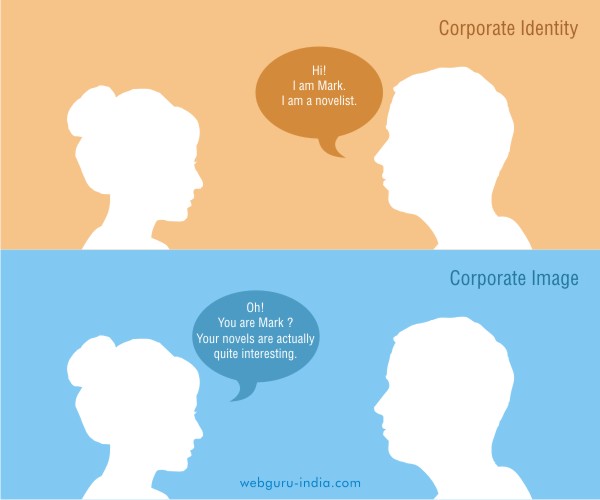 When it comes to marketing your business, corporate identity and corporate image happen to be the two most important marketing tools. These days, we find people use these two terms interchangeably. While they seem to be somewhat similar at first, they are quite different once you get to know the meaning.
Let's clear the confusion today.
Corporate Identity
Corporate identity is concerned with your company's visual appearance. Logo, website, stationery items – both electronic and paper (signage or retail outlet design) and other items like company name engraved pens or mugs, brochures, employee uniforms – these fall under this category.
The primary reason for a corporate identity design is to create brand awareness so that it becomes easier and convenient for people to identify your business amongst the crowd.
If you are planning for a strong corporate identity design for your business, bear the following two points in mind:
Frequently changing a company's visuals is not recommended as it can confuse the consumers and reflect business instability.
All the elements should have a sense of continuity and look as if they "belong" to the same brand.
Take Nike's swoosh or Coca-Cola's white script on a red background for examples. Both of these are the instances of corporate identity driving instant recognition.
Corporate Image
Corporate image on the other hand, is how the audience perceives your business. Put in simper terms, this is what people say about your brand when you are not in the room. You can consider it to be your reputation.
An effective corporate image of your business can be built through the following ways:
Mission Statement – Creating a mission statement gives the audience a clear about (1) What is the purpose of your business (2) Your target audience and (3) Distinctive features of your business.
Quality Service – Staying true to your mission statement and offer high-quality service / product will help you to stand out from the crowd. You see, there's no alternative for good service.
Promotion – It is necessary for you to promote your brand identity and mission to your target audience to create an image in their minds. This also includes managing negative social media reviews. If you are new to the market, consider engaging professional digital marketing services to ensure implementing the right strategies and maximizing the impact.
Training – Training your employees and internal stakeholders is necessary so that they can effectively promote your business via social media circles & word of mouth and also stick to the business ethics in terms of delivering service.
If we carry the earlier example of Nike, why would you opt for Nike instead of a random local brand when it comes to buying sports shoes? That's what brand image does!
Maintaining Reputation – Everything Comes down to That
Enhancing your brand image by implementing different measures should remain your key focus to build a good reputation in the market. You should always try to communicate the positives and success of your business to a wide group of audience. This helps to create a good impression about your business and encourage the audience to use your services and/or products. This affects your business reputation and increases your exposure throughout various prospective markets leading to new opportunities of growth and profit.
Remember, your brand image is everything related to your brand – its attributes, performance, service, quality, support, values, and everything in between. Managing and protecting your business reputation is another vital task which demands thorough attention and dedication.
Conclusion
As the market is getting fiercely competitive, a little mistake can wreck havoc when it comes to your business reputation. Quick response to client's queries along with maintaining a quality service will help you to create a strong brand image in the market.