03 Sep / 2014
4,909 views
How to Differentiate Corporate Identity from Corporate Image
When it comes to marketing your business, corporate identity and corporate image happen to be the two most important marketing tools. In the present day world where the competition is extremely fierce, it is the elements of identity and image that will help you to maintain consumer loyalty, attract attention and most importantly, assist you to build a successful business. It has often been observed that people fail to understand the difference between corporate identity and image thus, failing to build a strong reputation for their business.
Corporate Identity
Corporate identity is all about how you want your business to be perceived by your target audience. It acts like the personality of your business transmitting a specific vibe or emotion to people. The primary reason for a corporate identity design is to create brand awareness so that it becomes easier and convenient for people to identify your business amongst the crowd. While planning to design a strong corporate identity for your business, consider the following points:
Corporate Communication – Promotional materials, public relations, etc.
Corporate Design – Corporate colors, logos, uniforms, etc.
Corporate Behavior – Your business value and how it is promoted or demonstrated.
Maintaining a solid corporate identity not only helps your customers but, your employees and potential investors as well. When your business has a positive corporate identity, it will attract investors, motivate and encourage your employees to stay with you and refer their family or friends to your business.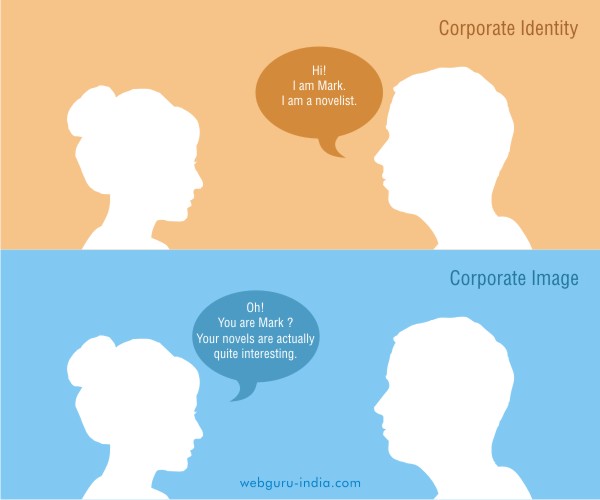 Corporate Image
Corporate image on the other hand, is how your business perceived by the audience. Usually, it is referred to the accepted image of what exactly a business "stands for". An effective corporate image of your business can be built through the following ways:
Corporate Identity Tools – You need to focus on creating corporate identity tools like name, logo, colors, slogan, type fonts, mascots, etc.
Mission Statement – Creating a mission statement gives the audience a clear about (1) What is the purpose of your business (2) Your target audience and (3) Distinctive features of your business.
Promotion – It is necessary for you to promote your corporate identity tools and mission to your target audience through online, traditional and social media. You need to include them on letterheads, business cards, brochures, packaging and every corporate communication medium.
Training – Training your employees and internal stakeholders is necessary so that they can effectively promote your business via social media circles and word of mouth.
It's All About Maintaining Your Reputation
Enhancing the corporate image of your business by implementing different measures should remain your key focus to build a good reputation in the market. You should always try to communicate the positives and success of your business to a wide group of audience. This helps to create a good impression about your business and cause the audience to use your services and/or products. This affects your business reputation and increases your exposure throughout various prospective markets leading to new opportunities of growth and profit.
Managing and protecting your business reputation is another vital task which needs thorough attention and dedication. Alternatives are available in plenty to consumers in this competitive market and a little mistake can wreck havoc when it comes to your business reputation. Quick response to client's queries along with maintaining a quality service will assist you to be heard and remain consistent with growing competition in the market.