Home Blog Website Design Services How to Optimize Your Homepage Design
How to Optimize Your Homepage Design
20 Nov / 2015
10,590 views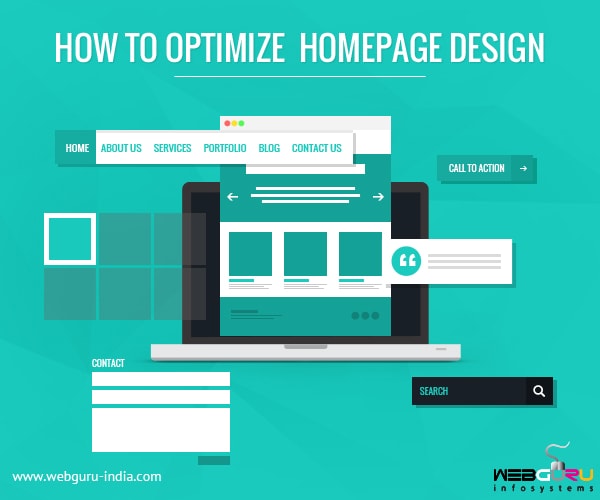 Online users today are more impatient and unforgiving than ever before. Failing at making a lasting first impression through your website homepage will lose you business with your contenders being just a click away. Hence, it is imperative that your website reaches out to the audience and conveys your business message with a balanced combination of promise and professionalism.
The Homepage of your website is its most important page. It is the online face of your business. It has the easiest URL, summarizes your business information and most of the online traffic is diverted to this page. This makes it all the more important for this page to provide useful information to all kinds of potential leads.
To have one of the best homepages in terms of quality we have listed the following points worth considering.
Give utmost importance to the unique selling point of your business: Give your customers a reason to stick around your website and services. Even the biggest brands need to instigate customers to buy their products. Hence, your USP and your key potentialities will give your customers the assurance they have been looking for. Use a tagline, use icons for the services provided, bend the traditional design rules once in a while to stand out in the crowd. Introduce a block in your Homepage and update its content each day. Have a look at http://www.forbes.com/forbes/welcome/. They have a quote of a day section which is updated everyday. After a few seconds, it redirects to its main website.
Strive for customer congruence: This implies the entire page experience needs to satisfy your customer's expectation. The contents that are mentioned in the page should be easily perceivable by the potential users. Further, the user experience can be segregated in terms of age, demographics, gender and can be redirected to a page with detailed information. This later on will help you to identify your potential users and their searches.
Social Success: Truthful, honest and modest success stories, testimonials, reviews help to gain user confidence in the long term. Avoid posting reviews through fake accounts. Including case studies also help users to refer to your website and rely on it.
Use Call to action buttons: It is about time to move on further from the traditional Submit button to more attractive call to action buttons. 'Learn More' is the top performer in terms of click through rates. Thus, good content summary and a learn more link to its detailed page can help in increasing your click through rate of your online webpage. 'Download pdf' is also another option. Avoid redirection to these pages using URLs. This just shows your laziness or your careless approach towards user experience. Make sure not to clutter your webpage with too many CTAs.
Menu: Navigation options should be simple and easily accessible. Sophisticated animations sometimes make them difficult to access. Make each part of your website easily accessible with minimum clicks.
Match your page headline with your CTA: Tell the users clearly what you are providing. Your call to action buttons should be relevant to your Homepage headline.
Avoid Distractions: With so many online portals available, viewers have very little time to go through the details. Hence, provide straight forward and to the point content describing your products and services. Be short and simple. Do not bejewel your homepage with sophisticated content, annoying phrases or over energetic promises. 'All that glitters is not gold' – stands true till date.
Image: Use images where necessary. Avoid free images. Instead, use premium images which are best relevant to your products and services.
Short and Simple Contact Form: Considering it as your first interaction with your user, keep it short. Avoid a long contact form unless required.
Test the performance of your Homepage regularly and make necessary changes.
Load Time: With all the components on your Homepage, make sure of your website loading time. Users today are very impatient and loading time taking more than 3-5 seconds is unacceptable.
Conclusion
You should be very clear what you want to convey in your Homepage. The content is equally important as the design. Guide your users to the more important sections of your website. Keep the display ratio of all the components proportional and avoid overemphasizing more than required.