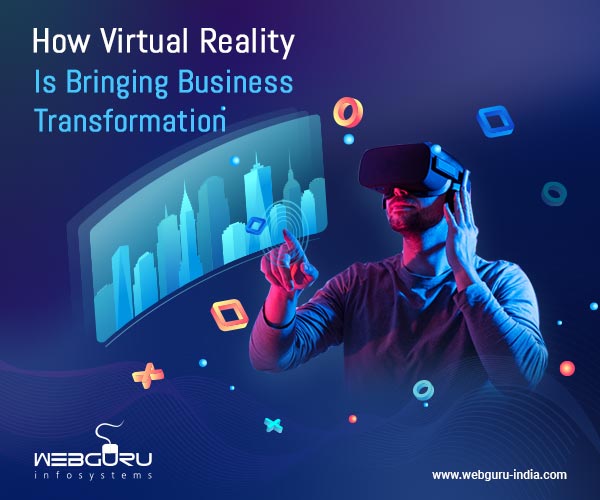 Virtual Reality (VR) is not today's phenomenon. It has been around for a while. However, its usage was limited to the entertainment industry for a long time. Gradually, it is encompassing other verticals and driving transformation.
The global virtual reality market size stood at USD 4.42 billion in 2020. It grew to USD 6.30 billion in 2021 and the market is projected to grow to USD 84.09 billion in 2028 with a CAGR of 44.8%. As you can understand, the use of virtual reality will continue to grow across industries.
Today, we will take a look at how VR can bring transformation in cross-business verticals.
Use of VR in Modern-Age Businesses
Retail
With time, more and more businesses are bringing their stores online. Now, the competition is not between which business has an online presence because many of them already do. The competition is determined by which business is offering a better user experience.
Virtual reality can make all the difference here. People are always sceptical about purchasing something from an online store. By introducing virtual reality, e-stores can offer a "realistic" presentation of the products. Instead of simply looking at pictures and reading product descriptions, the customers can try 3D models of the products before placing an order. This will eradicate confusion and encourage people to shop.
Now, integrating VR into a website is not a matter of joke. It's essential to engage professional eCommerce website development services and equip your e-store with the latest technology.
Check out this blog on implementing augmented reality on eCommerce website.
Gaming
Virtual reality came to the forefront with the entertainment industry, especially gaming. As 2021 is approaching the end, virtual reality has greatly evolved and the gaming industry is here to reflect its full potential.
This technology will place the gamers within the game zone. Whether it is a fun sport or an adventure game, the gamers can enjoy the real thrills right from the comfort of their homes.
Again, companies that own an arcade, may invest in VR equipment. It will draw more customers and enhance revenue.
Escape rooms games can greatly leverage VR technology. You need not invest in building an actual escape room as a VR headset can turn a drawing room into an escape room. Imagine how much money it can save.
Travel Industry
The pandemic has deeply affected this industry. The travel and tourism sector is putting some extra effort to come back into its prior form. Virtual reality can come in handy here.
Businesses belonging to the travel industry can offer an immersive experience of the location to web users. This is even more engaging than videos and 360-degree images as people feel themselves exploring the locations all by themselves.
For instance, a user may learn about a museum by reading the description and checking the pictures. With a VR enabled virtual tour, he/she can walk into the museum using a VR headset.
This is proving its worth to the specially-abled or old people who may not visit a place all by themselves. Thanks to VR, they can enjoy all the fun of travelling.
Healthcare
The healthcare sector can fully leverage the potential of virtual reality. VR applications are already in use for cases like assisting patients in recognizing their proper symptoms, allowing the surgeons to get a view of the patients' body without excessive incisions, and so on.
Further, medical students can access operating rooms remotely. This is contributing to patient care and enhancing consultation options. A study by Data Science Central finds that the use of VR in healthcare has boosted GDP by $350.9 billion and the growth is only to rise in the coming days.
Exploring the full potential of VR will lead to reducing invasive procedures and patients' problems while shortening recovery times.
E-Learning
The scope of e-learning has been greatly explored during the pandemic. As remote education continues to become new-normal and many educational institutions seek to get a learning management system, virtual reality is opening a new horizon.
Thank VR, hands-on training can be imparted to the students. For instance, medical students can practice surgery on a 3D human replica, engineering students can learn construction on a 3D building model, and so on. As a result, they can learn from their mistakes and thus hone their skills.
Read this blog to find out how a robust learning management system can enhance learning experience.
Marketing
We saved the best for the end. The usage of virtual reality is best implemented in marketing. It will offer a captivating user experience and allure them to convert. Thus, investing in VR-facilitated digital marketing services can greatly impact the conversion rate and revenue of businesses.
VR marketing allows companies to merge the gap between experience and action. Virtual reality changes the dynamic between brands and consumers. Further, apart from promoting existing products, you can use VR to get feedback from the customers and direct it to improve your strategies.
As you can see, virtual reality is encompassing a wide range of business verticals. If you are yet to adopt this technology, it's high time to do so in order to drive market differentiation. We hope our blog has helped you understand how to leverage VR. Feel free to share your thoughts with us.