09 Jun / 2010
682 views
iPad Website Design: A New Era in Website Design Industry
iPad may or may not be a killer product but it is clear that it has heralded a new era in website design industry by dint of its amazing and innovative features that have left scores of people gaping in disbelief. You like it or hate it, but one thing is certain that you cannot ignore it. This new mobile computing device has promised to change the way we are used to browse through webpages. As the iPad frenzy is showing no sign of slowing down anytime soon, you need to make sure that your website is iPad friendly. The rush to make iPad friendly website design has already begun and therefore, if you are still dithering about, you might have to pay a heavy price for that.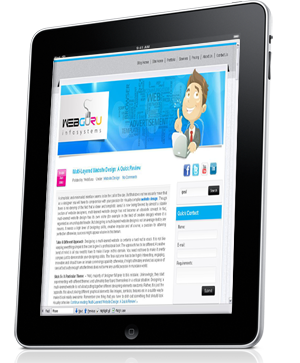 Where To Start: iPad website design is certainly a new found area of work and that means, you might it overwhelmingly challenging as well as interesting while designing a website that will appear precisely in this nifty little gadget. Here in this article, we have tried to sum up some tips and suggestions that can come in handy in the designing process. Just take a look to have a better presence on this amazing product from Apple:
iPad Display Features:- The most notable feature of iPad is its high screen resolutions of 1024×768 pixels. This resolution is ideal for gaming, browsing and having some fun over Internet and therefore, while designing a website, you need to give utmost attention to its resolutions, if you want it to make appear picture perfect in iPad.
Portrait and Landscape Mode Style: – Unlike Laptop, iPad gives users a chance to have both styles of viewing: vertical and horizontal. Therefore, it has become all the more difficult for website designers to create an interface for their website that will not appear distorted irrespective of the viewing modes. Portrait style comes with a vertical scanning and that means, viewers will be able to view the content of the entire page at one go without scrolling down. But its has its drawbacks. It can make website tall and narrow that you might not like at all. Landscape mode in its turn comes with a horizontal scrolling option. Now, if you are torn between these two options, you should better opt for fluid and smart layouts that can adapt to any screen resolution and any modes.
Text-Background Relation: – High-pitched light contrast of iPad makes it almost impossible for a user to go through a content that is written on black text on a white background. But the same problem is remarkably absent in other regular screens. Now, the only way, you will be able to make your website's text readable in iPad is by applying sepia background with a dark umbra font, or alternatively, you can try dark background with light font. Sharpness can be reduced to a minimum if you can manage to apply the abovementioned trick on your website.
Minimalism for the iPad: Since iPad is a touch screen device, you should try to avoid complex navigation systems as far as possible. In the landscape mode, the navigation has to be left aligned to offer a better browsing experience to the users. But if you want to switch to landscape version, navigation can be popped over the side bar. There is no need to fill up the white space with unnecessary images or graphical elements.
Multi-Touch Interface: As iPad is a touch screen device, the concept of using text-based hyperlinks has to be relegated to the bin. Try to use large, bold and touchable buttons in your website that will tempt iPad users to take delight in browsing your website in this amazing device. There should be enough space between two or more interactive elements otherwise; users might it irksome. Tactile nature of iPad has to give utmost attention in the designing process.