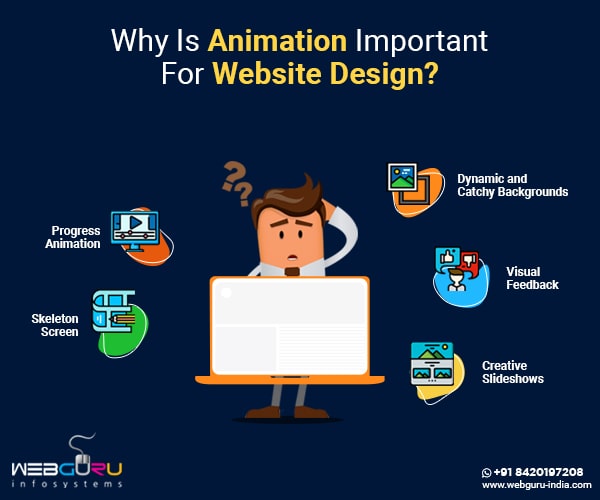 Website designs have changed with time thanks to the advent of new design trends and shifting customer preferences. Today, the purpose of having a website is no longer restricted to offering mere information to the users. In fact, website design services are looking to create eye-catching designs to enhance the user experience. With millions of online users visiting different types of websites every day, businesses like that of yours need to cut through the noise. This is where animation can come to your aid. These moving images of art can fetch your business a slew of benefits that can exceed your expectations in terms of customer loyalty, conversion rate, and profits. For your deeper understanding, here is a discussion on animation and its application in web design.
Animation and its acceptance by the website development services
The animation is an entertainment medium in which a series of still images are sequenced to create an illusion of moving art. In the early days of the internet, the medium was used more as an eye-candy rather than an enhancer of the usability of sites. However, the emergence of CSS-coding, HTML5, and JavaScript has lent an unprecedented sophistication to animation creation in recent times. No wonder, it has proved to be one of the crucial elements of web design.
It might surprise you to know that 48% of online visitors believe that website design is the most important yardstick to measure the trustworthiness of a business (Source: learn.g2.com). In this connection, animation, be it as a part of an explainer video, is an important functional tool that can ensure a seamless UI and higher UX for your website. Let us take the example of Apple.com, for when you click on a menu option, a slide of product images appears at varying speeds. This little trick not only helps a user to glance through the products at one go but also generates a better user engagement.
Related Article: Why is minimalist web design important for your business?
Some of the popular animation techniques of today
# Dynamic and catchy backgrounds: Armed with a deep sense of aesthetics, humans can barely ignore the spell of catchy images. With a dynamic background and sliding pictures, your website can boast of a great UI/UX design. You can always get in touch with any of the web development services to incorporate this idea into your website design strategy.
# Visual feedback: You need not always go over the top with a range of animations in your website. Rather, you can lend a simplest touch of it in the form of visual feedback. Have you seen those highlights showing up when you miss out on filling information on a website's sign in page? Yes, that is an example of the said animation technique. It creates better engagement with the online visitors thereby ensuring a positive user experience.
# Creative slideshows: Many companies are now setting the trend of using slideshows on their websites. A speedy slideshow is a fascinating way of showcasing creative images to the users. By engaging the services of a top website design company, you can choose an appropriate slideshow of images for your website.
# Progress animation: This type of animation is mainly used to distract the user from acknowledging the actual loading time of the website. This makes the user lose the sense of time while being engrossed in the visuals. Since you can't reduce the loading time significantly, by using progress animation you can make the wait rather pleasant.
# Skeleton screen: Here, users are presented with a blank page where information gets loaded gradually. Since the information is displayed incrementally, the users get a curious feeling of something happening. This increases user engagement to a great deal.
Conclusion
Today's tech-savvy customers look for greater interaction with the website. This is where animation becomes a critical value addition to enhance communication. Animation, being interactive, helps to generate user engagement thereby enhancing the user experience. Should you want your website to cut through the clutter and be liked by your target customers at the same time, then engaging a top website development company to incorporate animation in your site would be of help.