15 Feb / 2011
660 views
Know the Four Constants in the Changing World of Web Industry
With the advent of new cutting edge technologies, the industry of web has gone for a massive change in the last few years. As professionals, there's no denying that you need to stay focused and updated about the latest trends. But despite the dynamic changes, there are certain aspects that stay constant and evergreen for years to come. Here we will be discussing about the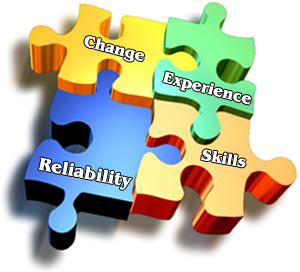 four constants that have been in the industry for long and is expected to stay stable in the coming years also:
1. People Skills
Instead of vocal communication, modern day interaction is mainly dependant on online chats and forums. Being a website designer, you need to maintain a strong platform of conversation with your clients, either through phone calls or online calls. The success of any project largely depends on the ability to interact with your client. Make him feel important by communicating about things such as design decisions, customer experience, technical implementations etc, so that he relates to the project well. Building a long term relationship with your clients is a must need that helps in making it big in today's world of competition.
2. Reliability
Winning client's trust makes one of the most important needs that can help you enjoy repeat customer visit. Building a professional reputation along with reliability and stability makes some of the most needed aspects that pave the platform for repeat customer visit for a second or third project. Maintain to follow the following guidelines to make yourself dependable and trustworthy to your clients:
Always try to finish a project within its scheduled timeframe. Never miss deadlines after committing to clients.
Always be accessible for your clients. Let them know about the updates and process at regular intervals. Ignoring them or failure to communicate is a big no-no when dealing with clients.
Be consistent about your quality of work as customers stay loyal to brands that produce quality solutions.
3. Experience
It's truly said that 'Experience speaks volumes'. To make a mark in the industry of web, you need something more than just hard work to convince clients about your ability. Experience is a powerful asset that makes you considered among the league of professionals who are confident and capable of handling any situation that crops up.
4. Change
Last but not the least, the forth aspect that stays constant in web industry is 'change'. A designer needs to stay in sync with the constant changing technologies, trends, styles and business models of website designing to be able to provide the best to clients.