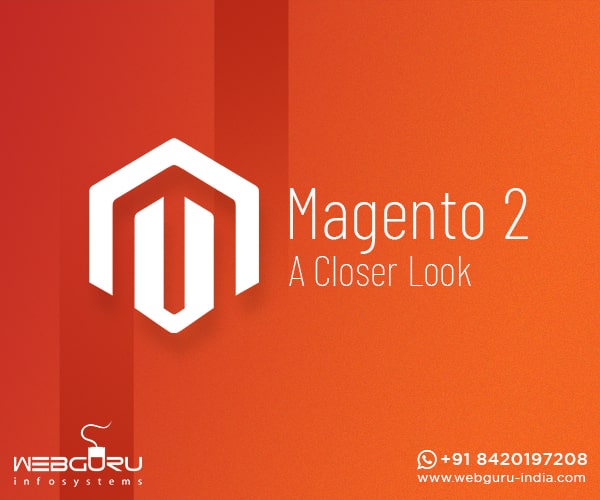 By now, you have all been aware that Magento has officially stopped supporting Magento 1.x since June 30, 2020. And any CMS (Content Management System) without adequate support gets exposed to vulnerabilities. With the increase of web skimming attacks, such unprotected web stores will have a high potential to get hacked and infected with malicious codes that can steal sensitive customer data.
Now the question comes, should you hire Magento developer India and migrate your web store to the latest Magento version just because of fear? No! We got better reasons!
We are here to discuss the enhanced features of Magento 2. Before diving into that, let's quickly check how Magento sums up the latest version:
"The upgrade will empower brands, retailers, and businesses across B2C and B2B industries to quickly and cost-effectively deliver engaging omnichannel shopping experience."
Magento 2 – A Complete Overview
1. Architecture
The latest version has added new technologies and supports the newer version of several technologies like CLI, MySQL (Percona 5.6 and greater), Apache, etc. Also, Magento 2 is based on PHP 7 version that opens the scope for better customization and optimization.
Here are some of the new technologies added in Magento 2:
NGINX – This is an open-source web server that can be used as a load balancer, reverse proxy, and HTTP cache.
Varnish – Varnish cache is a web application accelerator that can enhance the loading speed of your e-store.
Symfony – This PHP web application framework makes it easier to control the functionality, content, appearance, and the feel of your online store.
2. Performance
The performance was one of the main issues with Magento 1. Its average page load speed was over 2 seconds. Studies reveal that conversion rate drops per second of loading time (source: Marketing Sherpa) and according to Google, 2 seconds is the threshold for the acceptability of an ecommerce website.
Equipped with a powerful caching mechanism, Magento 2 has a high potential to improve your ecommerce store's performance. It exhibits great frontend performance. Compared to Magento 1, the newer version helps to load pages 30 to 50% faster. Graham & Green vouches for this fact. The British furniture company has noted a whopping 43.5% reduction in its page loading time after migrating its ecommerce platform to the latest Magento version.
Wait, there's yet more to be surprised. While Magento 1 could handle about two hundred thousand page views within an hour, Magento 2 can handle around 10 million page views! It can also handle up to 39% more orders within an hour!
However, though Magento 2 significantly improves page performance, you must be proactive to optimize your site loading speed. Other than improving conversion rates, it also deeply impacts your SEO efforts.
3. Search Engine Friendliness
Compared to Magento 1, Magento 2 is much more search engine friendly. The prominent SEO features of Magento 2 involves:
XML Sitemap – The XML sitemap is a file that contains all the web pages of the site. It allows webmasters to include various information about each page URL like when it was last updated, how often the page gets changed, and so on. Magento 2 is equipped with great XML sitemap functionality. This enables the search engines to crawl the site more efficiently.
Meta tag optimization – Magento 2 enables the admins to add meta title and description for each product or category page. This is a crucial SEO practice.
Search engine friendly URL –

Search engine friendly URLs don't contain any cryptic letters or elements. These make sure that the search engines can easily identify the theme of your page and users don't get confused. Here's an example for your better understanding:

"https://mystore.com/gear/bags.html"

and

"https://mystore.com/?p=305"

– which one looks clear and direct? Yes, we are talking about that

!
Rich Snippets – Rich snippets in Magento 2 are the additional information about your e-store that help search engines like Google or Bing to crawl your site better. The information will be displayed in the search result. These information include product price, rating, availability, review, and so on.
4. Checkout
This is an extremely important aspect of any ecommerce store. A study by Baymard indicates that 23% of shoppers will abandon a cart if the checkout process is complicated. No wonder that keeping your checkout process streamlined is a must-do.
The checkout process for Magento 1 typically involved six distinct steps: checkout, billing info, shipping info, selecting a shipping method, payment info, and reviewing the order. Magento 2 has simplified the process down to two steps – shipping and reviewing payments – which significantly improves user experience.
Cabinet.com – a US-based kitchen cabinet seller reported having reduced the average checkout time by 8 seconds after migrating to Magento 2 from 1.
5. Mobile Friendliness
With more and more shoppers feeling comfortable to browse ecommerce sites and purchase using mobile devices, it's imperative to have a mobile-friendly website. Now, mobile-friendliness has been one of the major issues with Magento 1. Though the Magento community has offered numerous extensions such as CouchCommerce, Tenfoot, etc. to optimize the sites; Magento 1 themes were not quite responsive.
Compared to Magento 1, the latest version is significantly more mobile-friendly. The themes are responsive and the checkout is also optimized for mobile.
5. Security
We have already discussed this in brief but let's quickly glance over it in detail. As an outdated version, Magento 1 no longer supports any security patches. This means your site's security is under threat.
On the flip side, Magento 2 is updated with all the security patches. Using SHA-256 hashing algorithms within its password management system, the latest Magento version enhances password security.
However, bear in mind that though Magento 2 is technically PCI compliant, usually people don't use an unmodified version of Magento. Therefore, you have to take the responsibility of PCI compliance management.
6. Payment Gateway
In the case of Magento 1, store owners could integrate required payment gateways on their site. However, it demanded custom development work. Magento 2 features some of the popular payment gateways (such as PayPal, Authorize.net, and Braintree) automatically without requiring any additional integration.
7. Admin Panel
Okay, we have discussed the frontend features to some extent but what about the backend? Does the latest version of Magento offer a user-friendly admin panel?
Much to your relief, Magento 2 gives a break from the clunky admin panel of Magento 1. Other than the ease of navigation in the admin panel, the advanced dashboard is a major improvement in the latest version. It displays new orders, last orders, and average orders, lifetime retail sales, top search terms, bestsellers, and many more. You can also customize data grids as per your requirement.
8. Cost
This can be the only place where Magento 1 stays ahead of the latest version. The cost of migrating to Magento 2 may seem to be a bit steeper than the amount you paid to develop your e-store on Magento 1. But if you desire convenience, user-experience, security, and scalability; then spending some bucks sounds only legit, right?
Should You Migrate to Magento 2 – Our Take
Honestly, migration is never a cakewalk, even if you are migrating from one version to another of the same platform. That's because it's not only simple data migration but almost a full re-platform. You have to set up relevant integrations to develop your site's UI and UX. Also, you have to take the time to test everything before it gets live. Of course, it requires some extra work, patience, and time. But at the same time, it encourages necessary improvements in your business. And with the release of Magento 2.4 with its groundbreaking features for high-end eCommerce, the time couldn't be better.
With over 15 years of experience in delivering Magento development services to a global clientele, we believe it's time for you to migrate to Magento 2. We admit that the cost can raise your eyebrow but look at what you are getting in return. Other than the security assurance, Magento 2 offers improved native functionalities. The availability of 350+ extensions for the latest version is yet another beneficial factor. Further, loading speed, site security, etc. deeply impact a site's search engine ranking. As the world of technology is rapidly evolving, you should match the rhythm.
Do you have a different thought? Feel free to share with us!