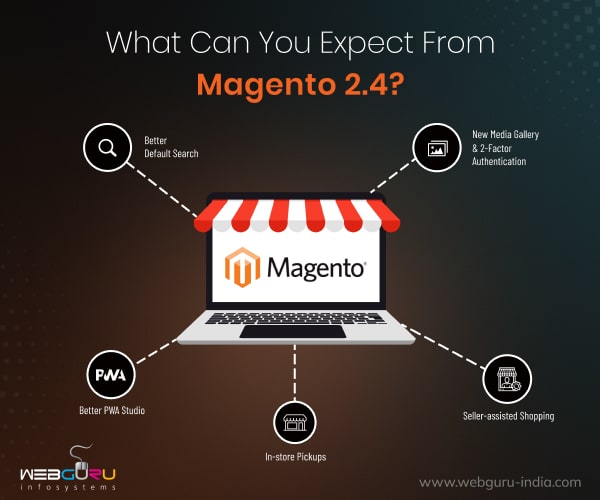 Adobe released Magento 2.4 on 28th July 2020, which came with a long list of new features, security enhancements, and bug fixes. While Magento is a popular eCommerce CMS, thousands of online stores are still on Magento 1. However, with this new update Magento has given store owners every reason to migrate to the newer, better version.
With this update, Magento has acted on some of the biggest concerns that the online merchant community and magento development services worldwide had posited, with issues like security, and search & image management having been significantly addressed. Additionally, the new Magento works to make a customer's journey better as well.
New Features in Magento 2.4
Here's everything new that you can expect from Magento 2.4.
Better Default Search (Elastic Search)
Every eCommerce store wants to provide their customers with a great search experience, since this is an action almost every user will take up landing on the store. In Magento 2.4, the default MySQL-based search engine has been removed. Magento now asks you to install either Elasticsearch or OpenSearch as the default catalog search solution.
Elasticsearch is a significantly better search engine for eCommerce sites due to the following reasons:
It comes with a lot of search options. You have options for autocompletion, instant search, full-text search, and even customized split searches that help significantly when searching with spelling errors.
It executes complex queries really fast with the help of cached filters.
It is highly scalable.
Simple RESTful APIs can be used to perform actions.
Complex entities are stored as structured JSON documents, with all fields being indexed by default. This leads to significantly higher performance.
New Media Gallery & 2-Factor Authentication
Magento 2.4 also brings with it some improvements to the user experience of the admins. With the help of a completely revamped media gallery, store admins can now search, sort, and filter images much more efficiently than in any previous versions of Magento. Additionally, Adobe has also integrated Adobe Stock, its own stock images selling business, into the new media gallery, so you can now access previews of stock images from your gallery itself. Given how important it is to make sure good quality images are visible to customers at all times, easy management of images essentially means more efficient sales.
Similarly, Magento 2.4 also comes with 2-factor authentication, which makes the security of your Magento Admin account much better. It works in the same way as other 2FA-secure services, where a system-generated code is sent to you as an additional authentication layer.
Seller-assisted Shopping
This service makes customer service a dream for most customers. With seller-assisted shopping, the new feature from Magento 2.4, customer services representatives can now log into your website as customers from the Magento Admin. This means they can guide and assist any customer just like a fellow customer, instead of having to ask for their account details.
With this feature, customer service representatives can:
Help a customer find a product or use a certain feature, such as setting up a wishlist.
Guide customers through custom functions that may be difficult to understand, such as product configurators.
Save time by creating orders and quotes quickly on the customers' behalf.
Look after administrative tasks such as setting up approval rules and adding buyers.
In-store Pickups
In-store pickup is a feature that has been made native to Magento 2.4 – both the open-source as well the commercial version. With the help of this feature, store operators can display for customers eligible locations from where they can pick up their order, as well as working hours and other important data.
In-store pickups means that there is no requirement of shipping fees, which can keep costs down. Also, since customers are visiting your store physically for their orders, chances of further conversions are higher. The option for curbside pickups is also available.
Better PWA Studio
Magento's PWA Studio has now been enhanced with more tools and best practices for building progressive web apps. Magento claims that the new updated PWA Studio will make it faster, simpler, and significantly more cost-effective to build and launch PWA storefronts. Of course, the PWAs will still need to be connected to extensions, and maintained for future versions of Magento as well, so that is an expense which will still need to be taken care of.
Improved Performance and Bug Fixes
The new release also brings with it a significant performance boost when it comes to handling queries. Results of SQL queries are now cached to just a single table instead of 16. This leads to a significant improvement in performance. Quick order add-to-cart performance has also been boosted by about 25-30%. Magento 2.4 also comes with upto 68 bug fixes, with more coming with each new update.
Conclusion
Magento 1 is no longer officially supported, so if your store still runs on Magento 1, you might want to consider upgrading. And if you're looking to hire Magento developers for a new project, make sure they are also well aware of the latest updates. It is also worthwhile to note that Magento 2.4 has been positioning itself admirably when it comes to performance and technical requirements. Magento has also been releasing newer versions of 2.4 regularly (the latest one being 2.4.5), meaning they are regularly fixing bugs and addressing issues from the community.