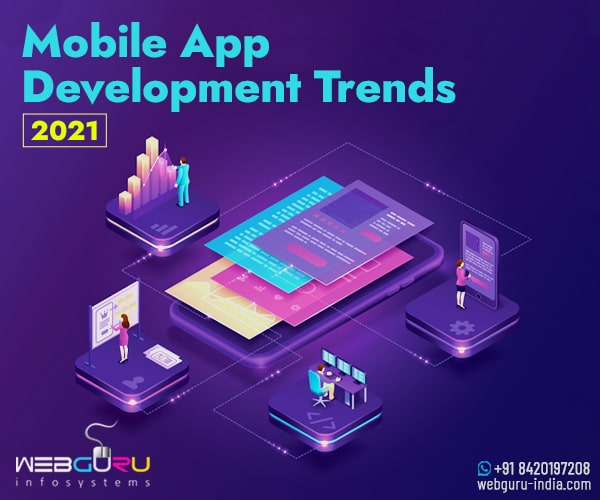 Staying up-to-date with the latest trends is a constant thing in a developer's life. Every year brings new trends in technology that push us to reimagine what can be achieved in mobile app development. If you have a turn to know what's going on in the realm of mobile app development, this blog is just for you. Today, we will take a look at what innovations the peak of the decade brought to us.
Beacons Technology
Numerous industries are embracing the potential of beacons technology. Healthcare to hospitality and retail – beacon technology can help to integrate advanced functionalities to any mobile app.
Here's a brief idea about how beacons can work with mobile applications. Beacons help to connect with multiple mobile devices that are accessible in a certain range. That way, businesses can send notifications regarding the special offers running in the store, new recipes added to the menu, etc. to the potential consumers' mobile devices. Businesses like shops and restaurants can leverage such technology to allure people.
Beacons also help in tracking the buyers' behaviour. They can identify if a user is spending a significant amount of time in a specific section. Then, the beacon-supported app can automatically send a push notification to the person and entice them to make a purchase during the upcoming sale.
Beacon technology is greatly used for proximity marketing. It helps to improve the users' experience. Statista reveals that the beacon technology market is estimated to rise ten times from $519.6 million in 2016 to 56.6 billion in 2026.
Apps for Wearable Devices
Wearable devices like trackers, smartwatches, and fitness bands have caused a stir in the market for quite a few years now. 2021 will witness its further growth. Independent apps will be developed specifically for these devices.
Wearables have created a significant opportunity for businesses and app developers. Users can easily download lots of apps right from their wrist. Integration of mobile apps in wearables is still in the budding stage and the coming years will see rapid progress.
Scalable Apps for Foldable Devices
During 2019, various foldable devices like Motorola Razr, Huawei Mate X, Samsung Galaxy Fold, etc. came to the market. The speciality of these devices is that the users can expand or compress the screen size of the smartphones. For instance, you can unfold the screen to watch a video and close it while making a call.
Though the market of foldable devices has not yet spread its wings, the time is soon to arrive. Statista maintains that about 3.2 million foldable phones got shipped during 2019. The number is expected to rise to 50 million units by 2022. Naturally, 2021 is going to be a crucial year for foldable phones.
This encourages the professionals at any top mobile app development agency to create scalable apps that seamlessly adjust its display when the screen folds and unfolds.
5G Technology
2021 is predicted to have 3.5 times more 5G connections that that of 2020. The technology will produce a massive impact on 2021 app development trends. Why so? Let us explain.
5G is expected to offer a 10x decrease in loading issues and boost network efficiency. It will also positively impact traffic capacity. Depending on the mobile network operator, 5G can be 100 times faster than 4G. It will boost the functionalities of any application and encourage developers to include new features in the app. The app development companies should use 5G network speed while developing and testing an app.
Mobile Commerce
The list of mobile app trends in 2021 will remain incomplete without a mention of mobile commerce. Every business with an intention to grow is using mobile apps to increase revenue. Mobile commerce is going to thrive beyond imagination in the coming years. In fact, it is estimated that more than 72.9% of total eCommerce sales will be made by mobile devices by the end of 2021 (source – Statista). Mobile apps play a significant role in the present scenario of mobile commerce.
Soon, every business needs to invest in a mobile commerce app in order to stay competitive in the industry.
Instant Apps
Launched a few years back, Android Instant Apps will find more usage in 2021. Android Studio lets the users try different apps instantly without installing it. They only have to click on the "try now" button. Such apps have size restrictions. Therefore, the developers cannot release the full version of the app. But the restriction may not be in effect in the coming years.
Instant apps can produce a positive impact on user experience. Hollar – an eCommerce app increased conversions by 20% on launching an instant app. They mentioned that 30% of their entire Android traffic came from the instant app.
Augmented Reality
This is a feature that creates an immersive user experience on mobile apps. It has come a long way from Pokemon Go and numerous apps have already implemented the feature for practical purposes. Lenskart allows the users to try different spectacles virtually, L'Oreal app allows virtual makeup and hairstyle to let the users check different colours on their hair, Nykaa does the same with lipsticks, and so on. Google Maps brought out a feature called Live View. It enables the users to check the direction in real-time by pointing the phone's camera at street signs and buildings. Instagram and Snapchat's face filters also demand a mention.
In the coming future, more and more apps will adopt AR technology and enhance user experience.
IoT Integration
Internet of Things is not a new concept in 2021. But rapid innovation in technology has created an endless opportunity for IoT.
IoT defines the growing network of devices that are connected to the internet. It provides automated control and convenience to the consumers. A perfect example of IoT integration in mobile app development can be found in the application of smart home technology.
Mobile apps can help to connect to home security systems, operate various appliances like air conditioner or refrigerator, lock or unlock a door, any execute many other works.
Quick fact – the global market of IoT is predicted to reach $222 billion by the end of 2021 and $161 billion of it can come from mobile apps (source – Windpower Engineering). It's a 14% rise from 2019.
In 2021, mobile apps related to household devices, healthcare, and automobiles may adopt the growing trend of IoT.
Event Streaming
The pandemic has disrupted offline events. This has paved the way for virtual events. Hopin is one such app. It is an online venue to arrange virtual events. Here one can visit different virtual booths, listen to different speakers on different stages, communicate with others in a virtual chatroom, and more.
More apps can flourish in the industry with similar features and functionalities.
Artificial Intelligence
Machine learning and artificial intelligence will take mobile app development to the next level. Apple has already released Core ML3. The latest version of iOS ML framework helps the developers to embed AI technology into the apps.
Some of the examples of artificial intelligence features that can be incorporated into a mobile app include but are not limited to the following:
Speech recognition
Image recognition
Face detection
Classification
Artificial intelligence paves way for developing smart apps and improves their efficiency. From the backend development process to frontend UX – AI compels us to reimagine the way we develop and use apps.
Chatbot & Voice Assistant
Instead of calling the operator, modern users prefer to use a chatbot for its ease of use. Chatbots also help to keep any business active for 24/7. This encourages many to integrate a chatbot in their business application.
Voice assistant is yet another trendy feature to be incorporated in an app. As the number of Google Assistant users is rapidly increasing, the developers may consider integrating it into mobile apps to further enrich UX.
Cross-Platform App Development
With the advancement in cross-platform app development technologies like Flutter, React Native, Xamarin, and Ionic, many businesses prefer to launch a hybrid app and reach the audience on both Android and iOS platforms.
Though not technically a mobile app, a progressive web app (PWA) also deserves a mention when it comes to offering a superb UX on different platforms. The JavaScript-based web app can perform both online or offline at a faster speed.
Blockchain Technology
Blockchain – as the name suggests, is a chain of data blocks. Each of the blocks is interconnected with the other. All the blocks are stored in a distributed network.
Blockchain technology allows the developers to create various kinds of decentralized applications or DApps. These are important in the cryptocurrency industry.
On-Demand Apps
The post-COVID world has already boosted the business of any on-demand service. 2021 will be the year of on-demand app development. Some of the domains that can engage mobile app development services to create such applications may include:
Food or item delivery
Doctors visit
Virtual tuition
Laundry service
House cleaning
Salon service
Maintenance service
… and more.
Predictive Analytics
Industry giants like Netflix have already implemented predictive analytics. By leveraging technologies like AI, ML, data mining and modelling, predictive analytics has the capability to forecast users' choices.
Let's continue with the OTT app. Netflix offers movie and TV series recommendations on the basis of what users have watched. 2021 will witness more implementation of predictive analytics on the mobile app. Ecommerce apps, too, leverage this feature and offer unique user experience based on the users' behaviour history.
Way Forward
The realm of mobile app development is rapidly evolving. You cannot use the development trends of the bygone age while crafting an app in 2021 and you need to adopt the latest trends to remain competitive. Of course, you need not implement all the trends we mentioned in the blog. The intention of the blog is to give you a comprehensive idea about what's going on in the industry. Hope we were able to deliver that!
Wish you a very happy new year! Best wishes.