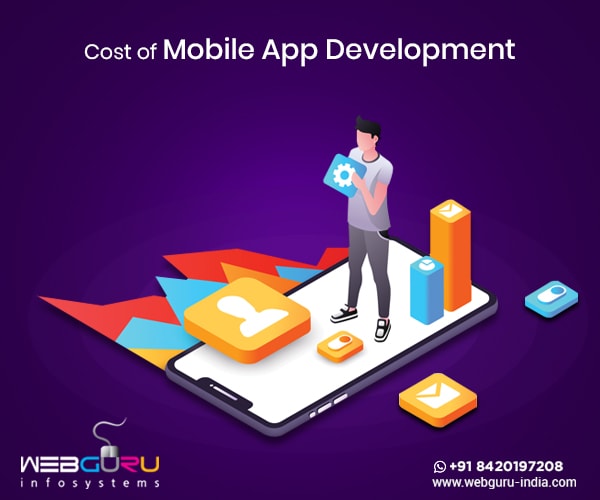 'Mobile is not the future, it is the now. Meet your customers in the environment of their choice, not where it's convenient for you,' – Tim Berners-Lee
It's no secret that smartphones have revolutionized the way we live our lives. These compact devices have streamlined various aspects of our day-to-day routines, making tasks that were once considered science fiction a reality. And it's mobile apps that have caused such widespread acceptance of smart devices. Whether it's ordering groceries or medicine, playing games, buying tickets, conducting banking transactions, or hiring cabs, mobile apps are the go-to for people around the world. No wonder then that mobile app development is one of the most sought-after services today.
In 2022, consumers downloaded over 250 billion mobile apps, which is a steep 80% rise from 140.7 billion apps downloaded in 2016. In 2021, around 112 billion apps were downloaded from Google Play Store alone, a number that's projected to increase to 140 billion by 2024.
By the end of 2023, mobile apps are expected to generate a revenue of over $206 billion USD, and that number is projected to grow to over $270 billion USD by the end of 2025.
The statistics on the widespread use and revenue generated by these apps are truly staggering. These numbers are a testament to how integral mobile apps have become to our lives, and as technology advances, we are likely to see even more innovative apps emerge.
The Most Popular App Categories
Mobile apps are available in a variety of categories, catering to different needs and interests. Today, there are 49 different categories of apps on Google Play Store, and 41 in the Apple App Store. Let's take a look at the top three categories:
Games: It's no surprise that games are the most popular app category, with a market share of over 24%, with a revenue of $110 billion in 2022. People of all ages love to play games, and the app stores are filled with a plethora of options to choose from.
Education: The education category is the second most popular, with a market share of 10.47%. These apps provide users with access to educational resources and tools, making learning more accessible and convenient.
Business: The business category comes in third place with a market share of 7.11%. These apps cater to professionals and businesses, providing tools and resources to manage their work effectively.
The popularity of these categories speaks to the diverse needs and interests of users. From entertainment to productivity, mobile apps have transformed the way we live our lives, and it's safe to say that they will continue to do so in the future.
Since mobile apps have become one of the most popular platforms for communication, reaching out to customers, and boosting business, it is better to have a preliminary knowledge about the app costs before reaching out to a mobile app development company. Remember, hybrid mobile app development is comparatively cheaper than a native one, for in the case of the former, the codes need to be written once while the app can be deployed on multiple platforms. However, in the case of the latter, the codes have to be written afresh for each platform (Android and iOS). Let us take you through the popular categories of mobile apps and the cost of making an app in India.
Categories of Mobile Apps (with Indicative Starting Prices)
1. eCommerce Mobile Apps (Mcommerce)
These apps facilitate tasks such as shopping, bill payments, and online transactions in a hassle-free, swift, secure, and convenient manner. Moreover, mCommerce apps (and others as well) can provide push notifications to your customers informing them about new product launches, discounts & promotional offers, etc.

Types of App

Native Apps

Hybrid Apps

Android / iOS

Both

Both

Online Shopping App

$999

$1499

$1199

Last Minute/Local Delivery App

$6999

$9999

$7999

Food Ordering App

$4999

$7499

$5999
2. On-Demand Service Booking App
We often come across situations when we need to hire the services of an electrician, plumber, driver, mechanic, etc. So, instead of flipping through the online business directory, phone directory, or asking your neighbors or colleagues, why not give customer service mobile apps a try? Just a few taps on the app and you are connected to the concerned person. No wonder, this category of apps has become quite handy for customers.

Types of App

Native Apps

Hybrid Apps

Android / iOS

Both

Both

Car Maintenance/Repairing Service Hiring

$2999

$4599

$3599

Handyman Hiring App

$2999

$4599

$3599
3. Vehicle Ride Booking App
Do you need to catch a flight or go for a picnic but have no time to arrange a vehicle? Worry not, the vehicle booking online app on your smartphone can do the job in no time. Yes, the various online car booking systems such as Uber or Ola can be hailed at the click of a button and paid for as well.

Types of App

Native Apps

Hybrid Apps

Android / iOS

Both

Both

Cab Ride Booking Apps


$2999

$4599

$3599

Driver/Attendants Hiring App

$2999

$4599

$3599
4. Social App:
Nowadays people seem to be hooked on their social media accounts for most of the time. In fact, Facebook, Instagram, and Twitter have become household names, and new players like TikTok and Snapchat also making their mark. This category of apps has made communications into a seamless affair and distances redundant – just think about video chatting with your near and dear ones from across the world.

Types of App

Native Apps

Hybrid Apps

Android /iOS

Both

Both

Text Audio & Video Chat Apps

$1999

$2999

$2399

Social Networking App

$3499

$2999

$4199
5. Health and Fitness App
Health-focused apps have now become increasingly common because of their convenience. Anytime you fall sick, you can book a doctor's appointment right from your phone, or even get an online consultation. Fitness based apps have also made a huge impact, motivating people to stay healthy and showing them how to achieve it. Here are the starting rates for such apps in today's market.

Types of App

Native Apps

Hybrid Apps

Android / iOS

Both

Both

Gym Slot Booking App

$1799

$2499

$2159

Yoga/Workout Training App

$999

$1499

$1199

Doctor Appointment App

$1499

$2299

$1799
6. Entertainment App
Nowadays people are hooked on subscription-based entertainment apps such as Netflix, Disney+, and Amazon Prime among others that are known for video streaming. At the same time, there is YouTube for exclusive video viewing activity. So, no matter where you are, you are never short of getting access to entertainment courtesy of mobile apps.

Types of App

Native Apps

Hybrid Apps

Android / iOS

Both

Both

Video Viewing and Sharing App

$1799

$2999

$2199
7. Travel App
Booking a hotel suite/room or seats on a flight, railway, or bus has never been easier thanks to travel apps such as Makemytrip, Goibibo, etc. These apps help you to compare prices, check availability, and book and pay for the concerned service.

Types of App

Native Apps

Hybrid Apps

Android / iOS

Both

Both

Hotel, Flight & Bus Booking App

$1999

$2999

$2399
Note: Excluding the cost of acquiring the APIs for real time booking.
Conclusion
The popularity and spread of mobile apps have provided an opportunity for businesses to reach out to their target customers and achieve huge returns. However, before getting someone to make an app for you, it is better to factor in a few things such as the target demography, preferred OS platform (iOS or Android or both), development framework (native or hybrid), app price, and experience of the mobile app development agency. Do not go looking for companies that promise to build your apps for cheap rates. Chances are such apps will end up being of lower quality as well, and in the end, your expenses in fixing the bugs will be much higher.
Note: The $ sign used in denoting the cost of mobile apps pertains to the US dollar.