19 Jan / 2009
836 views
Real Estate Website Design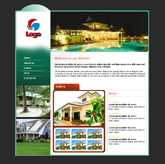 Real estate is one of the lucrative businesses in today's world. For capturing the target audience proper marketing and promotional activities are required. Establishing an online presence can be a good option to popularize a real estate business. And when it comes to designing commercial websites, special technical expertise is required. The website design for real estate sites should be visually appealing to the visitors. Just like any other commercial sites, one of the main aim of a real estate website is to convert the visitors to customers.
Real Estate Website Design Tips
The purpose of a real estate web design is to popularize a real estate business through electronic medium. The web design of a real estate site should be attractive and at the same time be user friendly. The site should also be a resource to relevant information that the property buyers and sellers are looking on the web. While planning a real estate web design, certain things can be incorporated to make it more attractive to visitors:
Arranging Category by Location: If the information on real estate website is arranged in proper categories, then it would be helpful for the visitors to easily find information on a real estate site. It would be of great help to the information seekers if the classification is based on location of the property.
Inquiry Page: For the online visitors, an inquiry page should be provided on the real estate site. The visitors would prefer instant communication with the owner of the real estate business for any query or information. An inquiry page can provide an online form, the contact number and mailing address of the realtors and can also provide access to instant messaging.
Using Images: A real estate web site design should incorporate a number of relevant images. From a real estate site, the property buyers would like to know as much as possible about the property on sale. Besides only facts and figures, good quality images can be added.
Mentioning Prices: When a buyer is searching for property, he would like to get detailed information about them. Mentioning the approximate prices for the individual property would be a great help to a visitor. He would be able to compare the value of property within a same location or with property of other locations.
Providing Links: To make the real estate sites more navigable to visitors, relevant links can be provided. The sub pages of the site should have a link to the home page, contact us page and other important pages of the real estate site. With the help of these links the visitors can easily maneuver from one web page to other.
Use of Frame: The web designs should not include frames. Use of frames in a web design makes it difficult for the search engines to crawl the pages. The users will find it convenient to access a site that does not use frames in designing it.
About Real Estate Website Design Provider
Web Guru Infosystems is a web design and development company in India. The company offers affordable web design for realtors. If you are a real estate owner, a real estate agent or a broker, contact us for a professional real estate website design. We can also guide you by offering you with our consultation service. Our real estate web site designers will deliver world class web design templates for you.