25 Jan / 2014
905 views
Social Media Predictions 2014 – Stuffs Likely To Get More High Tech
Curtain has finally come down on 2013 – so there is no need to look back and gauge what we missed or what we got during the last year. Instead, it's high time we look ahead and see how the new year is going to shape things up for us in the field of Information Technology, more so in the world of social media that has become so much pertinent these days! Things are likely to improve further in terms of usability and get more high-tech with the incorporation of further value-added features so as to meet the growing demands of customers who are getting more and more ambitious. The competition is likely to get sharper with companies drawing battle lines more vividly against each other, each trying to outwit the other with more innovation and creativity. This is likely to open up newer avenues of comfort for the end users just as it has been the case for any other products that are being handed over to the customers these days.
As the predictions go, this year and the future ahead appear to be extremely bright for the networking sites as newer platforms are being diversified and newer options have already started to make their presence known in the market.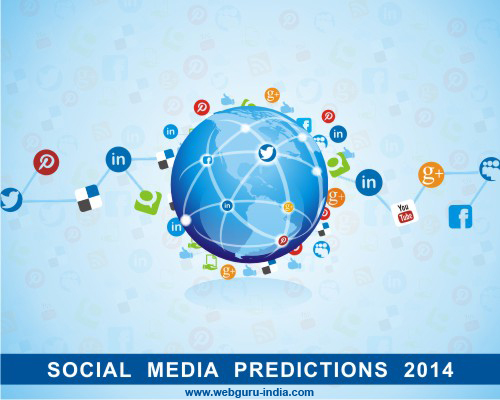 A bunch of business schemes as well as marketing plans are being designed by the companies and with the help of them networking platforms are all set to play more critical roles for businesses when it comes to extending and establishing their brands, catering to newer segments of markets, extending more support to purchases, and engaging more number of fans.
So what are the changes that we are expected to witness? Let us take a peep as the entire picture is really unfathomable and cannot really be painted at this juncture. No one after all really knows, what the new year has in store for us, as development of technology is directly and indirectly connected to a number of issues – political, social as well as financial and these issues are likely to govern the development at least to some extent if not fully in the days to come.
Entry of Newer Business Oriented Sites in the Market
In spite of continuing dominance and growth of LinkedIn as the most important site for business oriented activities, there is a high probability of newer business oriented sites entering into the market. These new sites, along with the other already existing ones like Spiceworks, ITtoolbox or Seeking Alpha are likely to make a difference in the networking cycle.
New Players to Further Establish Their Presence
Newer players like TripAdvisor or Ravelry are likely to make their presence felt further in the market by introducing value added features that will lure customers. While that will not be enough to topple the more established players off from their present status, this will throw up newer challenges to them and will compel them to think something different to survive the steep competition in the market.
Images and Email will Continue to be Popular
Videos as well as still images will continue to be the most favourites for the users as they are the best options to convey messages. Besides, the option of emailing will also be the core way for creating corporate assets to stay in touch with the prospects, customers as well as other stakeholders of the business.
There are a lot of other sites other than these few that are described here. During the last year, all these entities had either provided or augmented their metrics in various ways. That same trend is likely to continue in 2014 as well and experts believe that they will be able to impart newer ideas into their mode of operations, thus making a more prominent and authoritative statement in the world of communication via internet.
Change in Attitude of Investors
One of the most significant change will be in the attitude of the investors when it comes to investing on social networking platforms.
Businesses nowadays are more and more integrating their social networking activities with the content related strategy that they adopt and are thus evaluating the impact of social media in generation of business, traffic, as well as revenue at the end of the day.
As businesses perceive these measurable as well as realistic benefits, investors change their guard and start seeing investment on social media as necessity rather than luxury. As they do this, they start hiring personnel who are experts in social media planning, thus increasing the importance of profiles like Social Media Managers and Strategists.
Data Collected from Networking Sites will Decide the Prospects of Relationship Intelligence
Innumerable actions will gradually take place on various social media platforms in every minute and this will pose a stiff challenge as well as an opportunity for the players in the market. The challenge will lie in successful and timely analysis as well as development of meaningful insights derived from the collected data and taking the advantage of the same to edge out competitors.
Visual Based Social Platform Contents will be the Key
Taking into account the achievements of social media till the year 2013, the immediate future seems to be extremely bright for the social media sites that are more visual based than anything else. Posts containing videos or images are likely to clearly outperform the ones without them, especially in terms of generating likes, comments, shares, or retweets. Failing to use image or visual based social media will hugely impact growth of businesses in the future.
Paying Heed to Voices Raised by Networking Platforms will Become a Necessity
In future, for a business to flourish listening to social voices will be an absolute requisite – not an option. Businesses will have to design marketing and production strategy taking into account the market dynamics as depicted more by the networking sites than anything else. Hence, it can well be stated that those days are not far when it will be social media which will dictate terms in growth of a business and decide its success or failure.