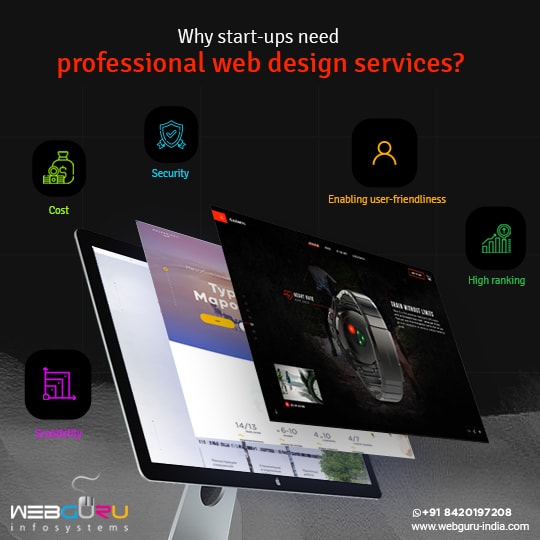 As the name suggests, start-ups are enterprises that are looking to establish their place in the competitive world of business. So, the foremost thing they need to do is advertise their arrival to the world. But how? Well, in the digital world of today, the best way to register your presence in the minds of your target customers is through a website. It is your website that serves as the primary source of information for your clients and customers. If the website is trendy, responsive, user-friendly, and attractive, you have won half the battle – of creating a strong perception of your brand among the users.
However, if your website is lacklustre in design and UX, you will find it extremely difficult to move ahead in your niche. If we go by the statistics, then about 38% of users will not engage with a website if they find the layout unappealing. (Source: Adobe.com). Also, 48% of users have voted design as the primary factor in determining the credibility of a website. So, when so much is at stake with the design aspect of your website, why ignore it? It is time start-ups like yours looked at engaging professional website design services to spruce up their website. Let us discuss further as to how good website design can play a crucial role in your start-up business.
Reasons why start-ups need professional web design services?
# Enabling user-friendliness: The World Wide Web is cluttered with websites in every possible domain. This makes driving traffic to a website that more difficult unless, of course, the site is user-friendly. Yes, your site should have the attributes that are dear to the users such as fast loading, easy to understand and navigable menus, workable links, informative content, and responsive across devices. Thus, it is important for the start-ups to build a robust website that not only looks great but performs efficiently as well.
# High ranking: You may have a great looking website with a number of features and functionalities but unless it is visible to the users on search results, it will not attract sufficient traffic. This is where your website needs to be SEO compliant. In other words, it should have the attributes to gain a high ranking on Search Engine Result Pages (SERPs). These include fast loading speed, seamless internal linking, relevant metatags, and informative content, among others. To ensure your website remains SEO compliant and easy for the search engine crawler programs to index, it is advisable to engage the services of a top SEO agency India.
# Security: Today, cybersecurity has become a crucial factor in building trust for a brand among the users. So, in case your website caters to the eCommerce domain with a payment gateway, then you must ensure it remains secure and adheres to the international cybersecurity regulations like PCI DSS, HIPPA, and GLBA, among others. A professional website design company in India will have the expertise and experience in incorporating robust security measures, plugging vulnerabilities, and testing them thoroughly to ensure the measures are working to their optimum.
# Scalability: The website of a start-up should be dynamic enough to be scaled up whenever required. Initially, the website can feature a limited number of products and/or services. However, the numbers can expand depending on the growth of your company. In such a case, the web architecture should be dynamic enough to incorporate new products or services without impacting attributes like loading speed and navigability, among others. Thus, it would make immense sense to build your website from scratch by an experienced website development company.
# Cost: As a start-up, you need to keep your costs under control to ensure they do not eat into your profitability. Keeping an in-house web development team can inflate the website design cost significantly. However, hiring the services of a professional web design company can help you to optimize cost and focus better on your core business.
Conclusion: Any start-up needs an attractive, dynamic, secure, SEO compliant, and feature-rich website to generate the maximum leads and drive conversions. However, building it in-house can leave your team with less time to focus on other aspects of your business, besides inflating the cost. Engaging a top web design company can get you a lot of positives including support and maintenance from time to time. So, in case you want to design a website from scratch or redesign an existing website for your start-up, then hiring the experts of website design services can be a good idea.