Tablets and smartphones are ruling the world at the moment. Users are being constantly provided with newer devices to choose from which has made the situation a bit overwhelming. In such a scenario, the importance of mobile friendly websites cannot be ignored in any way. Responsive web design has turned out to be the preferred choice of millions of businesses around the world to offer users with a consistent web experience across various devices. Responsive web design is an approach that indicates the use of different technologies and techniques to makes websites easily readable and navigable across various devices. Though, a responsive website is certainly the need of the hour but, you need to stay away from these mistakes to offer users with an enhanced experience.
Content Hiding
Even though, responsive web design tends to offer less amount of space for content and pictures but, you should never make an attempt to neglect your content in any way. Instead, you should re-arrange the content in such a manner that users can read it easily. You can provide the users with navigation links with the help of anchors so that they can gain access to the page they are searching for. Though, CSS may help you to hide the content but, you don't benefit in any way from that as it still gets downloaded. You simply cannot penalize users for the devices they are using.
Disregarding Contextual Conventions
Smarphones, tablets, PCs, etc. all are different from one another. Every device has unique interface conventions, form factor, opportunities and constraints. Therefore you need to be remindful of these variables so as to offer users with a natural experience. It is certainly not feasible for you to create the native user interface of every platform in the browser but, you need to consider different factors like how users hold their devices, icons they see and lots more. Your primary idea should be to create a great experience all the while keeping the device context in mind.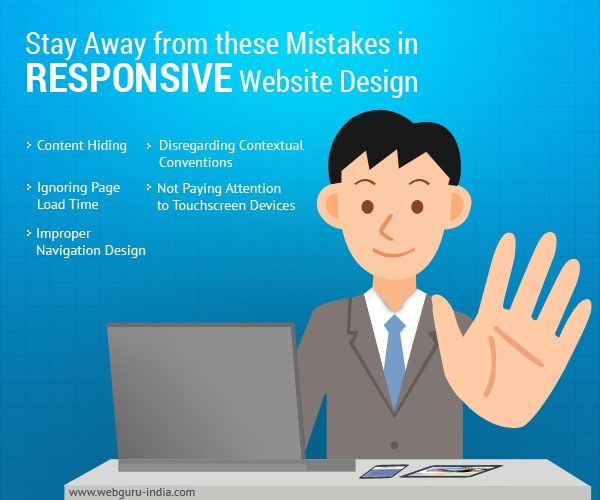 Ignoring Page Load Time
Accessing broadband on desktops to view web pages is expected to become a thing of the past over the coming few years, with more number of users opting for mobile search. However, this can pose a problem to the users on limited and slow 2G and 3G connections as the web page may take considerable amount of time to load. Therefore, page loading time is a crucial factor which needs to be taken care of to offer users with a convenient and satisfying experience. It has also been noticed that users leave websites that takes more than 4-5 seconds to load indicating loss of mobile traffic.
Not Paying Attention to Touchscreen Devices
Majority of smartphones and tablets being used nowadays make use of the touchscreen feature. Therefore, when it comes to responsive web design, you simply cannot overlook the necessity of handling touch responses. The clickable items within your website design like buttons, etc. should be designed according to the average finger size of the users so that they can be thumbed quite easily.
Improper Navigation Design
Navigation design forms a crucial part of responsive website design and is the key to success for your mobile friendly website. Creating a navigation menu that works easily across different devices is definitely an overwhelming task for most designers. Designers tend to struggle a lot when it comes to converting horizontal list menus into vertical list menus to fit smaller screens.
Conclusion
These are some of the mistakes that you should take care of while designing responsive websites. It will ensure that the viewers have a great experience viewing the website across different devices without any hassle or inconvenience.