13 May / 2010
509 views
The Flipsides of Twitter's Newly Design Home Page
It was on March 31st when Twitter unveiled a new look of its home page which it claims to be much more informative, interactive and engaging. As expected, it got rave reviews from different sources thanks to some over enthusiasts, who are infatuated lovers of Twitter. But a closer look to its newly introduced website design can help us to pinpoint some glaring flaws that can have detrimental impacts on its brand image.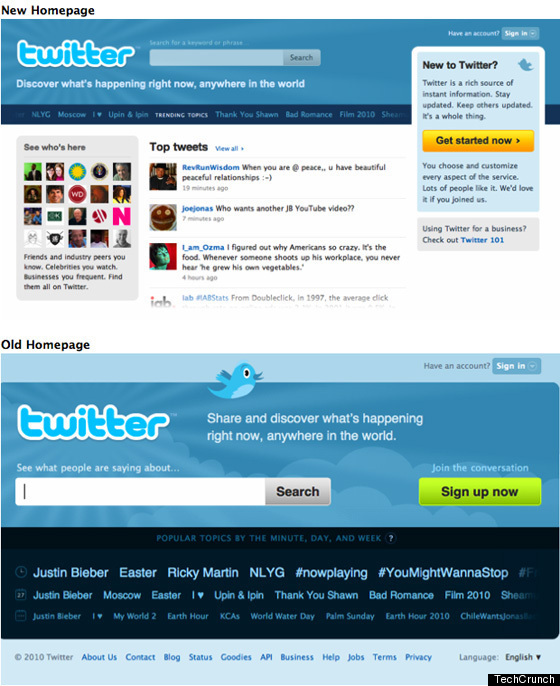 Too Dynamic, Too Fast: Its new home page, as it appears, is too dynamic. Everything is happening here so fast that you have to keep your breath for a while to check out what it has in store for you.
Where is Twitting Bird: – This is something that most visitors have overlooked. In its previous version, image of a bird had occupied a consideration section but it is now languishing in the remote left corner.
Trending Topics and Top Tweets: – Trending topics and top tweets are revolving in two different directions and therefore, it can create unwanted confusion that could have been avoided easily. What is even more annoying is that whenever you mouse over a topic, a black bubble will pop up that does not serve any useful purpose.
New To Twitter: – This section is a new addition to its home page and it serves a useful purpose i.e. to encourage participation. But as far as the concept of website design is concerned, this section looks absolutely out of place. If we speak honestly, it appears that this section is superimposed without giving any careful thought on it. Use of yellow button may serve a useful purpose as far as its making strategy is concerned, but it does look good at all and even does not go with the color combination of the entire page.
These are flipsides of Twitter's newly introduced design that we have pointed out.