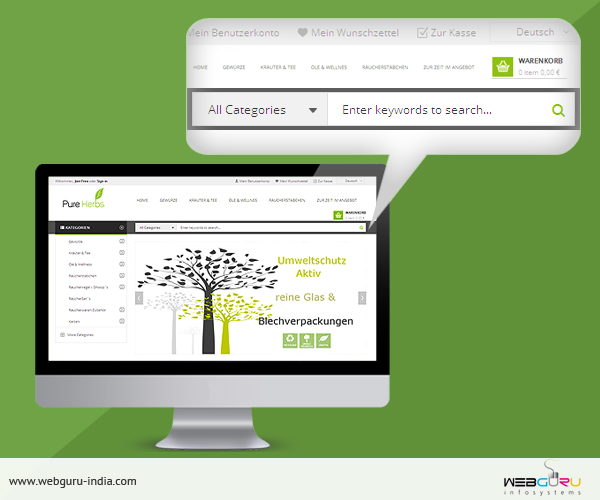 Easily navigable pages, seamless user experience on cross devices, engaging and informative content, stunning visuals – these are some of the must-haves for a successful website. Every little detail on the web page adds to the user friendliness of the website. And in a survey by Search Engine Journal, 40% of the participants hold search box to be more important than anything else!
Website development company professionals, too, vouch for its fact. The little search box seems to be only a small component in the website design, but this simple functionality, when implemented strategically, can enhance the usability of the website extensively.
Let's take a closer look at why every website must have a search function:
1. Give Users a Break from Site Navigation
If you have a resource heavy website, a search bar enables the users to find out exactly what they are looking for. For instance, if you have a product-rich eCommerce website or a well-developed blog, it's difficult for the users to check out all the pages to find out what they are looking for. Also, none has that time or patience to look through the entire website. The search functionality helps the users to find relevant content by specifying keywords or phrases without navigating through the entire website.
2. More Useful for Mobile Users
Since mobile devices generate around 51.53% of the global website traffic (source: Statista), it's important to make your website mobile-friendly. And a search function can greatly impact user-experience by enabling them to directly find out what they need on-the-go.
3. Make Use of Search Analytics
The search functionality is not only useful for the traffic but can also come to your advantage. If you integrate it into Google Analytics, you can track how often people look for a particular term. This info, then, can be strategically used to modify your page content and hierarchy of design. For instance, if many visitors are looking for "loafers" on your eCommerce site's search bar, you may feature such shoes on the homepage to directly lead them to the section.
4. It's an Intuitive Feature
People are accustomed to using some features to the extent that they don't have to think much before using these. A search bar is one such intuitive feature. As the competition is rising in the digital world, you cannot afford to have a website that doesn't offer an optimum user experience. Remember, this little feature can significantly help to reduce your website's bounce rate.
Things to Remember While Integrating a Search Functionality in Your Website
So, we have already discussed why the proficient website design services provider consider search functionality as a crucial element in a site design, but you can only reap the benefits if you utilize the feature properly. Below, we will take you through a quick and effective guideline to achieve the same.
The search functionality can be included in a simple format on the web page. It can be an input box followed by a submit button. If required, there can be a box for more advanced searches. It will further filter the options and display precise results.
The input field should be long enough for users to see what they have typed in. A sample text may also be put in the input box by default that disappears when the user types in. Extended functionalities like spell check, auto-correction and auto-suggestions can greatly enhance this module.
Also, the submit button should be easily visible and touchable (or clickable). It better be different from any other button in the web page. For instance, some websites feature a looking glass icon, some display a "submit" or "search" command, and so on.
Categorized search is a concept used in websites with categorized products. It narrows down results with the use of a sidebar filtering options. This sidebar further filters the generated results.
Remember, only including a simple/advanced search form is not enough. It requires to be functional and provide relevant results. A search module, to be effective, should be easily accessible from any page of the website and be able to find any content that the users are looking for.
The results displayed are of equal importance as its functionality. The design of the result page should be easy to understand. The matching keywords can be made bold and larger in size than the rest of the text. The generated records should be clickable or expandable as per website context.
In case of multiple records (say in an eCommerce website or a resourceful blog section), the clicked records can be given a 'visited mark' for the users to know they have already seen the product. The input box may display the specified keywords, so that the users can recall or change the keywords whenever they want. Last but not the least, try to avoid 'No Results' page as much as possible. Instead, a page with 'similar' and relevant results can be useful. Herein, 301 redirects can come to your aid.
Conclusion
Several websites now send newsletters based on the user's search history. This is a very effective marketing strategy which provides users with updates on products they are interested in. This implies that a user's search history is recorded and monitored. YouTube generates suggested videos or eCommerce websites display recommended products based on recent views. As you can understand, a well-implemented search function has great potential to ensure the success of any website.