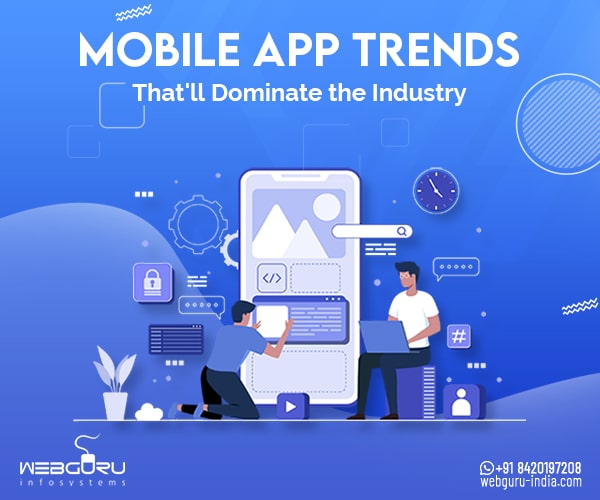 A fascinating study by Social Media Today reveals that an average person has about 80 apps on their phone. This speaks volumes of the demand for mobile apps. No wonder that businesses prefer to engage professional mobile app development services to craft user-friendly applications and stay at the fingertips of their target audience. We mean, literally!
However, with the rising competition in the market, it's essential to stay updated with the latest trends and integrate these advanced features into the app to receive users' appreciation. We conducted a thorough market research to come up with this extensive list of the most promising trends that are going to rule the market in the coming years. Take a look.
1. IoT
Giant companies like Google and Amazon have already capitalized on people's reliance on their phones and turn to use the internet to execute simple tasks. From controlling a home through gadgets to searching for any information – technology is surrounding us.
With the advent of 5G, more companies are seeking to experiment with IoT app development and we are about to witness more and more active IoT devices around us. Some of the popular IoT apps include:
Smart Home – Such apps are used to control any electronic device (say, TV or air conditioner).
Connected Health and Connected Education – Telemedicine or digital heath check-up app and eLearning app are extremely popular in this age of social distancing.
Doorbell Cam – It allows you to see who is at your door from anywhere you want.
Smart Light – Such apps can control your lights – turn them off or on, change the colour and so on.
2. AR & VR
Pokemon Go had made the mass understand the power of augmented reality. Gradually, this is used more in app development. Google has launched a Google Map Live view leveraging the technology. It allows Google Pixel users to access real-time walking directions via the phone's camera.
Google's Expeditions – a travel app – enables the users to take a virtual tour to the famous landmarks around the world. Instagram and Snapchat have released AR filters that can turn a human face into several funny digital characters.
As the advanced technologies of AR and VR are getting into the mainstream, companies are experimenting more to leverage its potential. From shopping to healthcare, travel to gaming apps – the trendsetter technologies are leaving no page unturned.
3. AI & Machine Learning
The coming years will witness artificial intelligence mature and power-up the tech industry. In fact, studies predict, the market of AI and ML will be at $191 billion by the year 2024. And the craze has already started. More and more industries are trying to bring a human touch in the cold world of technology.
Artificial intelligence is highly useful in mobile app development. It can learn user behaviour and operations through earlier data and troubleshoot issues in real-time. By analysing user activities and usage pattern, it can predict and conduct required actions.
The use of AI is prevalent in face unlock apps, filtered results, a smart camera app with subject identification, cybersecurity app, voice translation app, chatbot and more. You must be familiar with FaceApp – one of the AI-powered apps that recently received a huge craze. Here you can add filters to see how you would look if you are older, younger or belong to a different gender.
Other apps like Cortana, Replika, Google Assistant, etc. are further experimenting with the technology to level up their usability. Apple has embraced Core ML3 – the latest version of ML model framework that helps iOS developers easily embed AI into the apps. Undoubtedly, the coming years will explore and innovate more aspects of AI.
4. Wearable Devices
Wearable devices have taken the market by storm. Right since the beginning, it had a huge popularity. Fitness bands, trackers, smartwatches, smart rings – choices of wearable devices are many. And these have changed the way we interact with smart devices.
Due to its huge demand, mobile apps are supporting technology. You can find various apps in the Play Store and Apple App Store to sync with and operate the wearables. For example, WearOS app syncs with Android smartwatches and WatchOS is used to operate Apple Watch.
Wearable devices have also expanded the market for VR. Gaming to travelling, shopping to real estate apps – numerous mobile applications are leveraging VR technology to sync with VR devices. It sure enhances the users' digital experience and it is here to stay.
5. Chatbot
People these days prefer to have a customized response over the generic information provided on the mobile app page. And it's not possible for any business executive to clarify every little doubt.
Chatbot comes here to rescue. It extends customer relationship management to a great degree. The craze of deploying chatbots in applications to facilitate a superb UI/UX has already been started. And this trend is only to expand soon. A chatbot keeps a business operational 24/7 and this intrigues businesses that serve a global clientele. According to an industry expert, chatbots will deliver around $8 billion in cost savings by 2022. This agenda of cost-savings further makes businesses interested in integrating chatbots into their mobile apps.
6. Voice Search
Voice search is a convenient mode of searching in today's rushed world. Statista reveals that 31% of smartphone users across the world use voice search at least once a week. The trend started with Siri on Apple devices has come a long way and many mobile applications now feature this technology. From shopping apps to music apps, education apps to travel / navigation apps – voice search is making a place in all domains.
7. Omni-Channel User Experience
According to the experience of a leading mobile app development company, this is a strategy adopted by numerous businesses with more resources. It basically promotes a cross-channel digital existence for the businesses.
Basically, in this mobile-centric generation, it's not enough to have just a website. If you want to reach a wide audience, you need to provide a native experience with easier accessibility. Today's tech-savvy users prefer to use mobile apps more than their website versions. That's why businesses seek to craft a user-friendly mobile app that can find an address in the users' smartphones. It also results in leveraging a huge database of the audience.
8. Beacon Technology
Beacon technology has established itself to be an amazing tool to connect the online and offline world. This is highly useful for a retail setup. Its wide presence is felt in the domains of healthcare, hospitality and entertainment.
Before diving deeper, let's take a closer look at the concept of beacon technology. Basically, beacons are wireless transmitters that leverage Bluetooth technology to send signals to any smart device in the surrounding. This is used in location technology and proximity marketing.
A beacon technology-enabled application can show where you can get your preferred products, their costs, and more specifications. It uses Bluetooth Low Energy or BLE signals. It is a promising technology in the marketing field. Other than the classic instances of Google's Eddystone and Apple's iBeacon, it has become a trendy feature in both Android and iOS app development.
Some of its usages can be traced in Beacon enabled mobile payment, travel, gaming, and healthcare apps.
9. Blockchain Technology
Right since its emergence, blockchain technology has facilitated a world of exciting opportunities in the IT sector. And this technology has more to offer than just creating cryptocurrencies and smart contracts. Take, for example, it's possible to create a decentralized mobile app using the technology.
A decentralized application or DApp is a type of mobile application that is not owned by anyone. Also, it's impossible to shut the app down. Consider it to be the same as decentralization of money by bitcoin's blockchain. According to the industry insiders, some of the future trends of blockchain technology will include trading on crypto-currency exchange, BAAS (Blockchain as a Service), asset tokenization, crypto space and gaming, and more.
10. On-Demand App Development
Some may argue that this has more to do with the business model than mobile app development, we say, both are connected. Businesses without a digital destination are unimaginable these days. In fact, gone are the days when a mobile app was considered to be an easily accessible digital platform for a business. Nowadays, an app plays a major role in determining a business model and acts as a valuable asset.
On-demand apps demand a mention in the upcoming trends in app development. Here the users have to place a request through a specific app and the service will be provided. This type of app is witnessing a huge demand among the users after the pandemic hit the world.
Some of the categories of on-demand apps include taxi apps, food and grocery delivery apps, on-demand car mechanic app, etc. This trend is only to grow in the coming years.
Conclusion
Staying up-to-date with advanced trends always offers a competitive edge. You can take a look at this blog to understand how users have interacted with mobile apps in the previous year. This will make you strategize your moves to do something better and bigger.
We hope this blog helped you to get a deeper insight into the ever-changing consumer demands and the latest trends in the industry. Capitalize on this knowledge and create a futuristic and user-friendly mobile application.
All the best from our side!