02 Jul / 2010
799 views
Top Web Analytics Tools for Analyzing Visitors of Your Website
Collating information about the behavior of the visitors of a website is one of those crucial tasks that you can only ignore at your own peril. Unless and until you are aware of the behavior of your visitors, success will always play truant with you. You can take pride in having a great website or having a great website design but that does not ensure success at the end of the day. Now, there is no scarcity of free web analytics tools online. But not all web analytics tools are alike and not all of them offer similar features and therefore, you need to be a bit choosy while making a final decision:
Google Analytics: It is probably the best, free and the most versatile web analytics tool that you can have in the virtual world. You are likely to get whatever you want from it. It comes with a number of amazing features that will let users get a clear and insightful analysis of their website. You can check location of visitors or you can sort them out according to IP location, country etc. Even you track the source of the visitors, search engine traffic and many more things and that even at amazing speed. By using this tool, you will be able to make modifications in your existing marketing mix or you can determine whether you are in the right track or not. What is all the more interesting about Google Analytics is that it is extremely users-friendly and that means you would not have to be a geek for utilizing the utilities of Google Analytics.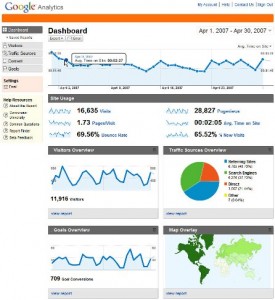 Yahoo! Web Analytics: – If you nourish a grudge against Google, here is the best alternative of Google Analytics. Yahoo! Web analytics comes with almost similar kind of features that you wish to have to access all the information to make a thorough analysis your website. Real time data tracking, printable reports, custom-designed and graphical presentations are some of its unique features that you will definitely want to explore to add a competitive edge to your ongoing Adword Marketing campaign.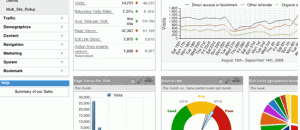 MochiBot: – This web analytics tool is more or less an asset for flash websites. You can track who is doing what with your flash content or how many times or how many people have seen your content. You can even prevent content theft by monitoring your flash website meticulously in MochiBot. You just need add a few lines of codes in the .FLA file, which you would like to track and nothing else for this purpose.
FireStats: – This web analytics tool is developed in PHP/MySQL and it is extremely simple in form and structure. Its main advantage is that it offers support to a wide variety of platforms that include WordPress, Joomla, Django sites, Drupal, C# sites and many more. FireStats is offering developer a chance to develop custom apps based on the data featured on FireStats.
4Q: – This web analytics tool is distinctly different from the rest of its clan. 4Q not only pinpoints the drawbacks of your website by featuring data but it also offers suggestions what you should do to increase traffic to your website. You would not have to face any major trouble while setting up 4Q.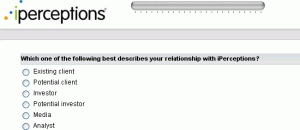 Woopra: – This web analytics tool is written in Java. With intuitive management system and robust user interface, Woopra is really making its presence felt in this domain. You can even run this web analytics tool on multiple websites. Live chat option is there and that means you can interact with your website's visitors whenever you want or wherever you want.