The popularity of twitter is showing no sign of abetting. From celebrities of tinsel towns to veteran politicians, everyone seems to have a great time with Twitter. So, there is no reason why you should stop yourself from joining this latest bandwagon. Now, if you are conscious of your brand value, you should avoid using readymade backgrounds. The best thing that you can do is to have a custom background for your twitter account, as it will enable you to promote your brand image. Now, designing twitter background is not an easy task by any means. Check out the below mentioned areas if you want to avoid a fiasco at the end:
Check The Resolution: While designing a twitter background, you should not blatantly ignore the fact that different people use different resolutions in their PCs and therefore, your twitter background should be resolution independent. Now, if you do not have mastery over website design, you should take professional assistances of others.
Use of Images: – Do not overboard your twitter background with images only. As your twitter profile is likely to be visited by a large number of visitors, you need to use images sparingly and with utmost care. Texts have to be used judiciously and they should serve a useful purpose. Do not use any fancy fonts, and make sure that the text is not getting overshadowed by any other designing elements.
Shun Repetition: – Repetitive background is not something that you can boast of in your twitter profile. It looks lousy. In order to make it look stunningly beautiful, you should blend your creative inputs in it. Try to use images that can reflect what you want to convey through your twitter account. It should look aesthetically pleasing at any cost.
Try To keep It Simple: Do not try to make your twitter background too good because you will eventually find it in a difficult situation. Just take it easy and make a simple design. There is no need to make it look outstanding. Just keep things simple and everything will be fine. Find it hard to believe? Just take a look:
Google Profile in Twitter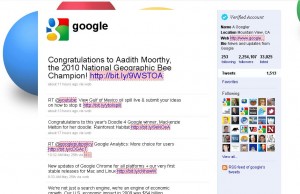 Twitter Profile in Twitter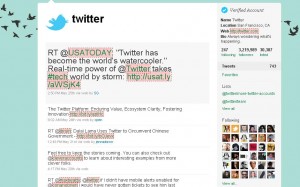 Do Not Follow Any Rule: – You will kill your designing skills if you try to follow other. Stick to your own designing principals while designing background for your twitter profile.
Though twitter background design is a newfound area of work, you need to attain mastery over this form if you want to make it in this profession.