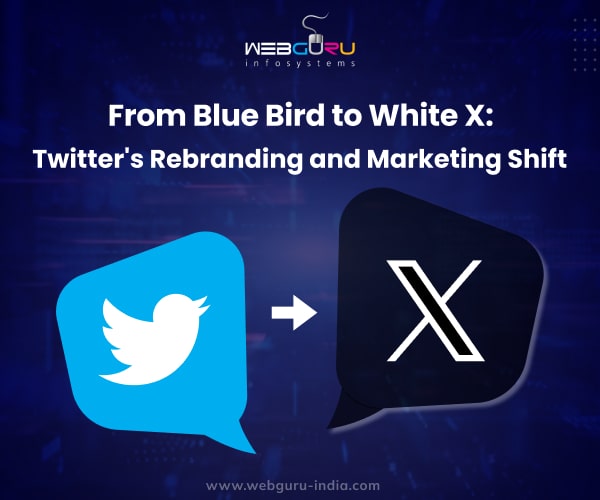 Ever since Elon Musk has taken over Twitter, he has caused quite a stir, be it with the massive layoffs or replacing the icon with the Doge meme. In another significant move that has left the internet divided, Musk has announced plans to rebrand Twitter and has introduced a new logo to the world. "And soon we shall bid adieu to the Twitter brand and, gradually, all the birds," tweeted Musk before unveiling the new design: the iconic and well-loved blue bird "Larry" with a stylized white "X" over a black background. The company, too, has now been renamed "X".
The logo isn't exactly an X, even though it looks like one. Rather, it's a special unicode character that stands for a "mathematical double-struck capital X".
How People Respond to "X"
Twitter has been a staple for digital marketing services worldwide, and most people are now looking to see what kind of ripples this move will cause. The response to the new logo has been quite mixed, with many people appreciating its simplicity. However, a majority of them are still mourning the death of their beloved blue bird.
The old logo had built itself a really strong brand identity that was recognisable across the globe. On the other hand, the new logo has taken a much more minimalist approach. This makes it instantly more challenging to work with in terms of marketing and branding. It also makes it significantly less recognisable (although Twitter isn't likely to fade away from memory anytime soon).
This change can have numerous implications for Twitter's digital marketing strategies. We can expect many brand awareness campaigns to ensure the new logo stays visible to people at all times. People need to know what it means and stands for. We can also look forward to many innovative ways in which Twitter will incorporate the new logo and its surrounding themes into their marketing material.
Implications for Digital Marketers
Digital marketers, of course, will have to take note of how this rebranding exercise will affect the popularity and traffic of Twitter. However, marketers need not worry since Twitter is likely to be a valuable channel for many years to come. And with the introduction of Threads, marketers will have access to a new player in the field of microblogging social media platforms as well.
Some of the potential implications of the rebrand for digital marketing include:
Reduced Recognition: Twitter is already rapidly losing users. The new logo might be less recognisable compared to the previous one. This is sure to make it harder for Twitter to attract new users.
Limited Versatility: The simplicity of the new logo may restrict its use in various marketing materials. This has created many new challenges for Twitter's marketing campaigns.
Increased Brand Awareness Investments: The rebrand likely means higher investments in brand awareness campaigns. We can definitely expect many more ads in the future.
Enhanced Creativity: The need to work with the new logo creatively could result in more innovative and engaging marketing campaigns.
Conclusion
We will have to wait and watch how this rebranding exercise will affect Twitter and its user base in the long run. It's still too early to gauge what kind of strategy Elon Musk is looking to employ. But he seems determined to bring about a significant change to the company. The reception of the new logo by users and marketers will be an intriguing aspect to observe.