Video Marketing: Why is it So Effective and How to Get Started
25 Jun / 2020
5,232 views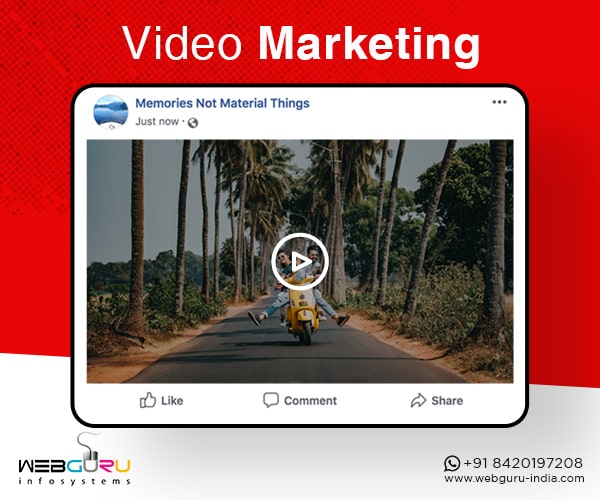 The relation between video and marketing is like bread and butter!
From the traditional television commercials to YouTube, Instagram, Snapchat, and even Facebook Live – video dominates everywhere. No wonder digital marketing service providers use this powerful tool to support their marketing campaigns and reach a wider audience.
If you are not yet convinced of including video in your marketing strategy, this blog is dedicated to you. Go through the following passages to know the benefits of video marketing. We will also provide you with some unique and exciting tips to start your marketing journey.
So, without any further delay, let's dive in.
# Benefits of Video Marketing
Engage Your Audience
A catchy video can engage even the most casual social media scroller. Also, it takes less effort to consume video content as compared to reading a long article. For instance, a study by Wyz Owl reveals that 68% of people prefer to watch a video to learn about a service or product while only 18% of people prefer to read text-based articles.Here's a quick tip: Many people check out videos with no sound while at work. So, you may consider adding subtitles to your videos. If you are not yet introduced to this, it's better to engage an agency offering internet marketing service in India. The professionals will take care of everything.
Evoke Trust
A video builds an emotional connection with the audience. It also informs and educates the viewers about your company, product, and service. All these qualities help to develop brand reliability.
Drive Conversions
The objective of any marketing campaign is to drive conversions and video marketing actively helps in that. A video communicates in such a way that a text cannot. One of the best examples can be the testimonial videos where the clients or customers explain how a product has helped them. It encourages viewers to engage with the brand. In fact, 84% of consumers have mentioned that they engaged with a brand after watching a video promotion (Source: Wyz Owl).
Amplify SEO Efforts
This is yet another interesting benefit of video marketing. Videos can actively help your SEO (Search Engine Optimization) efforts and boost your website's ranking on the SERP (Search Engine Result Page). Wondering how? Let's check. Go to Google and type "how to wear a tie". What do you see? A video instruction, right?Yup, the first result is a video – not an article. It is a great opportunity for any business to use video to appear on search engines.
Go Viral
Studies reveal that people share video content 12 times more than text and images combined (Source: Word Stream). From Facebook to Instagram – your video can rule on multiple social platforms and establish a distinct brand reputation.But crafting such viral video content and marketing it on social platforms demand adequate experience and expertise. That's why we recommend you to engage the professionals at any leading digital marketing agency India.Okay, now that you have learnt the benefits of video marketing, you may want to adopt this powerful weapon to expand your audience base. If you are planning so, the next passages are crucial for you to read. Here we will discuss some effective strategies to help you get started with video marketing.
# How to Get Started with Video Marketing – Effective Strategies
Type of Video
Once you set out to create a video, determine its type first. Here are a few variations:

Explainer video – An explainer video services can educate people about your company, brand, products or services. It may include details about customer service, instructions to use the products or avail services, and other areas of the company.
Interviews – Interviews of any special guest or popular influencer can encourage people to check out the video. If you are creating a video featuring service experts, you may later reuse the audio and promote it as a podcast. That's really like killing two birds with one stone!
Demo Video or Product Review – This helps people to find more about your products. Such videos can be created by influencers in exchange for free products. YouTube and Instagram are flooded with such videos, why not add yours as well!
Live Video – Live video is a great tool to develop trust and communicate with your followers. But remember, live videos are up, close, and personal – so it's better to employ the tool once you gain enough confidence to come live.

Video Length
Figure out which digital marketing platform you want to engage to promote your video and determine the ideal video length for this. Here are some recommendations by the internet marketing agencies in India:

Facebook – 1 minute
Instagram – 30 seconds
Twitter – 45 seconds
YouTube – 2 minutes

This video length is determined by the average time users invest to watch a video on each platform. Try to craft a content that sticks to the length or at least shows the most engaging part of the video during this time to compel viewers to watch for a few more seconds.

Optimize Video for Mobile
Do you know that almost half of all video content is watched on a mobile device? So, make sure that your video is optimized for mobile viewing. Remember, a square video creates a better user experience as it can play without having to rotate the mobile device. Engage a professional agency providing digital marketing service in India to get the required tech-assistance.
Build Curiosity
Series video is a trendy thing nowadays. In such a series, ending on a cliffhanger drives people to watch the next promotion-video. Take Nestle Munch series advertisement for example.
No Autoplay with Sound
If you are using a video on your website landing page, which is a common practice in eCommerce website development, make sure that it doesn't autostart with sound. People often browse eCommerce sites (or any site for that matter) while at the workplace. If the video suddenly starts with a sound, it'll scare the leads away.
Include Call to Action
Only showing a video is surely not your objective? You want the audience to take a step like subscribing to your channel or buying a product, right? So, work towards that goal. Include your call-to-action buttons to instruct leads what to do next. This actively helps in driving conversions.
Track Results
One of the best parts of video marketing is that you can easily track its performance metrics. And you must leverage the tool of video content statistics to gain some important insights like when your users watched the video, how long people played it before stopping, and whether the video resulted in a conversion.This will help you to develop more effective video marketing strategies such as uploading at the time of day when users are more likely to check out your video, setting the optimal video length, realizing the target demographic, and other valuable insights.
Be Creative
This goes without saying, right? Your script needs to present your business and products/services in a way that instantly grabs people attention. So, take some time and explore your creative self to engage the audience. Remember, this aspect determines the number of social shares and your brand impression. Hence, we recommend you to engage any company offering digital marketing services in India. With due expertise, the professionals can deliver you optimum results.
Conclusion
As you can see, video is one of the most popular marketing forms and has every reason to be so. In this impersonal digital world, a video brings out the true brand personality and develops connection. You can give your customers a real glimpse of your business and build brand reliability. Isn't that just amazing?
Got any thought? Feel free to share with us.