17 Jun / 2010
923 views
Website Footer Design: Fabulous and Fascinating Tips To Make It Look Impressive
Finally, you have a great website with a fascinating header and sober color combination. It looks really superb and it might go a long way to keep your visitors engaged. So far, it looks good. But wait a second. What you have done with the footer! It seems you have forget about it altogether while designing your website. But footer is not something that you can overlook so easily because it serves an useful purpose in the navigation of a website design. So, is it reasonable to keep it in such a dismal state? We hope not. An impressive footer can help you to add mileage in your promotional campaign by encouraging your visitors to explore more. Apart from adding some glaring and filthy links in the footer section, you can make it a little bit interesting by adding some important visual elements in it. Now, if you have a passion for design, just browse through these tips and examples to have a different footer for your website this time around:
Here Is the Real Footer : -This is amazingly original. Now, do not try to copy this concept rather try to get some inspiration from it because it will go a long way to make your website look visually alluring and impressive. Despite using shoes in the footer, the design never looks out of the box. In fact, it goes perfectly with the theme of the design.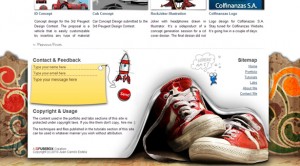 (fuseboxcreations.com)
Add Contrast: – By making minor tweaks in the contrast, you can make it looks highly impressive. Try something different to steer the attention of the visitors. Playful use of dark shades and color can do miracle in this sphere. Just take a look at this below mentioned site to experience how dark shade can ensure a majestic outcome: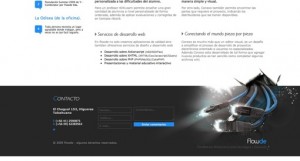 (flowde.com/blog/home/)
Focus on Media Hub: – By placing the links of your social media sites in the footer section of your site, you can bolster your web presence a bit further. However, just the juxtaposition of images might not yield an effective outcome. Try to add a personal touch in it. Do not pull your string at Facebook, you need to add Twitter feed, Linkedin Profile, Flickr stream etc in the footer section to give it a new lease of life.
Add Life In It: – By adding a little bit of animation, you can make a long lasting impact on your website's visitors when they are about to leave your website. It will help you to retain visitors for a few seconds more. But you should not make a mess with it, try to add a subtle animation like floating images, flickering lights etc.
Make It Illustrative: – So, you are a gifted individual and want to make your mark in this field. You need not have to follow the rules rigorously or strictly. You can experiment with the footer of your website a little bit but you should not make it extremely ridiculous. Check out this design to have a better understanding: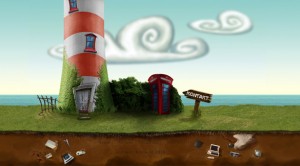 We hope that you are now teeming with confidence and inspiration. So what you are waiting for? Just start designing a fabulous footer and if you got struck somewhere, we are here to help you.