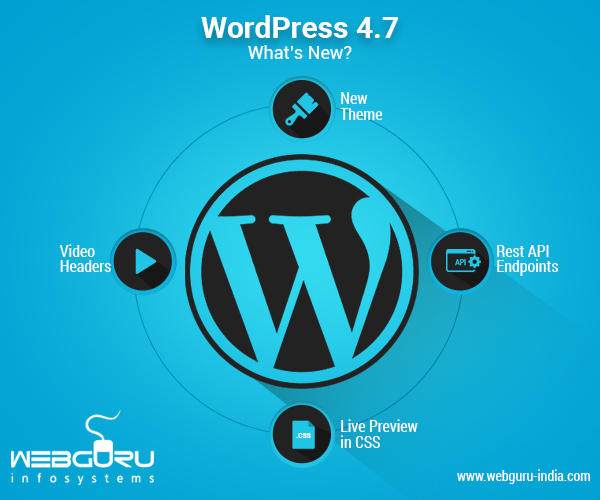 WordPress 4.7 is right around the corner and if you are feeling a little adventurous, you can try a beta version of the software using a WordPress Beta Tester plugin. Like other beta software, it might have some features which are still work in progress. It is an almost finalized software with a feature set nearly similar to what one can expect in the final release. Let's go ahead and take a look at some of the functionalities worth looking forward to.
Introduction of New Theme
Every new release of WordPress brings a new theme. Following in the footsteps of its previous iterations, the latest introduction of WordPress is Twenty Seventeen. The main distinguishing aspect of this new theme is the focus on business websites instead of blogs. Twenty Seventeen is replete with large featured images, sharp fonts for text and a completely mobile-first design scheme. It is currently available for new websites, but is expected to become available to older websites by the time this version of WordPress is released. It also features a number of exclusives in the form of an introductory package, which the users can take advantage of.
Use of Video Headers
Although there are many premium themes which allow websites to integrate video headers, Twenty Seventeen will be the first default theme to support this feature out of the box. Here, you can either use YouTube or Vimeo URLs or upload your own hosted video.
Live Preview Changes in Custom CSS
If you wish to incorporate custom CSS into your website theme, you can directly do so from the theme customizer. What is even more appealing is that you can live preview the changes you make to the theme. However it is important to note that these changes will be exclusive to the theme you are previewing and cannot be applied to all themes.
Changing Languages in the Admin Section
Previously, all users had to view the admin section in the same language irrespective of the language they had chosen when installing WordPress. This is about to change with WordPress 4.7 as users will now be able to choose their desired language from the Admin panel after installation of the software.
Changes to the User Interface
There are numerous small but important visual tweaks scattered across the entire interface.
To begin with, users will get a much improved theme setup flow. There is a streamlined view for theme search interface and installed themes. You can even setup themes directly from the customizer.
If you had always wondered why you get a thumbnail preview for images and docs but not for PDFs, WordPress 4.7 is about to change it. Thumbnail preview for PDF files makes a much desired entry in this version of WordPress.
Small visual changes have been made to the post editor as well. Keyboard shortcuts in tooltips and dropdown menus have been introduced for a better user experience.

Technical Enhancements
Apart from all the exciting new additions to this new version of WordPress, there are many under-the-hood improvements to enhance the overall experience of the users.
Users can add custom bulk actions to the list tables
Just like custom page templates, WordPress 4.7 now supports different post templates
Another welcome change is the introduction of Rest API Endpoints

With so much to look forward to, WordPress version 4.7 can be quite an improvement for people using it as their daily driver. Although the biggest change is the theme and the associated functionality, the usage enhancements actually lie in the smaller details, which together make the experience richer in the day to day life.
If you wish to upgrade to this version of WordPress and check out the latest features WebGuru Infosystems can help you out.